This Cornbread Cranberry Stuffing is sure to become a cornerstone of your family Thanksgiving from here on out.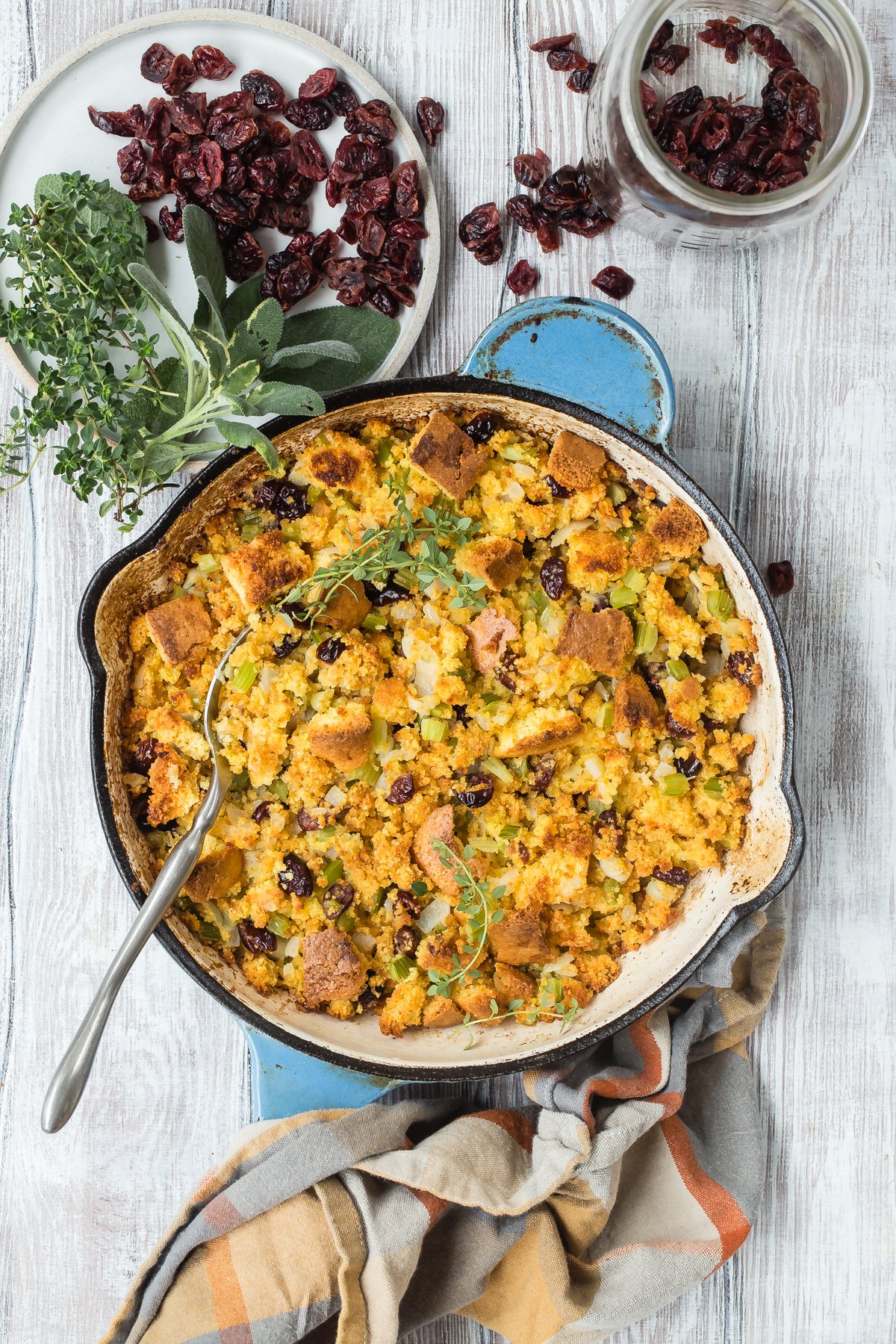 Dear cornmeal,
How I love you so. You remind me of my grandmother and all of the incredible recipes she would make with you especially during the fall and winter. She taught me how to make you plain and simple, sometimes in recipes like Cornbread Cranberry Stuffing and other times in Tiny Corn Muffins. Then when I grew up and had kids of my own I used you to make Corn Dog Muffin Bites and Banana Corn Fritters. You're so easy to work with and make the kitchen smell like absolute heaven.
What would Thanksgiving be without the stuffing? Thanksgiving is the one time of year that you can indulge in a carb-apalooza with no guilt the next day, and stuffing is the carbohydrate gold standard. For most kids (mine included) who would subsist on bread if given the choice, holiday stuffing is probably their favorite dish of the day! At least that's how I felt when I was little.
My Grandmother always made cornbread stuffing and oyster dressing for our family's holiday celebration. I vividly remember how we kids would all line up in the kitchen, placing heaps of the stuffing on our plates while the adults dug into my Grandfather's favorite, the oyster dressing (another name for stuffing). To this day, the thought of oyster dressing makes me want to gag, which is why in comparison I'm sure I put the cornbread stuffing of my youth on such a culinary pedestal.
I've updated my Grandmother's basic recipe here by tossing in some cranberries for added color, taste and texture — and also because my kids just plain love 'em. Don't drive yourself crazy if you don't have time to make homemade cornbread, any decent boxed variety or store-bought kind will do. For this recipe, it's all about the stuffing!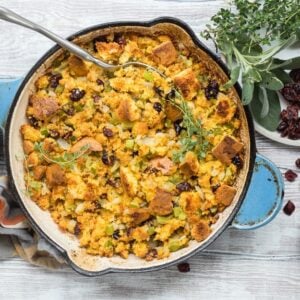 Cornbread Cranberry Stuffing
This Cornbread Cranberry Stuffing is sure to become a cornerstone of your family Thanksgiving from here on out.
Ingredients
Ingredients for Cornbread Cranberry Stuffing:
prepared cornbread

(ingredients and instructions below)

4

tablespoons

butter

1

small onion, diced

4

celery stalks, diced

1/2

teaspoon

kosher salt

1

teaspoon

fresh thyme

1

cup

low sodium chicken stock

2

large eggs, whisked

1/2

cup

dried cranberries
Ingredients for Cornbread:
Instructions
Instructions for Cornbread Cranberry Stuffing:
Break apart cornbread (instructions below) into chunks and place onto a baking sheet. Toast in the oven for 10 minutes until dried out.

In a sauté pan heat the butter and then sauté the onions, celery, salt and thyme for 8 minutes until tender.

Whisk the chicken broth and egg in a bowl until combined.

Place the toasted cornbread pieces, the onion celery mixture and egg mixture in a large bowl with the cranberries and toss to combine.

Place stuffing in a buttered 7 x 11 baking dish and bake for 45 minutes.
Instructions for Cornbread:
Combine the first 5 ingredients in a bowl.

Whisk the milk, oil, and egg in another bowl.

Add the wet ingredients to the dry ingredients and stir until blended.

Pour batter into a greased 8 x 8 baking dish and bake for 20-25 minutes.
Video
Nutrition
Calories:
250
kcal
|
Carbohydrates:
30
g
|
Protein:
5
g
|
Fat:
13
g
|
Cholesterol:
15
mg
|
Sodium:
610
mg
|
Fiber:
2
g
|
Sugar:
9
g