Ah, Thanksgiving! My favorite day of the year – a time for gratitude, togetherness, and of course, the glorious feast! While the turkey often takes the spotlight, let's be real, it's the sides that truly steal the show. From creamy mashed potatoes to savory stuffing and all the delectable dishes in between, the sides are where the magic happens! I put all of my favorite Thanksgiving sides all in one place to make things even easier for you! Let's dive in.
Salads for Thanksgiving
A fresh salad with seasonal produce is always a great way to start off Thanksgiving dinner. These are some of my favorites!
Apple, Pear and Goat Cheese Fall Salad
Combine all the best produce fall has to offer in this Apple, Pear and Goat Cheese Fall Salad. It's healthy, delicious and simple.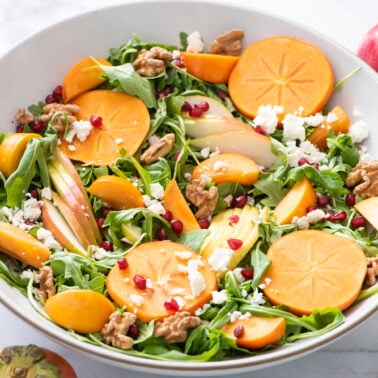 Fall Farmers Market Salad
There's nothing better to me than a huge salad with fresh ingredients from the farmers market! This Fall Farmers Market Salad is filled with the best produce this season has to offer.
Shredded Brussels Sprouts with Lemon and Poppy Seeds
Shredding brussels sprouts makes this salad into a super kid-friendly recipe. Plus, the dressing is absolutely delicious!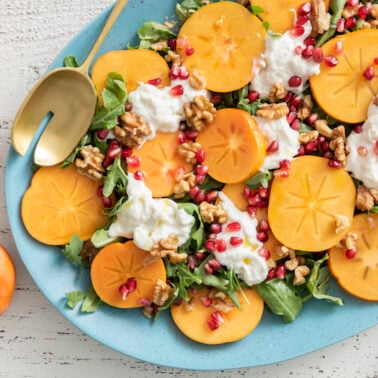 Persimmon Burrata Salad
Persimmon Burrata Salad is the perfect fall harvest salad for kids and adults alike. Fresh fruits mixed with greens and an irresistible dressing for a holiday or special night with friends.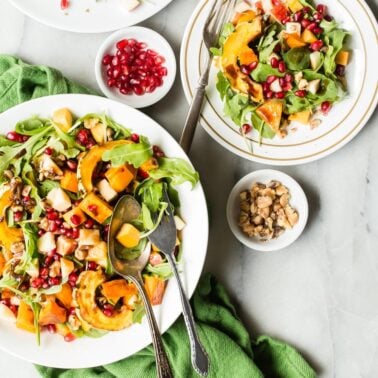 Harvest Salad
If you're looking to make a special dish for your family or need a super easy salad to bring to a friend's fall celebration you need to whip up this Harvest Salad.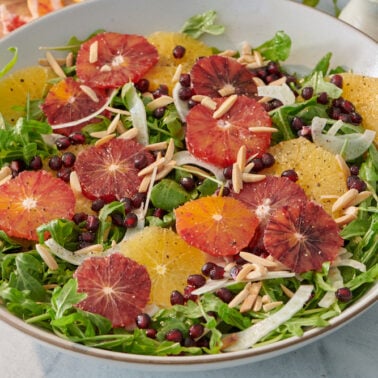 Winter Citrus Salad
This light and healthy Winter Citrus Salad is super colorful and perfect for the season, featuring a variety of incredible winter fruits like crunchy pomegranate seeds and tangy citrus like cara cara or blood oranges.
Vegetable Sides for Thanksgiving Dinner
These vegetables are full of flavor and make any Thanksgiving meal so much better!
Roasted Balsamic Brussels Sprouts
Roasted Balsamic Brussels Sprouts are roasted with crisp edges, and then tossed in syrupy sweet reduced balsamic vinegar.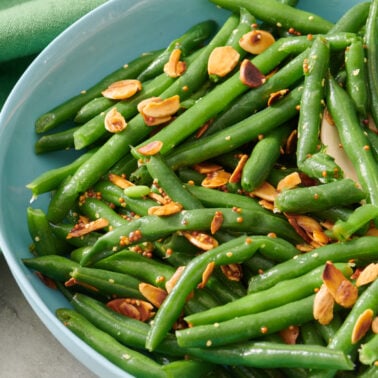 Green Bean Salad with Mustard Vinaigrette
If you're looking for a green bean dish that is an alternative to green bean casserole, this is it! It's absolutely delicious and compliments tons of entrees perfectly! Plus, it only takes minutes to prepare.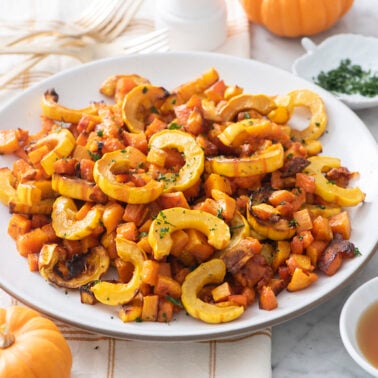 Cinnamon Roast Butternut Squash
Tossing the squash in cinnamon and maple syrup and putting it back in the oven for a few minutes adds a heavenly sweet flavor to this already delicious fall vegetable making it super kid-friendly!
Green Bean and Bacon Saute
Green Bean and Bacon Saute is one of the most classic side dishes you can make.
Maple Roast Vegetables
Roasting is one of the best techniques for getting the maximum amount of flavor out of vegetables. They become super tender, sweet on the inside and a bit caramelized on the outside.
Roast Acorn Squash
Roast Acorn Squash is one of those dishes that makes you want to celebrate fall and it's bounty of fresh vegetables! 
Orange Glazed Carrots
This Orange Glazed Carrots recipe takes regular sautéed carrots to the next level! My entire family is in love with this recipe and gets so excited when I say I'm making them.
Green Bean Casserole
Green Bean Casserole is a classic holiday dish that's often overlooked. This version is made from all fresh ingredients… not your mother's canned soup version.
Cast Iron Brussels Sprouts with Pomegranate and Garlic
Cast Iron Brussels Sprouts with Pomegranate and Garlic will turn any Brussels sprouts hater into a lover after the first bite.
Stuffing Recipes for Thanksgiving
My favorite part of our Thanksgiving meal is the stuffing. We've made it a ton of ways over the years and each recipe is just as delicious as the last! Whether you prefer cornbread stuffing or regular crusty bread stuffing, I've got you covered!
Cornbread Cranberry Stuffing
This Cornbread Cranberry Stuffing is sure to become a cornerstone of your family Thanksgiving from here on out.
Apple Sausage Stuffing Bites
I love making these especially when kids are at the Thanksgiving table! They're perfectly sized for little hands and every one has a delicious crusty exterior thanks to making them in muffins cups!
Kid's Apple Sausage Stuffing
This Kid's Apple Sausage Stuffing recipe is sweet, savory and truly delicious. It's our family's favorite stuffing recipe!
Super Simple Stuffing
I could have called this recipe Simple Stuffing, but that doesn't quite do it justice for just how easy it is. This is SUPER Simple Stuffing, and it's going to blow your mind. 
Delicious Potato Sides for Thanksgiving
Crispy, mashed, or sweet… potatoes are a no brainer for Thanksgiving!
Sweet Potatoes in Orange Cups
This charming twist on a classic sweet potato casserole is not only a treat for the taste buds but also an eye-catching addition to any holiday gathering.
Yukon Gold Mashed Potatoes
Yukon Gold Mashed Potatoes are naturally creamy and the perfect side dish for anyone who craves mashed potatoes around the clock.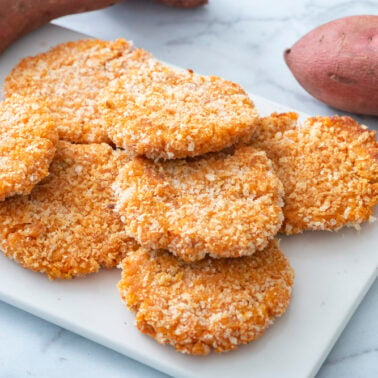 Sweet Potato Cakes
These Sweet Potato Cakes are soft on the inside, super crispy on the outside and truly appealing to kids and adults alike. They're a great side for the holiday dinner table, or any time of year, really!
Mascarpone Mashed Potatoes
Mascarpone is the secret weapon in these Mascarpone Mashed Potato and they will blow your mind. I promise!
Crispy Smashed Potatoes
Crispy on the outside, tender on the inside, these potatoes are one of our family's go-to side dishes!
Buttermilk Bacon Whipped Potatoes
Crispy bits of bacon take plain mashed potatoes to another level!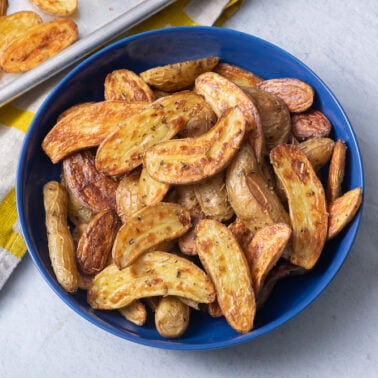 Herb Garlic Roast Potatoes
These Herb Garlic Roast Potatoes are a fail safe recipe that I guarantee will join your weekly rotation of favorites! The zip of the garlic powder and dried herbs really pull together the creamy inside and crunchy outside of the potato.
Air Fryer Baby Potatoes
Simple but delicious, Air Fryer Baby Potatoes are a staple in our house. They're crispy on the outside, tender on the inside and the perfect side for any and every main dish.
Turkey Gravy
Don't forget the gravy! It's necessary for your turkey, potatoes and more to have a delicious gravy ready to go.
Mac and Cheese Recipes
Classic Macaroni and Cheese
There's nothing like a creamy, cheesy classic macaroni and cheese on the Thanksgiving table.
Stove Top Mac and Cheese
Homemade mac and cheese doesn't have to be difficult! This Stove Top Mac and Cheese is ready in minutes and absolutely delicious.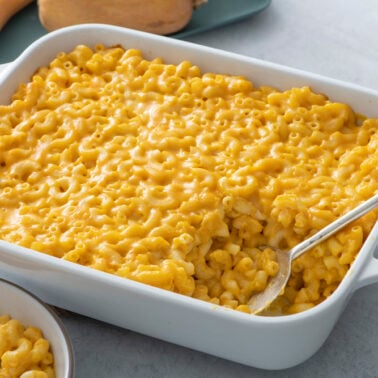 Butternut Squash Macaroni and Cheese
This Butternut Squash Macaroni and Cheese is the creamiest, cheesiest, most delicious recipe you'll make this fall.
Vegan Mac & Cheese
This Vegan Mac and Cheese is super "cheesy", creamy and delicious. You'd never even guess it has zero cheese whatsoever!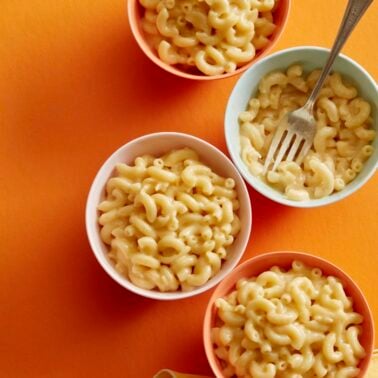 Rice Cooker Mac and Cheese
Free up some oven space this Thanksgiving and make mac and cheese in your rice cooker!
Thanksgiving sides are more than that… they're the heart and soul of a memorable holiday meal! From creamy mashed potatoes to savory stuffing and vibrant vegetables, these sides will add that extra touch of warmth and flavor to your Thanksgiving tables this year. Let me know in the comments what you're making this year and tag me on social media if you make any of these recipes!
Happy Thanksgiving from my family to yours!