Buttermilk Bacon Whipped Potatoes are the ultimate recipe for mashed potato lovers!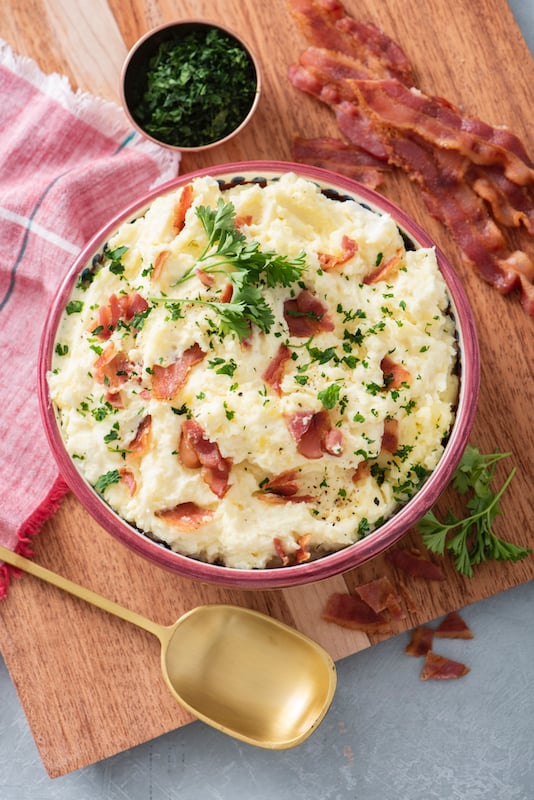 The official countdown to Thanksgiving begins! There are a couple weeks left till Turkey Day, but I look forward to our massive Thanksgiving Day meal all year long. Our menu is generally populated by a few family favorite favorites like Maple Brined Turkey, Sweet Potatoes in Orange Cups, and Classic Pecan Pie (made without corn syrup), but after cooking my heart out for the past few weeks testing a bunch of new kid-friendly holiday sides and desserts — and having such an unexpectedly awesome reaction previewing them for my family — I became inspired to really switch things up for this year's feast.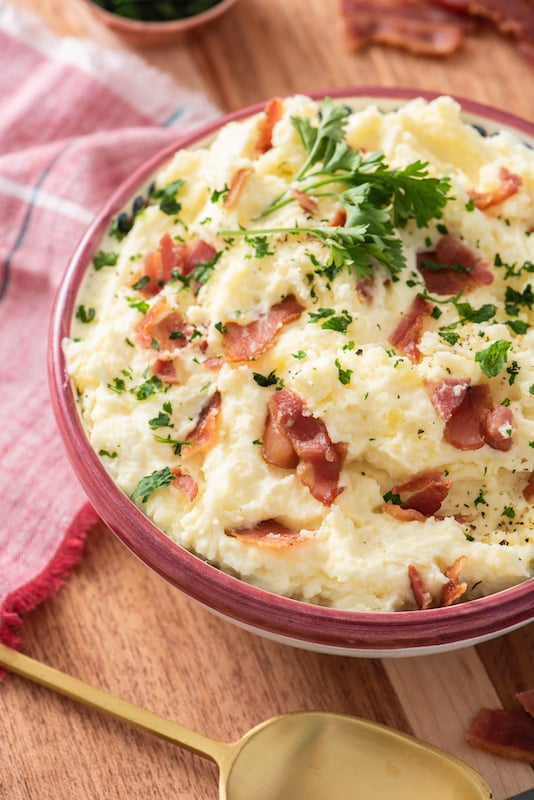 Much to my part-time-vegan-husband's horror, Chloe and Gemma have really become bacon-obsessed over the past year. I'm not indulging them by putting bacon on their plates every week, but as a flavor and texture enhancer in a dish like these delectable Buttermilk Bacon Whipped Potatoes. Some might know this recipe as Loaded Mashed Potatoes. Whatever you call them, it's too good to pass up! Since I'm going not-so-healthy with the bacon in this recipe I compensated by using less butter than traditional whipped potatoes call for and letting most of the creaminess come from tangy, low fat buttermilk.
It's never fun being super healthy and depriving yourself on the holidays, so try switching things up on your crowd with this irresistible, velvety side dish! It will knock everyone's socks off!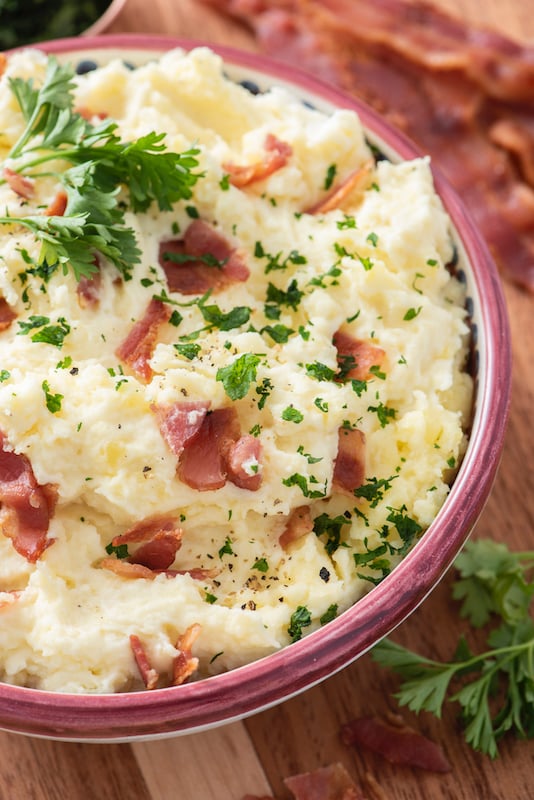 What else do you add to your whipped potatoes? Tell me in the comments below.
Buttermilk Bacon Whipped Potatoes
Crispy bits of bacon take plain mashed potatoes to another level!
Instructions
Place the chopped potatoes and salt in a pot and cover with water. Bring to a boil, reduce heat to medium, and cook the potatoes until fork tender, about 5-10 minutes.

While the potatoes are cooking, lay the bacon in a skillet over low heat and cook until crispy, about 10 minutes. Remove to a paper towel to blot out any excess grease, then chop or crumble into small pieces.

Heat the buttermilk and butter in a saucepan until warm and the butter is melted.

Place all the ingredients in a large bowl and whip with an electric mixer until fluffy and creamy adding more buttermilk if needed.
Nutrition
Calories:
170
kcal
|
Carbohydrates:
19
g
|
Protein:
4
g
|
Fat:
8
g
|
Cholesterol:
20
mg
|
Sodium:
900
mg
|
Fiber:
1
g
|
Sugar:
2
g