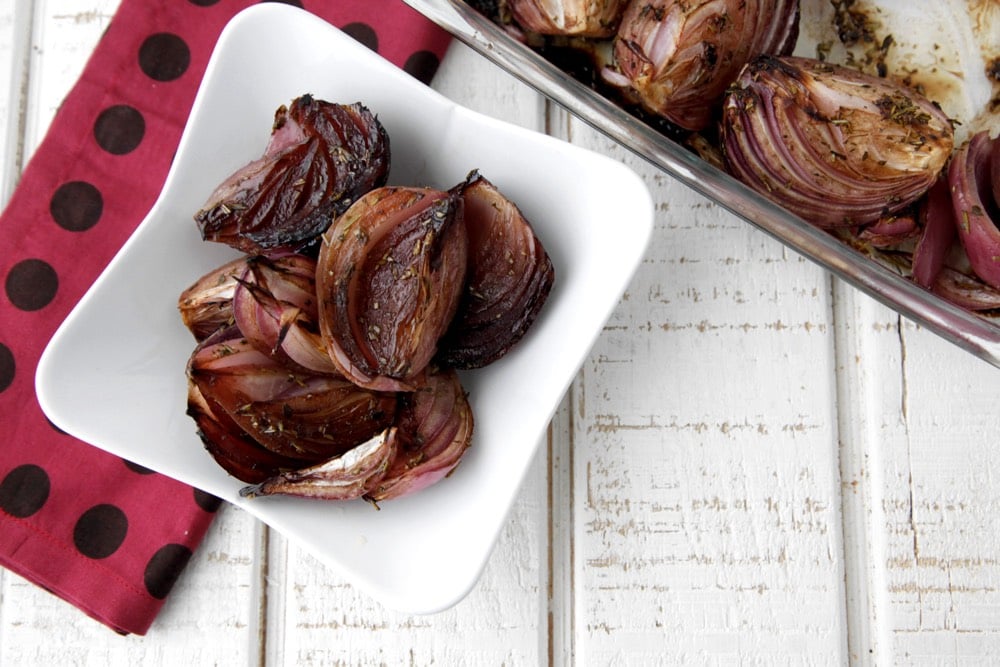 Pin
This may seem like the most un-kid-friendy recipe known to man, but that's why I challenge you to make it. Because if you think this dish won't go over well with your family, you're in for a big surprise. Without fail, every time I make these Balsamic Roasted Onions they're the first thing to disappear off my family's plates.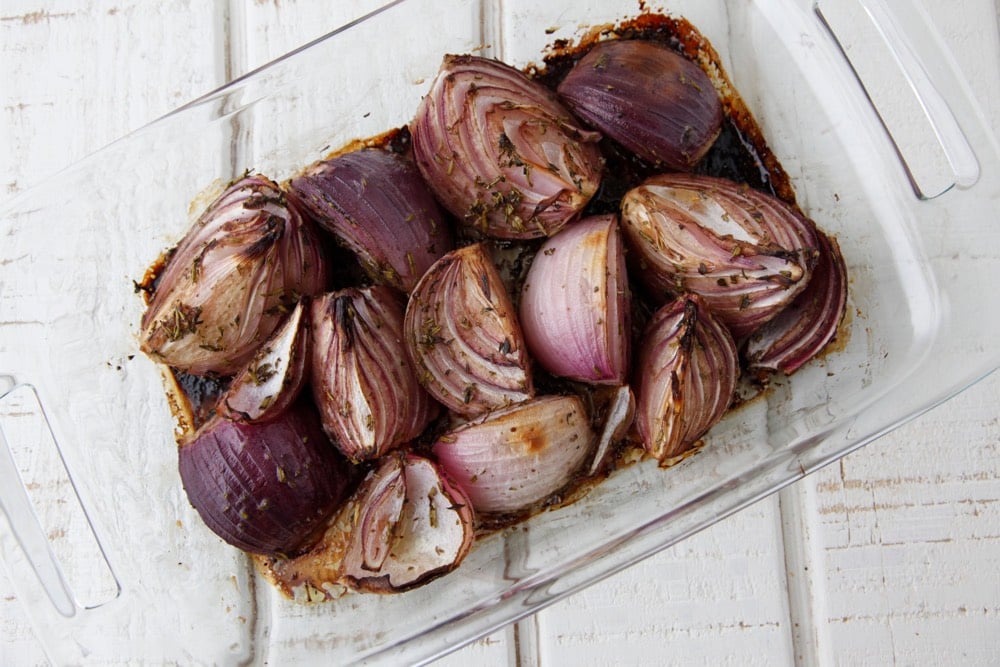 Pin
The genesis for this recipe was years ago, when I witnessed Kenya voraciously eating raw onions off a smoked salmon platter at a birthday party when he was just a wee one. Being that he was essentially still a baby I was totally shocked, but also elated as I myself am an onion lover. I was motivated by this occurrence, and started making him cooked onion recipes like healthy baked Crispy Onion Rings and later graduated to big bowls of Ooey Gooey French Onion Soup (one of my own beloved childhood dishes).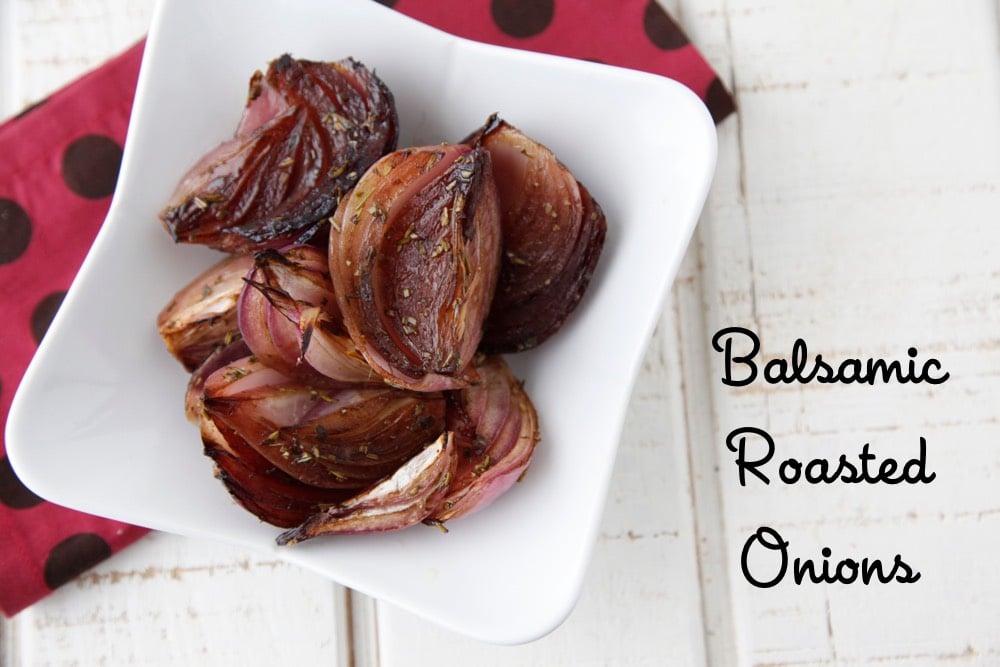 Pin
You can use any type of onions you have on hand for these Balsamic Roasted Onions, including yellow onions, but red and Maui onions are my favorites. Tossed with fresh rosemary and thyme and then splashed with a big hit of balsamic vinegar, they roast up and caramelize, becoming sweet and as soft as butter.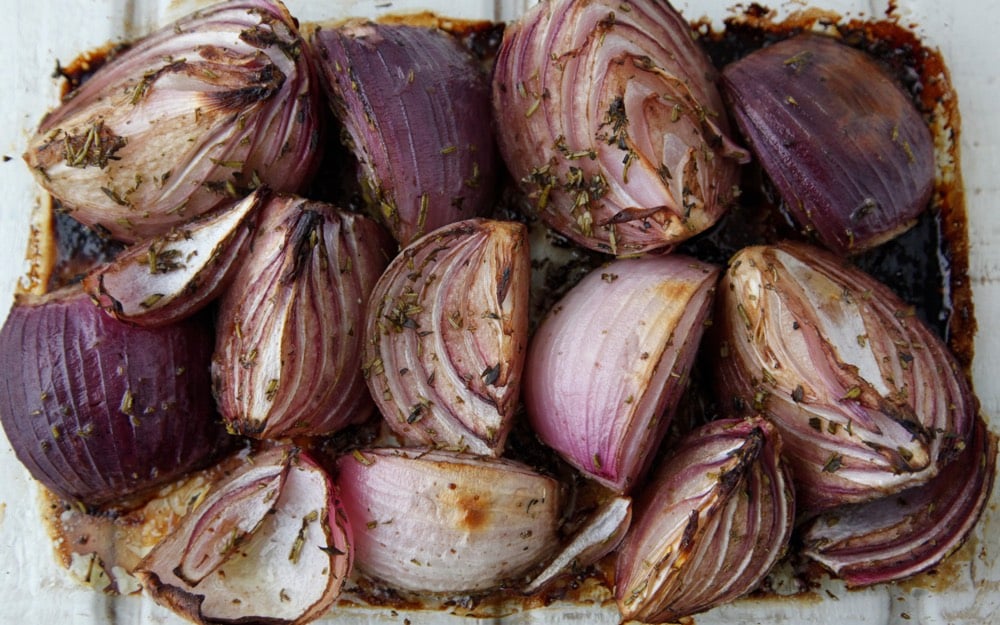 Pin
If you have a big bag of onions on hand and don't know what to do with them, make these Balsamic Roasted Onions. If you don't have any onions in your kitchen, go get some!
And be sure to save any leftovers (if you have any) to put in a good ol' sandwich like this one (link to Grilled Veggie Wraps).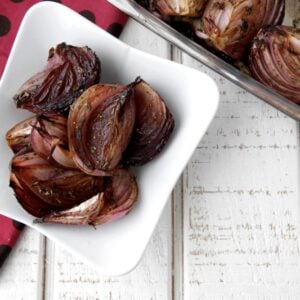 Balsamic Roasted Onions
Ingredients
3

onions, any color, peeled and quartered

3

tablespoons

olive oil

3

tablespoons

balsamic vinegar

1

tablespoon

minced fresh thyme (or 1 teaspoon dried)

1

teaspoon

minced fresh rosemary (or 1/2 teaspoon dried)

1/2

teaspoon

kosher salt
Instructions
In large 7 x 11 inch baking dish, combine the balsamic vinegar, oil, thyme, rosemary, salt and onion wedges and toss to coat.

Bake for 50-60 minutes, until the onions are caramelized and fork tender, stirring once halfway through.

Remove from the oven and drizzle with the remaining dressing.
Nutrition
Calories:
130
kcal
|
Carbohydrates:
10
g
|
Protein:
1
g
|
Fat:
10
g
|
Sodium:
300
mg
|
Fiber:
2
g
|
Sugar:
5
g