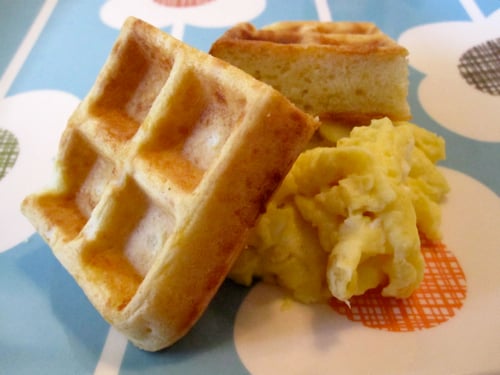 Waffles aren't just for breakfast anymore! I've actually been sending Kenya to school with waffles a lot lately. He loves when I cut them into bite-size squares and make mini waffle sandwiches. When I'm out of bread, but still want to make him a sammie, this is a great way to make breakfast leftovers stretch into lunch. I put anything from tuna salad to turkey to cream cheese inside.
I would imagine that everyone reading this has had sweet waffles before, but have you ever tried savory cheese waffles? They're a well-rounded breakfast, lunch or snack treat because they have protein from the cheese, egg and milk (great for vegetarians), and obviously, a carbohydrate. They're a great choice when you're on the go and need a complete energy boost. And, as you now know, they make great sandwich bread, too!
So, whether you eat these waffles on their own, as the bread for your sandwich or just alongside some eggs and bacon, they're a fun change of pace from the traditional waffle you're used to seeing on your plate!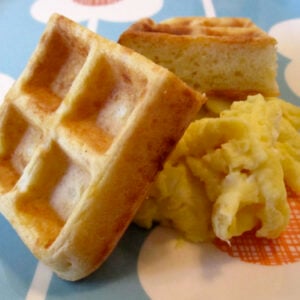 Cheese Waffles
Instructions
Combine the first 4 ingredients in a bowl and whisk to combine.

Add the cheese and make sure to coat it with the flour mixture (this will help the cheese stay separated).

In a separate bowl, whisk the eggs, milk and oil.

Add the dry ingredients into the wet mixture and whisk to combine.

Pour about 1/3 cup of the batter into the greased waffle iron and cook 3-5 minutes.

*After waffles have cooled, place in ziploc bag, label and freeze. Defrost or pop into a toaster oven or oven at 300 degrees for 10 minutes.
Nutrition
Calories:
170
kcal
|
Carbohydrates:
18
g
|
Protein:
7
g
|
Fat:
8
g
|
Cholesterol:
45
mg
|
Sodium:
370
mg
|
Fiber:
1
g
|
Sugar:
2
g