Chicken Paillard with Summer Salad has become one of our quintessential summertime recipes that keeps everyone happy and well fed. It's super simple to make and a great weeknight recipe!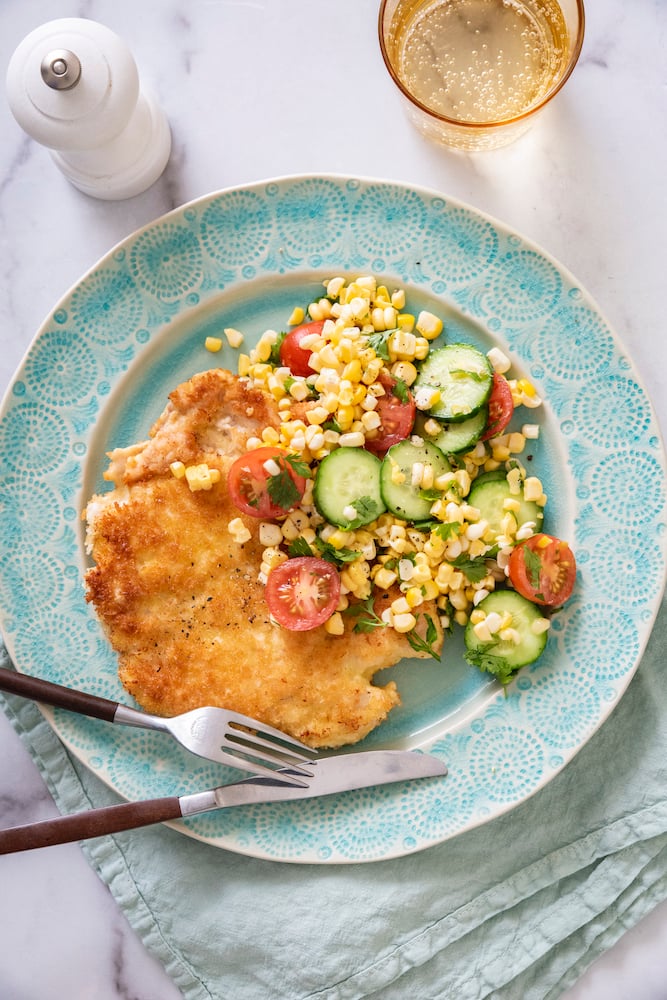 Want to know how I get in trouble in my house? When hubby is putting the kids to bed and I'm in the kitchen pounding chicken breasts to make Crispy Chicken Paillard with Summer Salad for him and I to eat. I may think I'm being quiet but apparently it sounds like a jack hammer.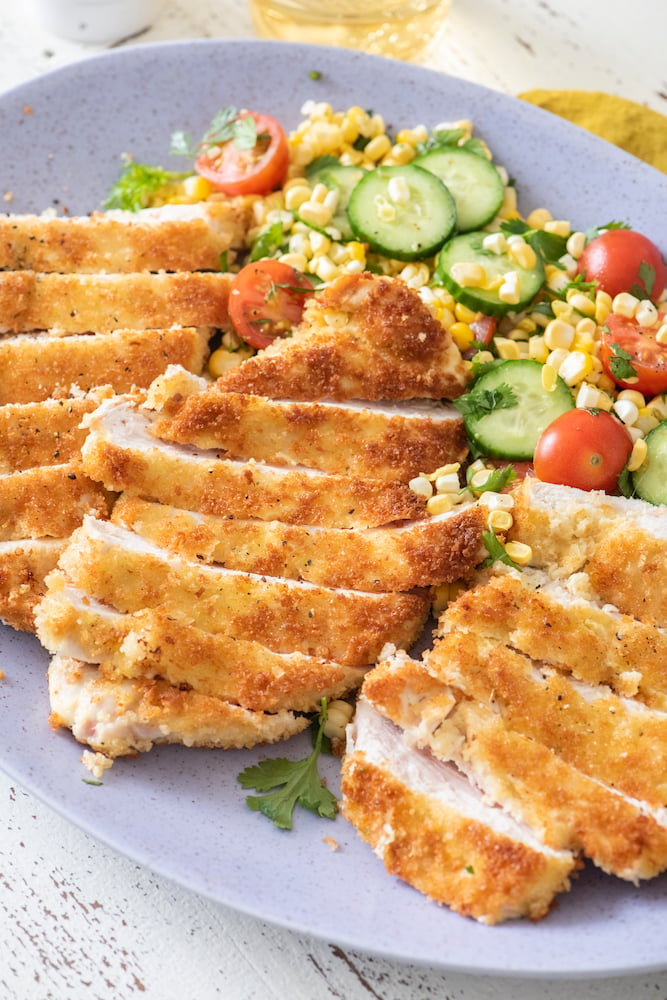 Still, after a long day of running around in the summer heat with the kids, there's nothing like taking out a little aggression on a chicken breast with a heavy mallet. But as I said, I guess I don't know my own strength. I put a kitchen towel over the chicken and parchment paper to muffle the sounds, but without fail someone wakes up or comes down to complain that they can't sleep.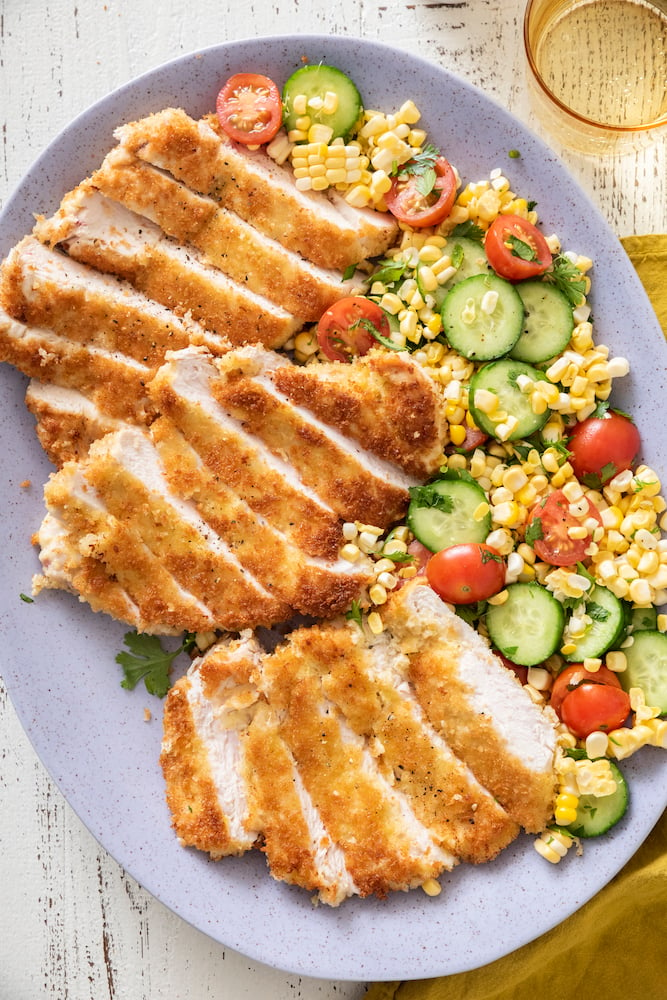 However, they don't complain when I'm serving it to them. I've made this dish for the kids several times this summer and they now ask for it regularly… tender, juicy chicken breasts coated with a crispy golden layer of panko on the outside and topped with cherry tomatoes and cucumbers from the farmers market. I like to add fresh corn cut right off the cob on the side for added sweetness.
The summer salad just brings this Chicken Paillard to an entirely new level. Don't get me wrong, it's pretty hard to dislike a delicious, tender breaded chicken, but the sweet and savory addition of the veggies mixed together just makes this dish *chef's kiss*, magnifico. And the textures are just out of this world perfect together. I'm salivating just thinking about it!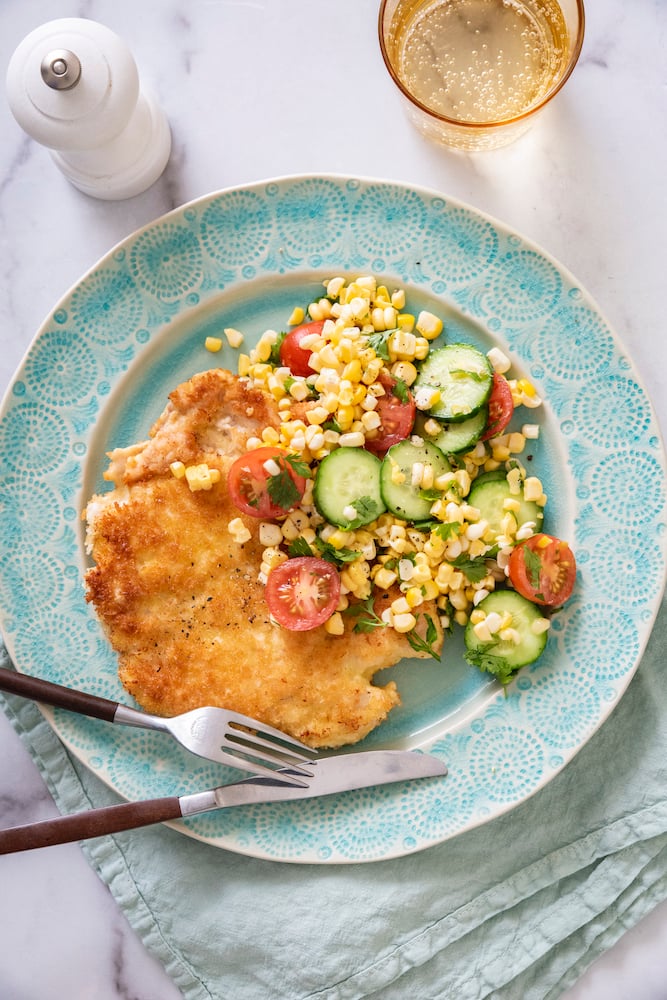 If I'm not making Lazy BBQ Chicken or Simple Broiled Salmon, I'm most likely making this irresistible chicken dish. Now I just need to find a quieter way to make it at night for my hubby or just save it exclusively for family dinners so I don't keep everyone up!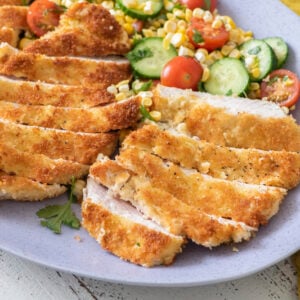 Chicken Paillard with Summer Salad
Ingredients
4

boneless and skinless

chicken breasts

1

cup

flour

2

large

eggs, whisked

2

cups

panko bread crumbs

2

teaspoon

kosher salt, divided

canola or vegetable oil, for the pan

1

cup

cherry tomatoes, halved

2

persian cucumbers, thinly sliced

1

ear of corn, cut off the cob

2

tablespoons

chopped cilantro

2

teaspoons

lemon juice

1

tablespoons

olive oil
Instructions
1.Place one chicken breast between 2 sheets of parchment paper and pound using a tenderizer until about 1/3 inch and even thickness. Repeat with all the breasts.

Season each chicken breast with 1/4 teaspoon salt.

In 3 small dishes place flour, egg and breadcrumbs separately.

Dredge both sides of chicken breast in flour, followed by egg and then bread crumbs and repeat with remaining breasts.

Heat about 2 tablespoons of oil in a skillet over medium high heat and place chicken breasts in skillet (cook several at a time to avoid overcrowding the pan adding extra oil if needed for second batch)

Fry until golden brown, about 5-6 minutes and flip to brown other side

Toss tomatoes, cucumbers, corn and cilantro. Lemon juice and olive oil and remaining salt in a mixing bowl.

When chicken is golden brown and fully cooked place on a cooling rack to cool slightly.

Place chicken on plates and top with spoonfuls of salad serving extra lemon wedges if desired.