These Crispy Orange Stuffed French Toast Sticks are so decadent and delicious, you'll find yourself wanting to make them every single day.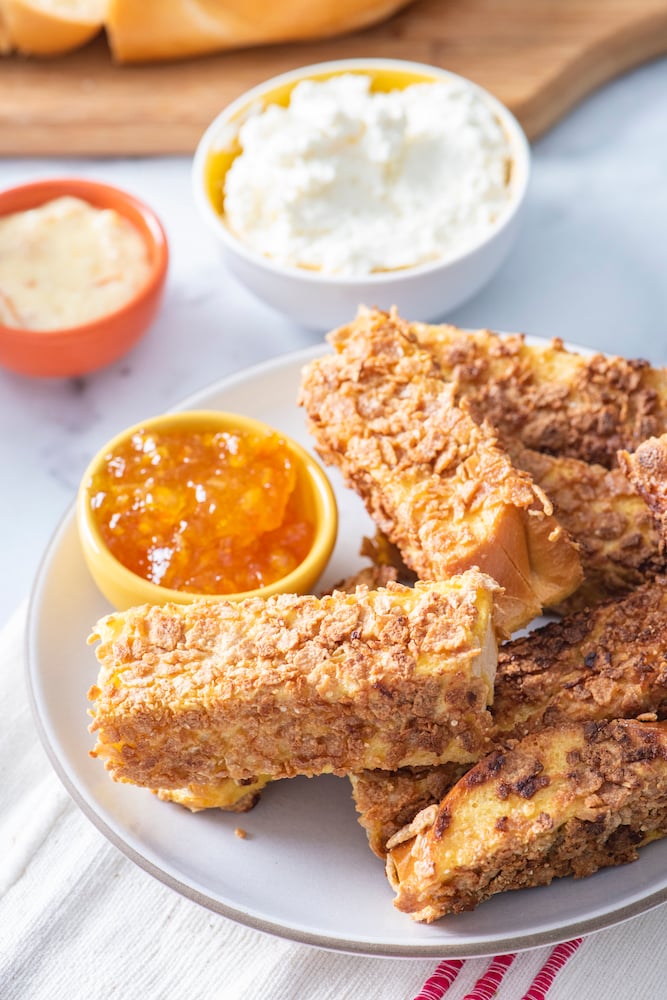 Chloe's school offers a wide array of amazing after school classes that I would have flipped for as a kid. When she was in Kindergarten, the one that Chloe was desperate to be a part of was cooking. Not only because it was taught by her beloved teacher, Maureen, but on account of the smells that would waft out of her room in the late afternoon, which would captivate anyone at school within smelling range. Sadly, the cooking class was only available to 1st through 6th graders and each Wednesday she would watch longingly as the older kids filed out carrying their multi-course meals fit for a king.
Then something happened. The school made the bold decision to open cooking up to Kindergarteners for the last part of the year. I bet you can guess who was first in line to sign up. I would stand on my tip toes outside the classroom every week, peeking in at the 20 or so kids cooking their hearts out. These triumphant little ones would leave every time with such pride, carefully holding their culinary masterpieces. Each week of class would take on a different theme, but the recipe that really caught my eye was from the breakfast series which featured crispy French toast stuffed with orange zest and cream cheese. It's so rich and decadent, it could almost pass for dessert.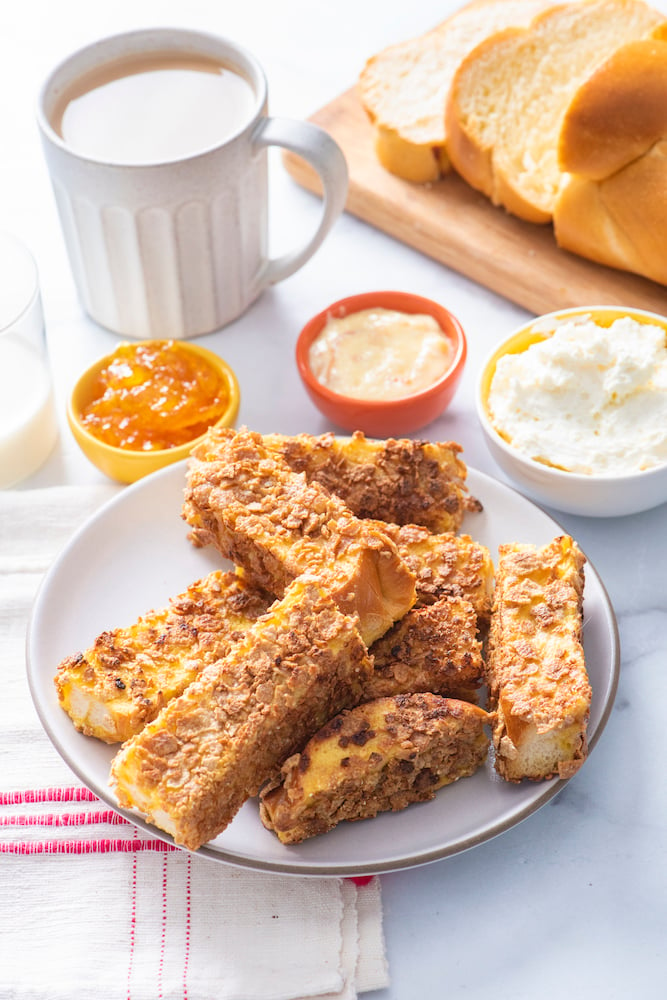 As soon as we got home, she couldn't stop talking about these sweet treats, and begged me to try remaking them. So we whipped out the ingredients and got to work. Years later, this is still one of my favorite recipes to make with my kids. And now that Gemma is helping me cook more and more, I couldn't help but try these with her. I don't think I need to tell you, but after we cooked them she gobbled them up within seconds. This recipe really is the gift that keeps on giving!
If you're looking for more recipes to make with your little ones, try my Blueberry Cream Cheese French Toast, Breakfast Rice Cakes, Bubble Waffles, or these Cottage Cheese Pancakes!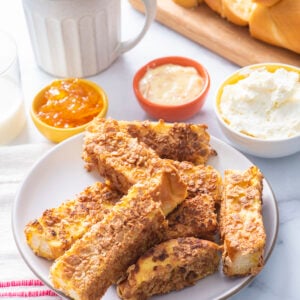 Crispy Orange Stuffed French Toast Sticks
Ingredients
1/4

cup

whipped cream cheese

2

tablespoons

orange marmalade

4

slices

sandwich, french or challah bread, crusts on or off

2

large

egg

1/4

cup

milk

1

cup

heritage flakes cereal, crushed (corn flakes or your favorite flake cereal work great too)

butter or oil, for greasing pan
Instructions
In a bowl use a fork to whip the marmalade and cream cheese until throughly combined,

Spread the mixture evenly on two slices of bread and top with remaining bread creating 2 sandwiches.

Slice the sandwiches into 1 inch sticks.

In a bowl whisk the eggs and stir in the milk.

Place the cereal in a zipper bag and using a rolling pin or mallet crush into tiny pieces and pour in a flat shaped bowl.

Dip the sandwich sticks first in the egg mixture on each side and then into crushed cereal coating completely.

Heat 1 tablespoon of butter or oil in a large sauté pan and cook the sticks over medium heat for 1-2 minutes per side or until golden.

Serve with honey, maple syrup or on their own.
Nutrition
Calories:
450
kcal
|
Carbohydrates:
51
g
|
Protein:
17
g
|
Fat:
20
g
|
Cholesterol:
225
mg
|
Sodium:
530
mg
|
Fiber:
4
g
|
Sugar:
19
g