Dye-Free Deviled Eggs are the perfect way to add some color and fun to your Easter brunch.
I kind of went a little crazy with my artificial dye ban this year, making my own homemade easter egg dyes from different fruits, vegetables, and spices. While testing, I was definitely in mad scientist mode — so much so that when the kids saw twenty bowls filled with different colored eggs on our kitchen counter, they looked like they didn't know whether to be overjoyed or deeply concerned over what mommy was doing. Suffice to say, joy won out.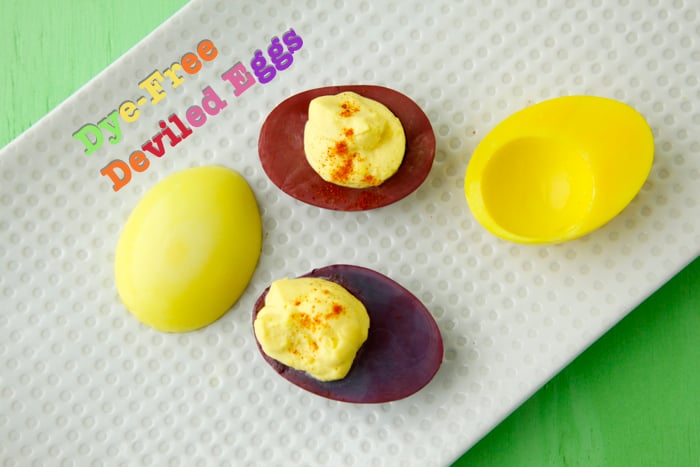 Pin
At first I dyed the eggs the same way I've done the past few years, traditionally, with their shells on. However, I then thought about how these dyes are natural and edible, why not try dyeing eggs with their shells off? Right then and there I decided to make vibrantly colored deviled eggs to serve this Easter with Deviled Egg Chicks. I was amazed that I was able to get such a rich rainbow of colors — light blue, violet, red, two shades of yellow, pink, purple, and more — from simple cabbage, curry, beets and so on. Some of the eggs even took on the flavor of the dyes, which felt like an added bonus.
I wish you could have seen Kenya and Chloe's faces as they watched the egg white halves absorbing the natural colors which got deeper and darker the longer the cooked egg whites sat in the dye-free solutions of water. It's the most fun chemistry experiment you can do in your kitchen with kids. They can play around and discover all kinds of foods that have deep colors that absorbs into the egg whites. Then, when you have tons of egg yolks, you can mix them with a little mayo to make a creamy mixture that kids can pipe into their colored eggs.
This is a great way to play with your food and feel like a kid at heart. So forget those prepackaged dye kits this year and liven up your Easter naturally!
Dye-Free Deviled Eggs
Ingredients
Combinations:

1/2

cup

chopped red cabbage plus 1 cup water plus 1 tablespoon baking soda (bright blueish green)

1/2

cup

chopped red cabbage plus 1 cup water (light blue)

1/2

cup

chopped red cabbage plus 1 cup water plus 1 tablespoon lemon juice (violet)

1

cup

chopped beets plus 1 cup water (rust/purple/red)

1

tablespoon

curry powder plus 1 cup water (bright yellow)

1

tablespoon

ground turmeric plus 1 cup water (light yellow)

1

cup

100% blueberry juice (purple)

1

cup

100% pomegranate juice (dark purple)

1

cup

100% grape juice (purple)

1

cup

100% raspberry juice (pink)

greek yogurt

greek yogurt

12

large eggs

greek yogurt

greek yogurt

12

egg yolks

2

teaspoons

dijon mustard

1/2

cup

mayonnaise (or vegan mayonnaise)

1/2

teaspoon

kosher salt
Instructions
Natural Dye:
Place the red cabbage and beets in separate small pots and cover with water. Bring to a boil, reduce heat to low and simmer for 20 minutes. Strain the liquid and cool.

Add 1 tablespoon of lemon juice to the cabbage water to get violet eggs or 1 tablespoon of baking soda to get bright blueish green eggs.

Allow the beets to soak in their cooking liquid (off the heat) for 1 hour to get red, or use immediately for a rust-ish purple color.

The remaining ingredients do not need to be boiled or simmered. You can just place the combinations in separate bowls.

Place the egg whites in the color mixtures to dye. The egg whites will begin to absorb the color immediately and will continue to darken and become more vibrant over the next 20 minutes.

To dye whole, unpeeled eggs, add 1 tablespoon vinegar to each color. The eggs will absorb the color after about 10 minutes, and will continue to darken and become more vibrant up to 24 hours in the liquid. If you will be soaking the eggs overnight or several hours, cover and refrigerate them.

Note: to get raspberry or blueberry juice, defrost 1 1/2 cups of frozen berries and mash through a sieve or puree in a blender and strain.
Hard Boiled Eggs:
Place the eggs in a pot and cover with cold water. Bring the water and eggs to a boil over high heat. When the water comes to a boil, turn off the heat and let sit for 12 minutes.

Drain off the hot water and cover with cold water to cool the eggs.

Peel the eggs and cut in half for deviled eggs. Leave the eggs whole and unpeeled to dye the egg shells.
Deviled Eggs:
In a bowl, mash together the egg yolks, mustard, mayonnaise and salt until smooth. Fill the halved egg whites with the mixture and serve.
Nutrition
Calories:
110
kcal
|
Carbohydrates:
1
g
|
Protein:
6
g
|
Fat:
9
g
|
Cholesterol:
185
mg
|
Sodium:
610
mg
|
Sugar:
1
g