Egg in the Hole is a family favorite no matter what your age and it's great any day of the week!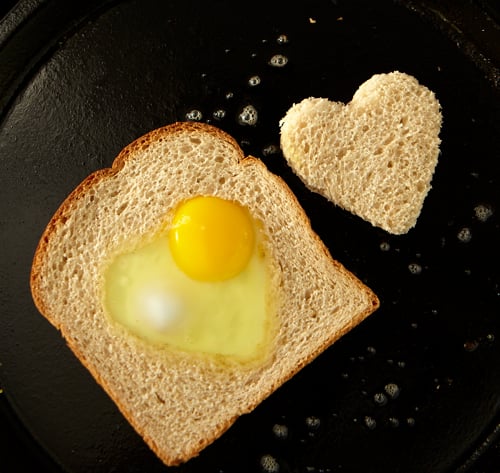 Pin
How do you make an inexpensive, balanced and fast meal in minutes? Easy! All you need are some eggs, bread, a pat of butter (maybe a sprinkling of grated parmesan cheese if you're feeling crazy), and a glass or your favorite cookie cutter. The result is a breakfast that seems extra special even though it couldn't be simpler to make.
As a cook, I get bored making the same thing day after day. I need to constantly change it up or being in the kitchen just isn't fun for me. Recently, Kenya has been asking for omelets EVERY morning for breakfast. So after the first few days of "crack eggs, whisk eggs, cook eggs", I decided to see how he'd respond to a bit of a change.
"Egg in the Hole" was one of my favorite breakfasts from childhood. This dish is especially great because there's lots of fun stuff the little ones can do to help you prepare it — getting to make the holes in the bread is probably the most fun. When I was a kid, a simple drinking glass did the trick. But here at Weelicious, we believe things can always be MORE fun. Well, cookie cutters aren't JUST for making cookies, you know. While you're getting everything ready to prepare the "Egg in the Hole", your little ones can rummage through your cookie cutters and pick the shape they want their egg to be. Say hello to "Egg in the Witch", "Egg in the Gingerbread Man", "Egg in the Star", and more! In no time flat you'll have a delicious high protein and carbohydrate meal that's the perfect start to a day….and never boring!
Photo by Maren Caruso
Egg in the Hole
Ingredients
2

Slices

of Bread (I used whole wheat)

1

Tbsp

butter

2

eggs

kosher salt
Instructions
Using a cookie cutter, press out the center of the pieces of bread reserving the cut out.

Heat a large saute pan over medium heat and melt the butter.

Add the pieces of bread and the center cut outs to the pan.

Break 1 egg into each cutout, sprinkle with salt to taste and cook for 2-3 minutes.

Flip the bread gently and cook to desired doneness (2-3 minutes total for runny eggs and 5 minutes total for firm eggs).

Serve each piece of bread with the cut out.
Nutrition
Calories:
190
kcal
|
Carbohydrates:
12
g
|
Protein:
10
g
|
Fat:
11
g
|
Cholesterol:
200
mg
|
Sodium:
200
mg
|
Fiber:
2
g
|
Sugar:
2
g