Kid Friendly Puttanesca is one of my family's favorites! The savory tomato sauce is taken to the next level with olives and capers. It's super simple to make and a huge crowd pleaser.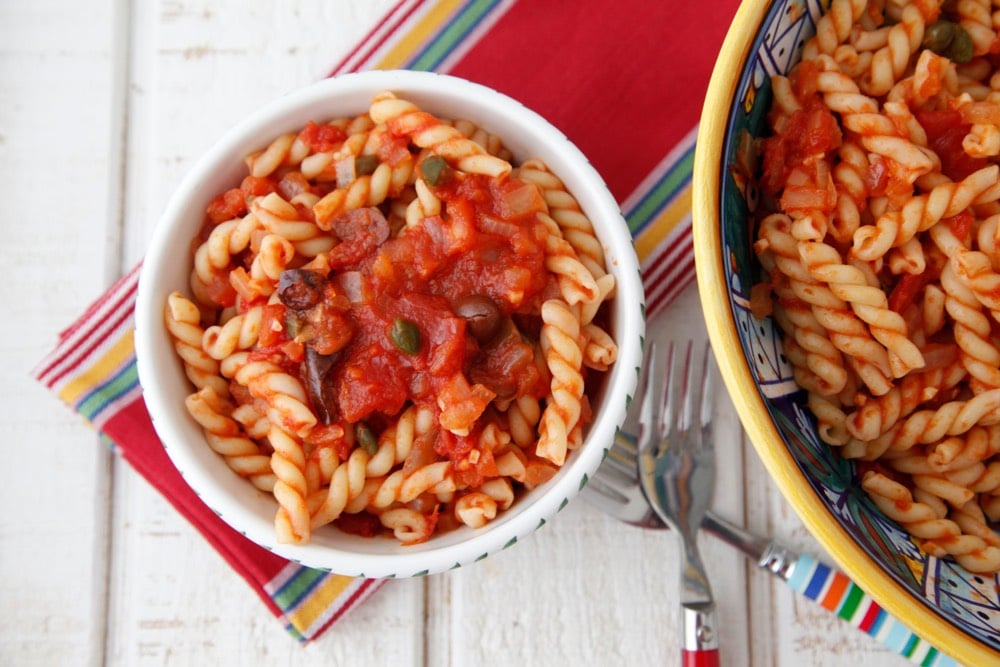 Pin
If there's one thing my kids never tire of eating, it's pasta, and while our family was on vacation in Italy last month we went through a lot of it. Every restaurant we dined at had a dizzying amount of delicious pasta dishes on the menu to choose from (not to mention all the pizza), proving day after day on our trip that Italy truly is the ultimate kid-friendly place to visit.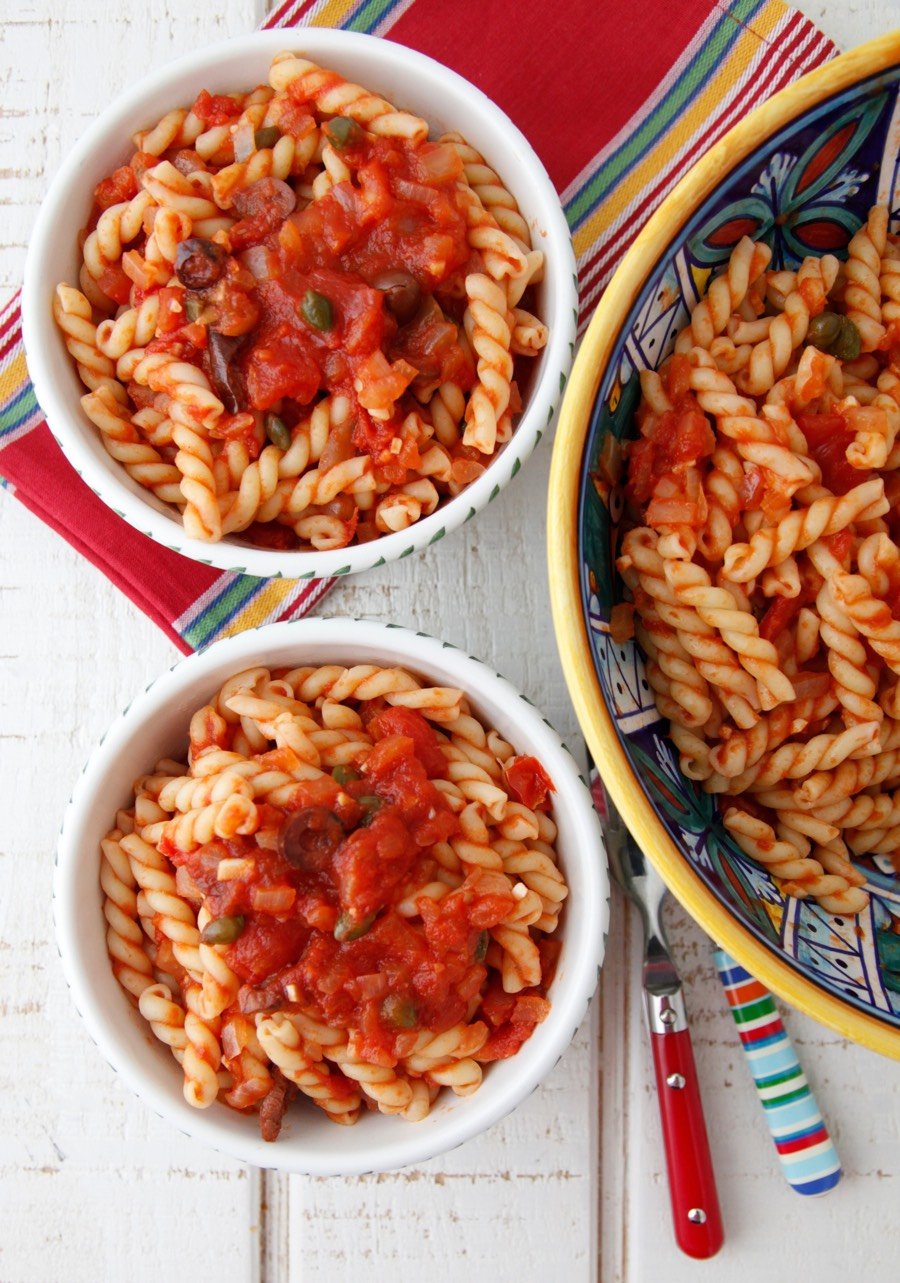 Pin
Burned out from our daily consumption of carbs in Italia, hubby and I have gone on a bit of a pasta pause since returning home. However I can't stop dreaming of the sauces. Oh, the sauces. That's a whole other topic for me. I love them all and can't get enough — pomodoro, pestos, bolognese, rich thick ragus, sugo all'amatriciana, and my favorite, puttanesca, a savory tomato sauce punctuated by olives and capers.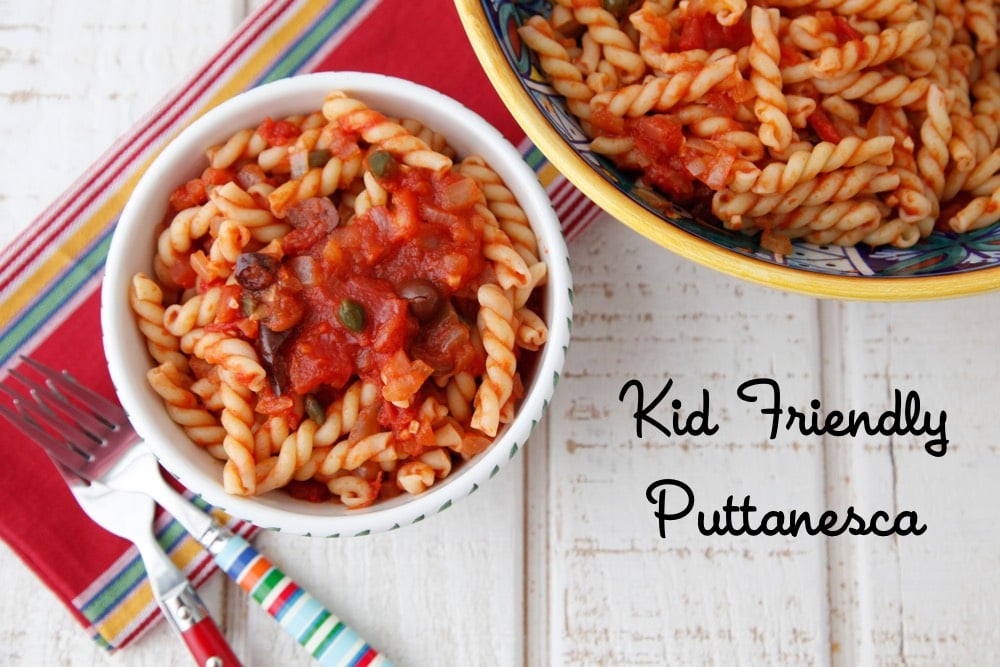 Pin
This kid focused Puttanesca was made in honor of my sweet daughter, Chloe, who also happens to be my resident olive and caper lover. I omitted the anchovies at her insistence (the little fish were giving her the willy's) and compensated by adding even more of the salty, briny flavor from the capers that makes a classic puttanesca sauce so irresistible — and one that Chloe and our whole family absolutely loves.
Pin
There are plenty of nights this sauce performs double duty for me at family dinner. I toss some with cooked penne or rigatoni for the kids and spread the rest on grilled or broiled fish or chicken for the adults. It's a basic sauce to be sure (that freezes beautifully, by the way), but thick, hearty and flavorful enough to stand out at any meal. It's also versatile, the perfect topping for any Italian food lover, pasta or not!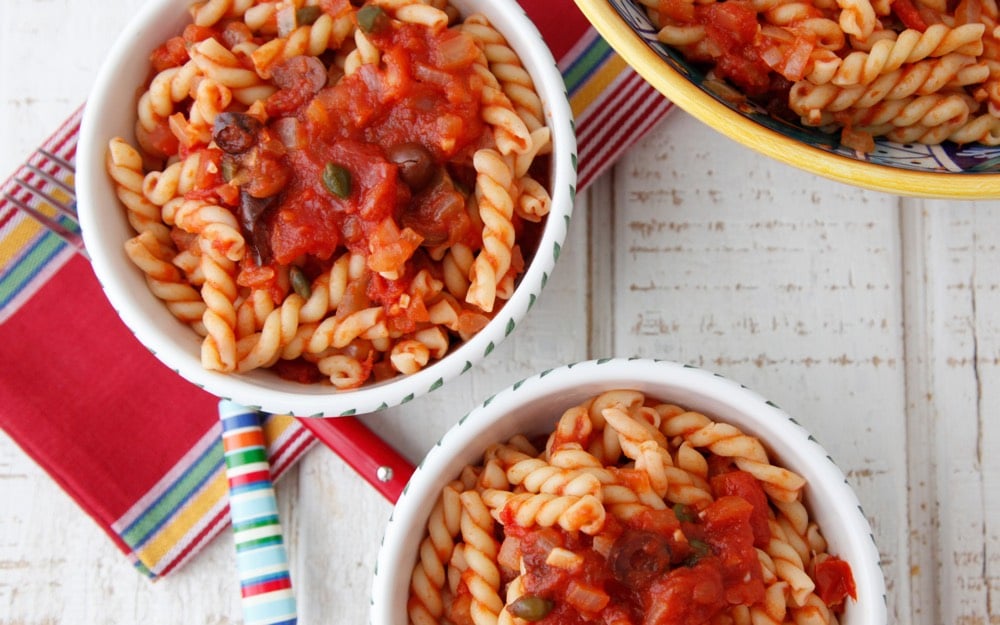 Pin
Share what you cooked with us on Instagram. Tag @weelicious in your Instagram photos of your dish and family enjoying this recipe.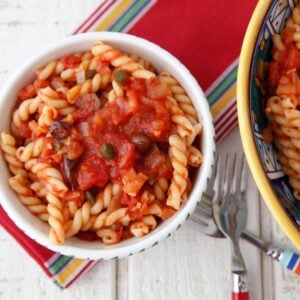 Kid Friendly Puttanesca
Ingredients
1

tablespoon

olive oil

1

large

onion, diced

3

garlic cloves, minced

1

15-ounce can

diced tomatoes

1

15-ounce can

tomato sauce

1/4

cup

sliced kalamata olives

3

tablespoons

capers

1/4

teaspoon

kosher salt
Instructions
In a sauce pan over medium high heat, sauté onion, garlic and salt in olive oil under tender and transparent, about 5 minutes

Stir in diced tomatoes, tomato sauce, olives and capers. Bring to a boil. Reduce heat and let simmer for 10-15 minutes.

* Serve with pasta, quinoa or rice, broiled or grilled fish or chicken