Lemon Shrimp Pasta is the most family-friendly meal you can make. Plus it's super easy to prepare and inexpensive. A win-win!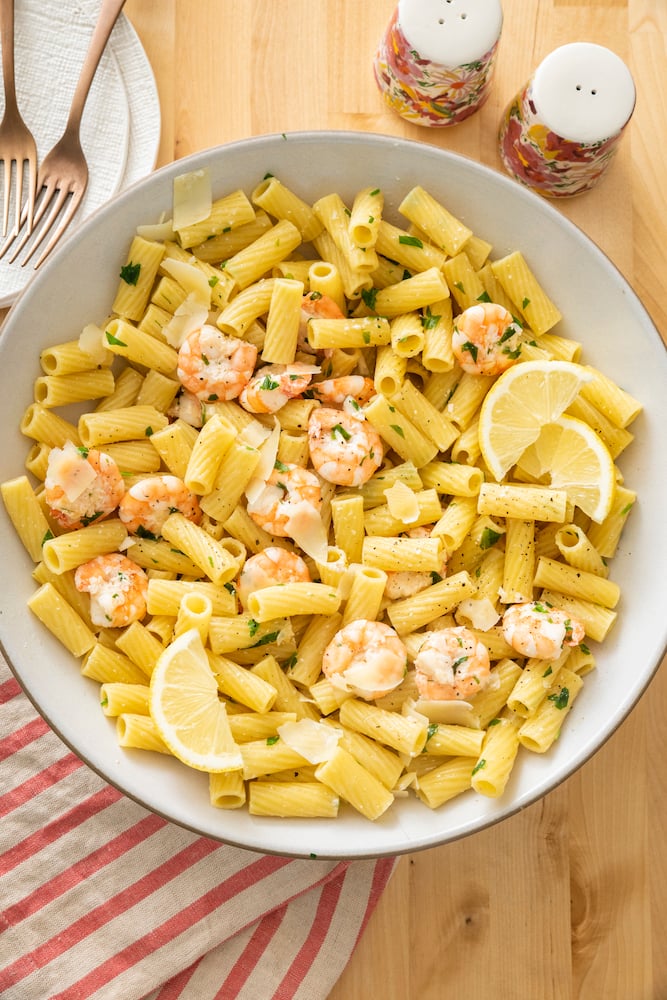 Pasta and shrimp. Two of my family's favorite foods. That's good news for me because they're relatively inexpensive (money saving tip: buy pre-packaged frozen shrimp in your grocery's freezer aisle), and I can keep them on hand for quick recipes just like this one. I'm pretty sure that we eat shrimp or pasta in our house 5 days a week, so combining them in this recipe just made sense.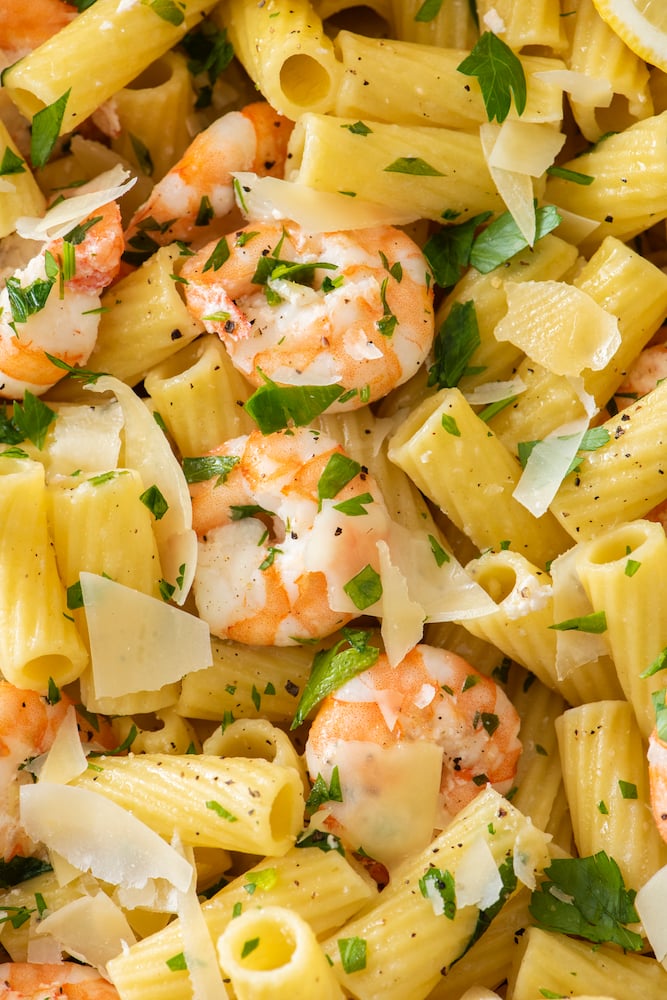 Lemon Shrimp Pasta is one of those dishes I like to make on the nights that I'm exhausted (uh, that would be every night) and need something that is super easy to prepare, will be a hit with the family and looks totally gourmet. This recipe checks all the boxes! The kids also love helping me prepare this dish, which I love!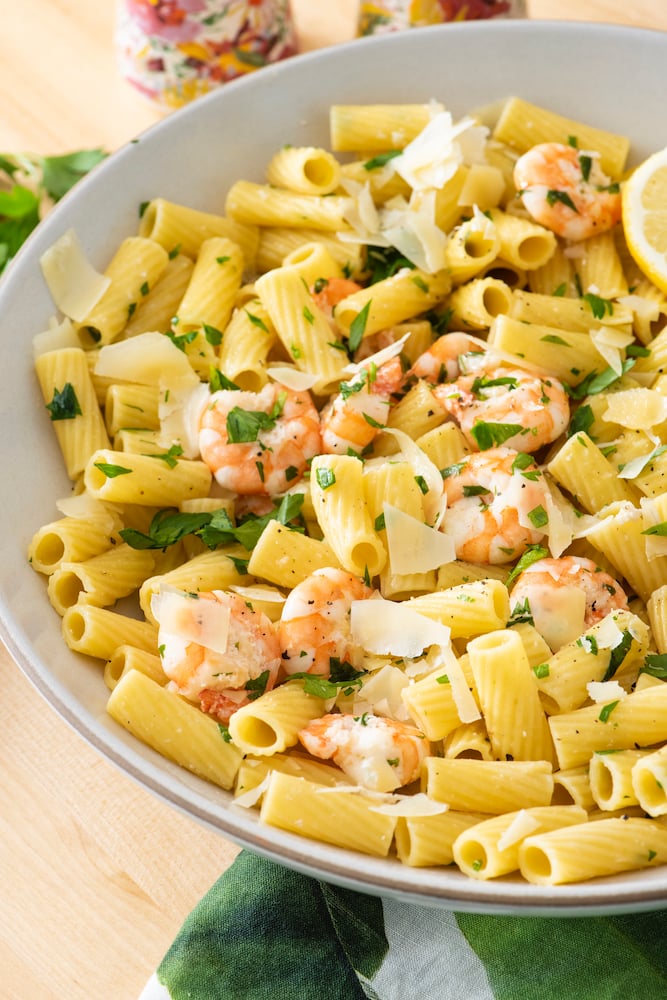 When I say this recipe is fast and easy, I'm not exaggerating. While your pasta is boiling, start preparing the shrimp and pasta sauce and you can have this on the table in under 30 minutes. It really is a perfect mid-week dinner meal that the whole family will enjoy. Be prepared for everyone to grab seconds!
Pasta recipes are some of my favorites to make (and eat, of course). At least once a week we're having some sort of pasta dish like Wild Mushroom Pasta, Kid Friendly Puttanesca or Pasta Primavera. Pasta is so versatile, which is why we love it so much. Typically our pasta dishes are served with a side of Grilled Lemon Asparagus. The perfect combo.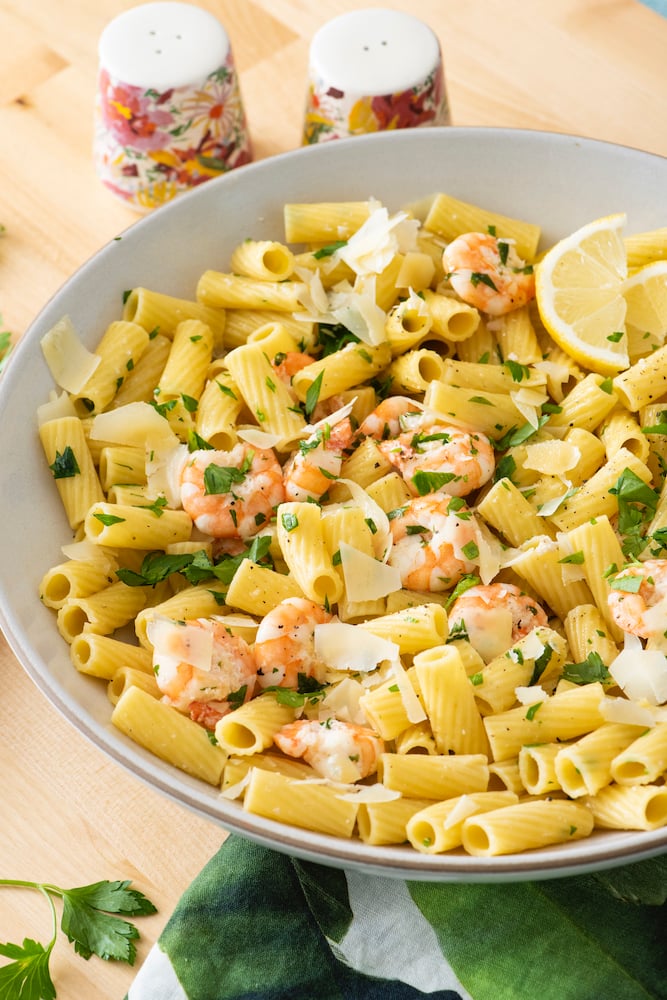 This recipe will definitely be your new go-to every week. It's simple, tasty and the perfect meal to keep the whole family happy. Tag me on social media if you make this one! I love seeing your Weelicious creations.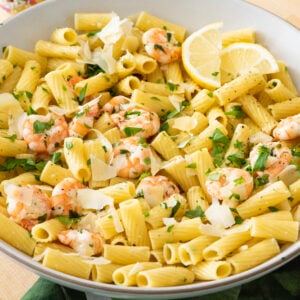 Lemon Shrimp Pasta
Ingredients
1

tablespoon + 1/4 teaspoon

kosher salt

1

pound

rigatoni or favorite shaped pasta

1

pound

large raw shrimp, peeled and deveined (I used frozen shrimp that I defrosted)

2

tablespoons

olive oil

2

garlic

cloves, minced

1

cup

clam juice

1

tablespoon

lemon juice

1

tablespoon

butter

2

tablespoons + more for sprinkling

parsley, chopped
Instructions
In a large pot, bring 4 quarts of water plus 1 tbsp of salt to a boil.

Cook the pasta according to package directions and drain reserving 1 cup of the pasta water.

While pasta cooks, heat 2 tbsp of the olive oil in a large saute pan over medium heat.

Place the shrimp, garlic and 1/4 tsp salt in a saute pan and cook for 3 minutes, stirring halfway through (make sure not to overcook the shrimp).

Remove the shrimp to a plate and add the clam juice into the same saute pan.

Bring the clam juice to a boil for 5 minutes or until the liquid is reduced by half.

Whisk the butter, lemon juice and parsley into the saute pan and add the pasta, shrimp and as much of the reserved pasta water as necessary to make a sauce to coat the pasta.

Top with additional parsley or grated cheese if desired. 
Nutrition
Calories:
590
kcal
|
Carbohydrates:
86
g
|
Protein:
31
g
|
Fat:
13
g
|
Cholesterol:
150
mg
|
Sodium:
2770
mg
|
Fiber:
4
g
|
Sugar:
3
g