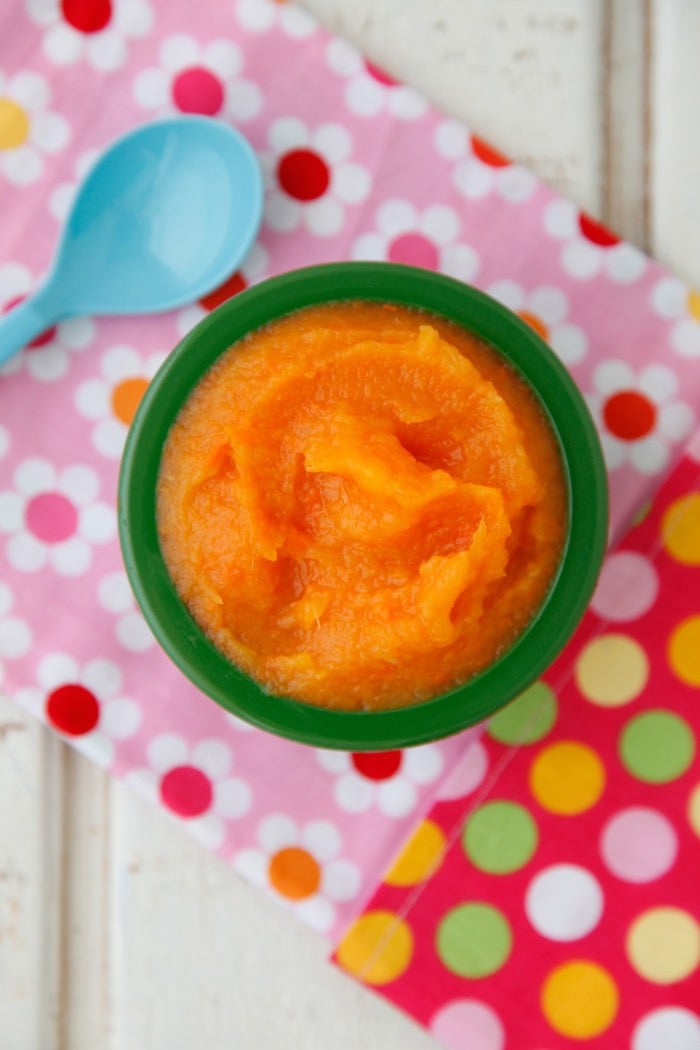 I actually got the idea for this Mango Apple Carrot puree from a friend. She was giving her grand-daughter this puree out of a jar and I asked her how much it cost $1.49 for a tiny jar of food! I was kind of blown away at how the costs could rack up knowing how much food Kenya eats and how much he loves variety.
If you are busy and working full time, I get it. Your baby is lucky to be eating healthy, organic food. If you could make it fresh (the benefit being it would retain more vitamins since it's not living in a jar for weeks — maybe even months) and it would cost a fraction of the price, wouldn't it be better to make your own?! I bought three organic items for this recipes. The mango was $1.69, the bag of carrots was $1.39 and the apple was 69 cents. That's a total of $3.77 and I had 3/4 of the bag of carrots and some mango leftover. There are 10 servings in this recipe which means it would cost give or take $14.90 (that's a savings of $11.13). This puree has a heavenly flavor. The mango and carrots are packed with Vitamin C and Beta-Carotene which your baby's body converts to Vitamin A
which is needed for healthy skin and vision. Trust me, this won't be a hard puree to sell to your little one.
Mango Apple Carrot Puree
Ingredients
1/2

cup

chopped baby carrots

1

cup

chopped mango

1

cup

peeled and chopped apple
Instructions
Put carrots in a steamer pot over boiling water for 3 minutes.

Add mango and apple for 2 minutes or until everything is fork tender.

Put in a food processor until smooth.

Cool and serve.
Notes
A NOTE ON PEELING MANGOS: There are tons of contraptions and different ways to cut mangoes. I peel the mango with a carrot scraper and the cut around the pit. Figure out approximately where the pit is placed and cut a big oval off one side and then the other. Turn it and cut the remaining strips off the long side. This way it comes right off the pit and you won't waste any of the delicious mango.