Hmm.. what to make for dinner? Pizza? Quesadilla? Why not have both and make Pizza Quesadillas!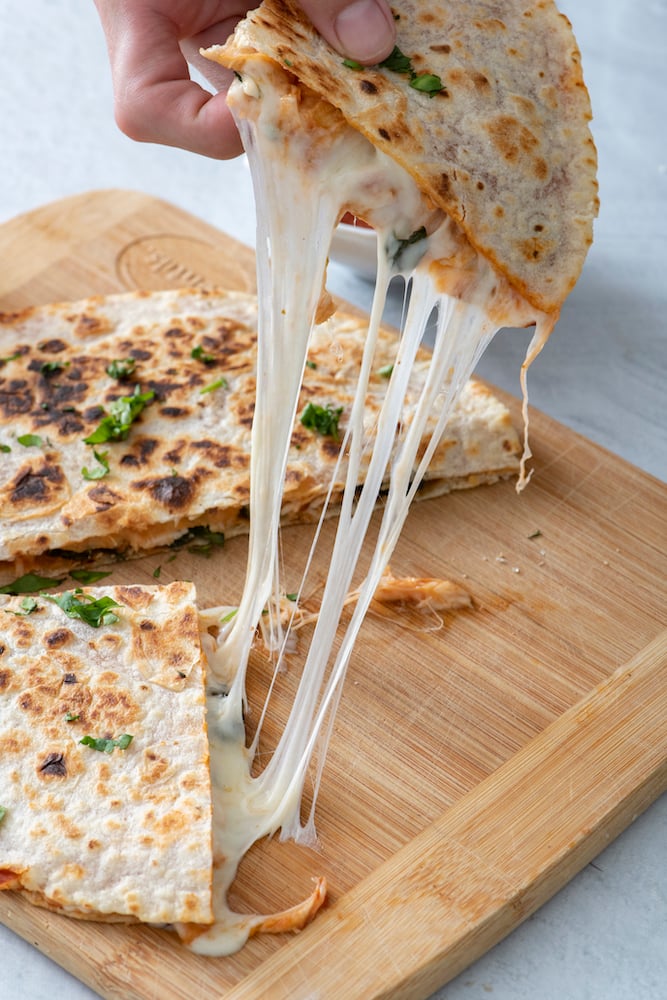 My husband occasionally gives me flack for writing that so many foods are my kids' "favorites, but what can I say? They frequently request a wide variety of things when I ask them what they want to eat. Plus, they tend to say "this is my favorite" about pretty much anything they happen to be eating and enjoying at any given moment.That being said, quesadillas and pizza are undoubtedly WAY up on everyone's list in our household.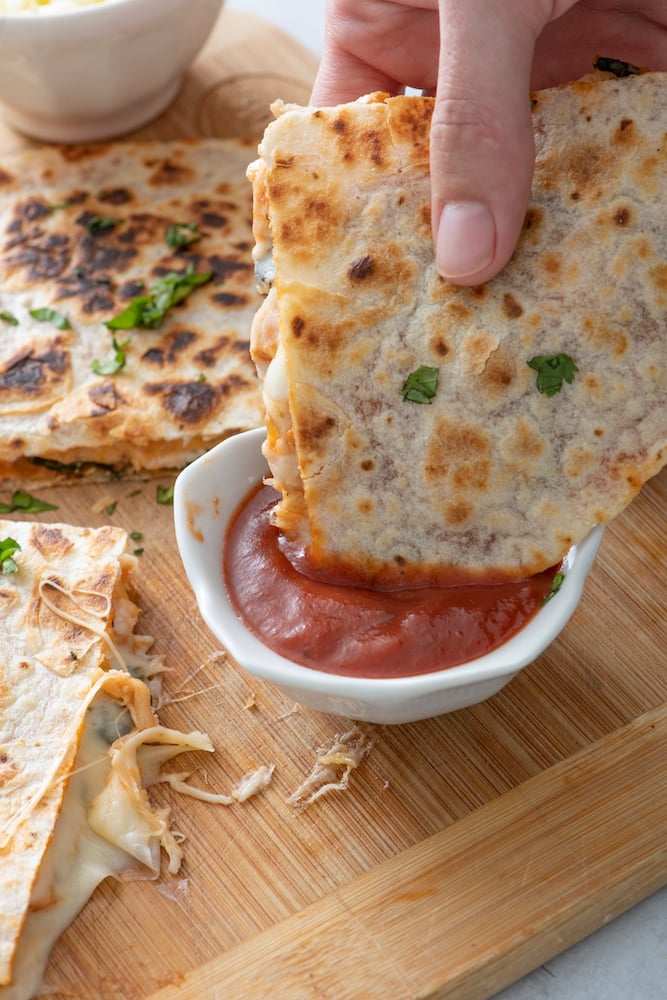 Whenever I announce that I'm making either pizza or quesadillas, the kids make a bee line to the kitchen table and become human vacuums. So the day I said I was making Pizza Quesadillas, their minds were BLOWN! Both of their favorite foods wrapped into one recipe? Heck YES! Obviously, I was happy that they were happy, but the best part is it took me under 10 minutes to make them!
This is one of those recipes that you can totally improvise with depending on what you've got laying around your kitchen. Kenya has a thing for dinosaur kale, so it's an easy sell and healthy addition to this dish, but as long as you've got red sauce, cheese and tortillas, you're good to go. In Gemma and Chloe's I had both chicken and kale. For Kenya since he's a vegetarian, I added some extra veggies and called it day!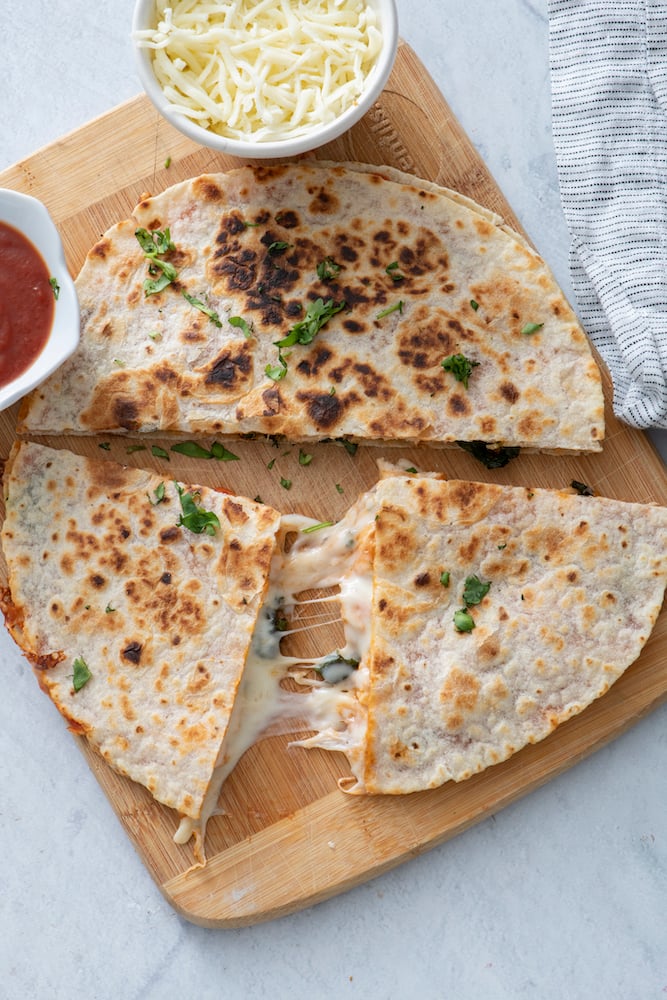 Finally, let your kids help prepare these. It's a fun recipe, doesn't make much of a mess and is the perfect opportunity to use whatever veggies, meats, olives, cheeses or anything else you may have in the fridge. And if you need more fun pizza recipes inspiration, try out Pizza Pinwheels, Pizza Muffins, Pizza Balls and Quilt Pizza!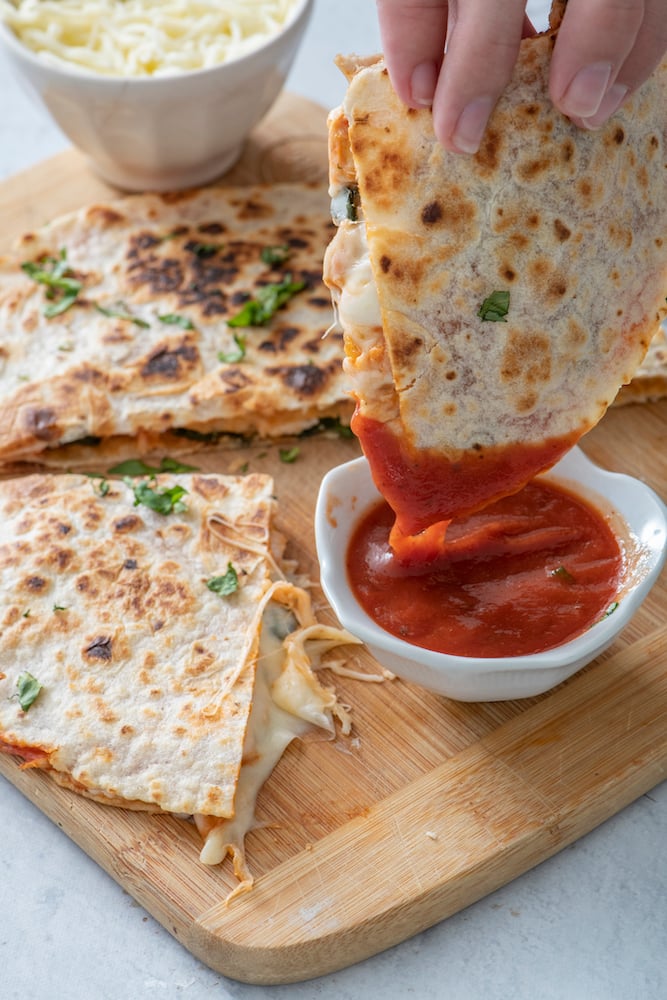 So, are you making these Pizza Quesadillas this week? Let me know by tagging me on social media!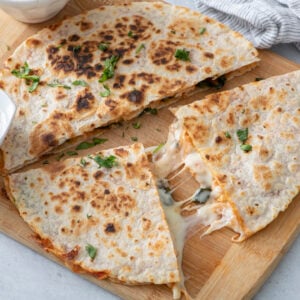 Pizza Quesadillas
Hmm.. what to make for dinner? Pizza? Quesadilla? Why not have both and make Pizza Quesadillas!
Ingredients
1/4

cup

marinara or pizza sauce

1

chicken breast, cooked and chopped fine

1/2

cup

dinosaur kale, cooked and diced

1

cup

mozzarella, grated or 4-5 mozzarella cheese sticks cut into 8 pieces each
Instructions
Place both tortillas flat in front of you and spread each with 2 tbsps of tomato sauce. Or build the quesadilla straight in the pan.

Top one of the tortillas with 1/4 cup chicken, 1/4 cup dinosaur kale (or any of your favorite toppings) and 1/2 cup cheese. Feel free to customize the order of toppings and add more of less of each.

Place the other tortilla on top to cover (sauce side down) and press down lightly.

Slide the tortilla into a dry pan on medium heat and cook on each side for 3 minutes or until cheese is melted through.

Cut into wedges and serve.
Video
Nutrition
Calories:
310
kcal
|
Carbohydrates:
26
g
|
Protein:
23
g
|
Fat:
12
g
|
Cholesterol:
60
mg
|
Sodium:
650
mg
|
Fiber:
2
g
|
Sugar:
2
g