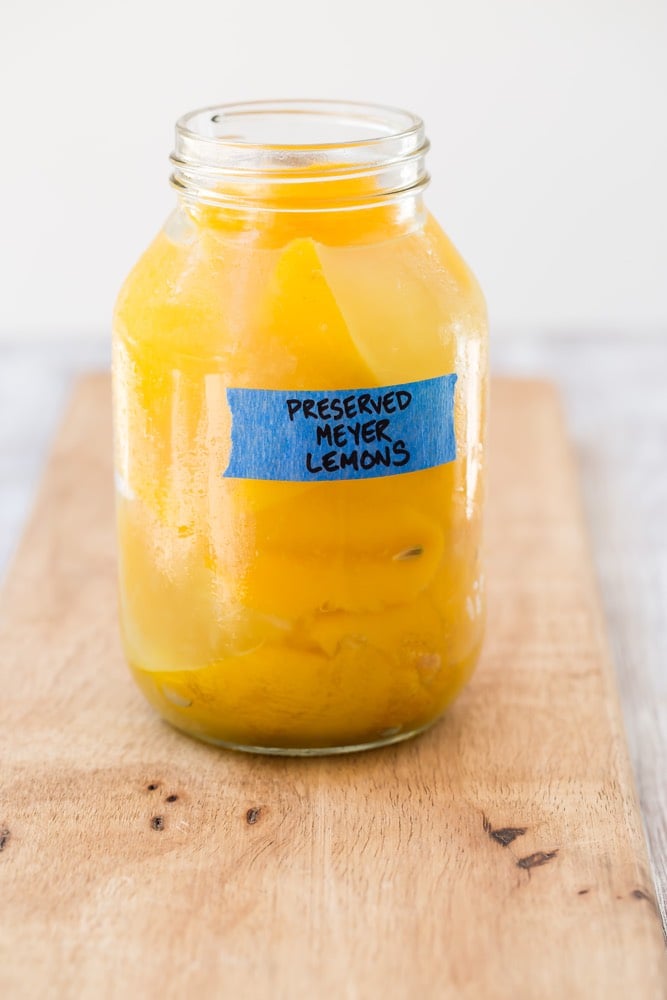 Homemade preserved Meyer lemons are super easy to make, they last forever, and they add tons of bright flavor to just about everything! I'm going to be loving this jar of sunshine once the grey days of Fall and Winter hit.
You can add preserved lemons to salads, dressings, use it as a marinade for chicken or fish, toss with pasta, or even spread it on crusty bread! You can use as is, or give it a quick rinse to remove excess salt. I often use as is and just lower or omit the salt in the rest of the dish I'm using it on.
How will you use your jar of preserved lemon sunshine?!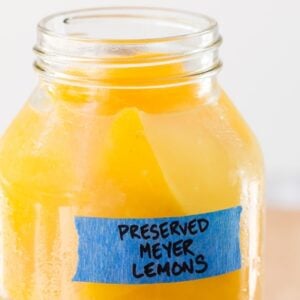 Preserved Meyer Lemons
Ingredients
12

lemons

6

tablespoons

kosher salt
Instructions
Start by sterilizing a 2 quart jar with boiling water. Swirl it around the jar for a minute and allow to dry naturally.


Juice 6 of the lemons and set the juice aside.

Wash the remaining 6 lemons and make 4 deep cuts/slits around the lemons without cutting through. Rub 1 tablespoon of salt in the cuts of each lemon and place in the large jar pushing them down so they fit snugly. Pour in the lemon juice just to cover the lemons. Seal the jar with it's lid and place in a cool, dark spot for one week.

Store the jar in the refrigerator for up to a month. The longer you leave the lemons the better they get!


Chop or puree the lemons to use for Lemon Chicken, serve with salmon, or in a salad dressing.