One of the unfortunate things for kids with nut allergies is that they miss out on so many great recipes they would probably love, were it not for their bodies' adverse reaction to nuts. We here at weelicious are constantly experimenting with different kinds of seeds as nut substitutes in some of our favorite nut-based recipes, so allergic kids don't have to miss out.
I love pestos. They're great as spreads for sandwiches, on fish or chicken, mixed with your favorite pasta or simply roasted. However, most pestos contain nuts, which obviously rule them out for kids with allergies or as something you can put in your little one's lunch box if they attend a nut-free school. After a lot of trial and error, I found pumpkin seeds (or pepitas) to be a great nut alternative in this recipe. Pumpkin seeds seem to be everywhere this time of year — it being Halloween and all (or HalloWEEn as we like to call it here!). Pumpkin seeds have great flavor and, like the nuts they are replacing, are a great source of protein, minerals and provide essential polyunsaturated fatty acids.
Whether your kids have nut allergies or just attend a nut free school, there's no reason they have to deprived of great taste. This Pumpkin Seed Pesto is perfect for the holidays, simple to make and simply delicious!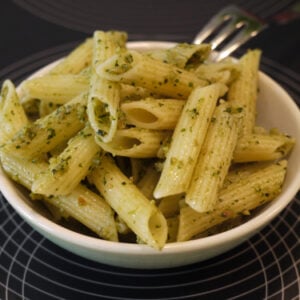 Pumpkin Seed Pesto
Instructions
If using raw (green) pumpkin seeds, place them on a baking sheet and toast for 10-15 minutes in a 350 degree oven or until golden. If using toasted/roasted pumpkin seeds you can skip this step.

Place all the ingredients in a food processor and puree until smooth.

Serve on pasta, fish, chicken or a spread on sandwiches.

* For a dairy free version use 1/4 cup nutritional yeast and 1/2 cup olive oil (instead of 1/3 cup).

To freeze, place in ice cube trays or baby food cubes and freeze for up to 3 months.
Nutrition
Calories:
380
kcal
|
Carbohydrates:
3
g
|
Protein:
10
g
|
Fat:
38
g
|
Cholesterol:
5
mg
|
Sodium:
530
mg
|
Fiber:
2
g