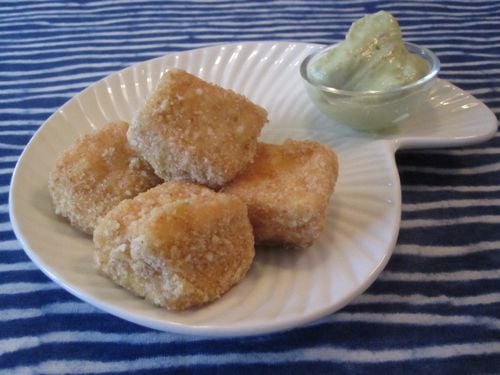 We started giving salmon to both Kenya and Chloe when they were just over 9 months old and they each immediately took a major liking to it. I'm a big salmon fan and always enjoy trying to come up with new and interesting ways to prepare this versatile fish. These salmon bites are delicious and beyond simple to prepare.
Salmon is an important food for children because it's rich in Omega 3 fatty acids which are essential for brain development. Since your body can't make Omega 3's you have to get them through food, but there isn't a wide variety of foods that provide Omega vitamins, so salmon is a perfect choice. For kids who might be a little daunted by having a big piece of fish put in front of them or who simply prefer bite size foods, this recipe is a great alternative to every day chicken nuggets. These bites are extra fun for kids to eat because they can just pop them in their mouths bite after bite. The addition of the avocado dipping sauce adds to the appeal by making meal time a fun activity for kids (and the green color is totally novel for little ones too). I guarantee your whole family will be eating up what will soon become one of your new go-to recipes!
Avocado Yogurt Dip
1 Ripe Avocado, pitted
1/4 Cup Plain Greek Yogurt (I like to use 0 or 2% greek yogurt because it's thick and creamy)
2 Tsp Lemon Juice
1/4 Tsp Salt
1. Place the ingredients in a food processor and puree.
2. Serve.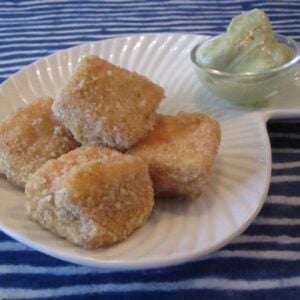 Salmon Bites
Instructions
Preheat oven to 450 degrees.

Cut the salmon into 1 inch cubes.

Place the flour and salt in a bowl and stir to combine.

Whisk the egg in a second bowl.

Place the bread crumbs and parmesan cheese in a third bowl and stir to combine.

Coat the salmon pieces in the flour and pat to remove excess flour.

Dip the flour coated salmon pieces in egg and then roll in the bread crumbs to coat.

Place the salmon bites on a cookie sheet sprayed or greased with oil (I use Spectrum Canola Oil Spray) and when all the salmon bites are on the tray, spray again to lightly coat.

Bake for 10-12 minutes.

Serve with sauce.

*For best results, bread salmon bites, place on a cookie sheet and freeze for 30 minutes. After 30 minutes, place par-frozen salmon bites in a ziploc bag and freeze up to 4 months. When ready, continue to follow steps 8-10 adding at least 5 minutes cooking time.
Nutrition
Calories:
35
kcal
|
Carbohydrates:
2
g
|
Protein:
4
g
|
Fat:
1
g
|
Cholesterol:
10
mg
|
Sodium:
75
mg