Looking for a fun way to add a little holiday spirit to the snack table, while still keeping things healthy? These Santa Hats will absolutely do the trick. Not only are they completely adorable, these treats are incredibly simple to make. And super quick to boot!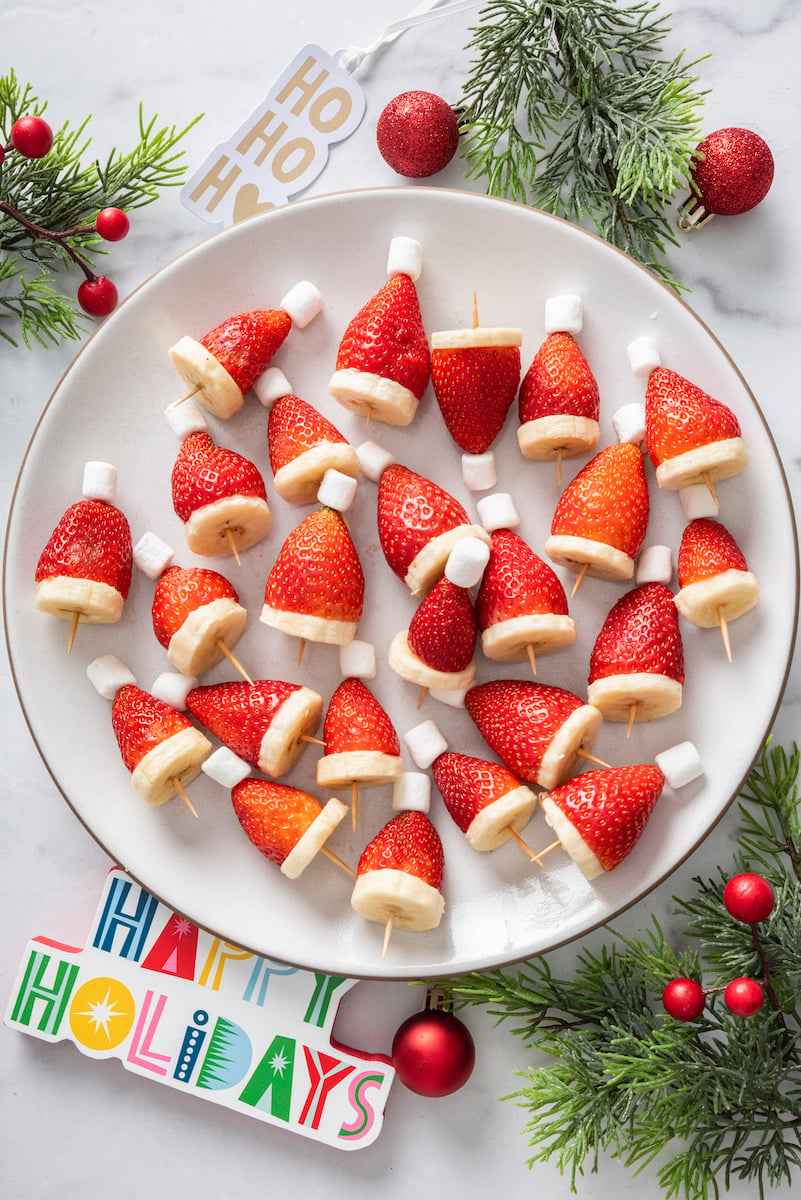 Gemma has an affinity all things Christmas. Each holiday season I look forward to watching to magic of the holidays through the elation she gets from the little things. Whether it be a house in our neighborhood decked out in Christmas lights or making s'mores in the fireplace with her siblings, the joy she emits is absolutely contagious.
I've always loved making festive and healthy holiday treats for my kids, but having Gemma help make these with me this year just made them feel extra special. Every time we made one she couldn't help but squeal, "Oh they are so CUTE!" She loved them so much she actually had a hard time eating them at first. Who could blame her? They really are so very cute. But once she started, she couldn't stop!
These little guys are perfect for any holiday gathering or your little one's class Christmas party. Though this year looks a little different, I'm already looking forward to next year when I can bring these into Gemma's Kindergarten class as a treat for all of her friends. Until then, looks like there will just be more for us. But I don't think Gemma will be complaining about that!
Serve these with lunch or as a snack, there's really not a wrong time to eat these adorable mini treats. If you're looking to pair it with other fun holiday snacks, try them with these Christmas Bagel Wreaths or Gingerbread Pancakes. What are your little one's favorite holiday snacks? Let me know in the comments what you're planning to make with them this year!
Santa Hats
Ingredients
12

strawberries, stemmed and sliced flat

12

mini marshmallows

1

large banana, cut into 12 slices

toothpicks
Instructions
Take a toothpick and skewer through a strawberry.


Skewer a piece of banana on the bottom so it lays flat with the cut side of the strawberry.

Skewer the marshmallow on the top of the strawberry.

Repeat with the remaining ingredients to create Santa Hats.