If you've got carrots and brown rice you've got spiced carrot and rice puree! Not only does it turn out absolutely gorgeous in color, but it's a great way to turn your new eater on to beta carotene packed carrots! We have been buying these gorgeous orange, red and even yellow ones at the Hollywood farmers market for Gemma to make this puree, Mango, Carrot, Apple Puree as well as to recipes for her to try as finger foods like Roast Carrot Coins and Carrot Ginger Soup which Kenya and Chloe could slurp up by the gallon.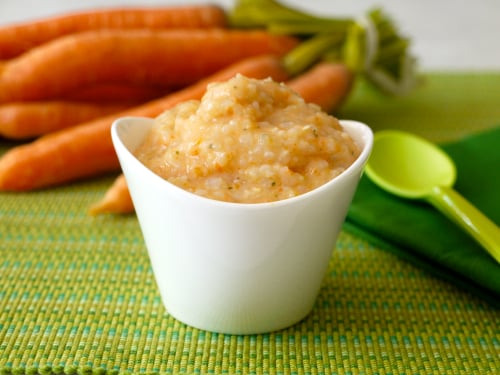 What I love most about this homemade baby food puree is not only that we almost always have carrots and brown rice in the house, but also that it uses spice. Lately when I'm trying new foods on Gemma and she isn't interested in them, just a bit of spice gets her excited. Case in point was this Spiced Carrot and Rice Puree. I made it first without the cumin and she wasn't that into it, but as soon as I mixed in the cumin she was all in. It's amazing how a pinch of cumin, cinnamon, nutmeg, paprika or other spices can add a ton of flavor without anything else needed. If you try it with your baby let me know how it goes in the comments below and tell me the spice your baby enjoys pst. I always love the inspiration!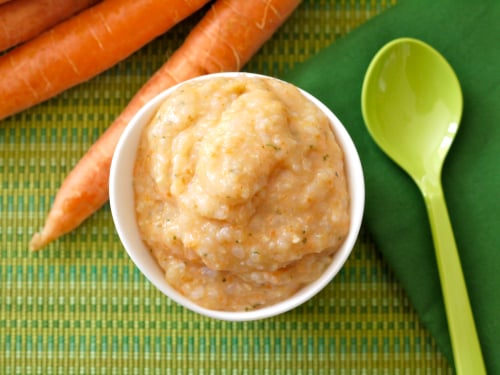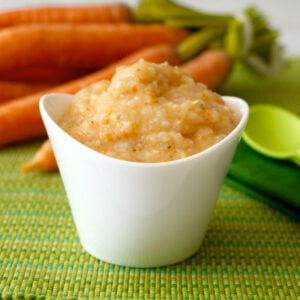 Spiced Carrot and Rice Puree
Ingredients
1/2

cup

short grain brown rice

1

1/2 cups

water

2

medium carrots, chopped

1/2

teaspoon

dried parsley

1/4

teaspoon

cumin
Instructions
In a small saucepan, combine THE rice and water.

Bring to a boil, reduce heat to low, cover, and simmer for 30 minutes.

Add the carrots to the rice, cover and cook for an additional 15 minutes. You will still have some liquid in the rice, this will help with the pureeing.

Transfer rice, carrot, parsley and cumin to a food processor, puree until smooth adding additional water if necessary and serve.