Just because we're all staying indoors much more these days doesn't mean you can't have fun! Here are 50 things to do with your kids indoors.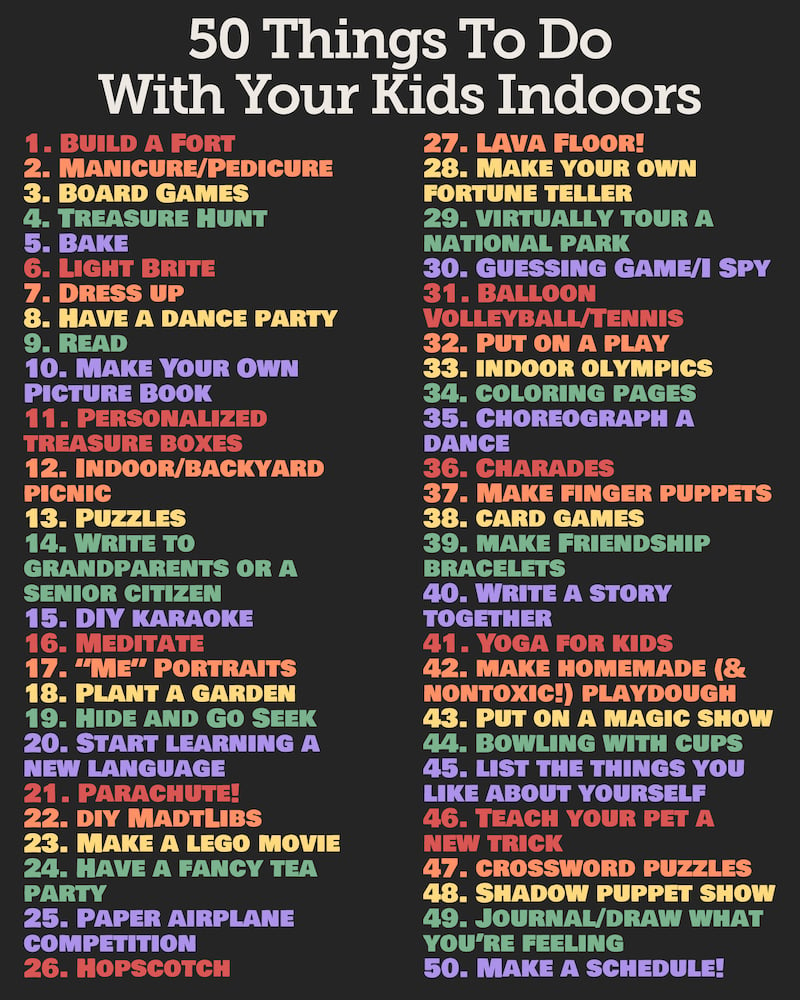 1. Build a Fort: My kids are obsessed with gathering all the pillows and cushions from around our house and building a massive fort to hang out and even sleep in. I suggest letting your kids use an old fitted sheet you don't care about anymore to avoid losing your s%*t when an accident happens — cause it will.
2. Mani/Pedi: Everyone can use a spa day, especially these days. Try using safe brands like Piggy Paint for kids and Olive and June for mamas.
3. Board Games: With a wide age range of kids en mi casa, we've been playing lots of Don't Wake Up Daddy; Sorry!; Trouble; Busy, Busy Airport; Blokus; Uno; Exploding Kittens; Jenga; Backgammon; Life; Clue and Catan
4. Treasure Hunt: Create a treasure hunt throughout your house (or yard). Fill plastic easter eggs (yes I know it's early) with coins, rocks (or anything else that you may have 40-50 of) and hide them all over. Then set everyone loose to find them. Come up with creative prizes to give each kid based on how many they find. Btw, when it comes to prizes, I find things like "alone time", doing exactly what your child wants to do to be better than any material thing you could reward them with.
5. Bake: Muffins are a fun and easy cooking project to do with kids. Sour Cream Coffee Cake, Spinach Cake Muffins or Flourless Pumpkin Chocolate Chip Muffins (which my kids adore) are just a few suggestions, but if you need more recipe ideas there are plenty more on Weelicious.com! Check out these adorable aprons from Hedley&Bennett too. My kids feel like professional chefs in their own apron.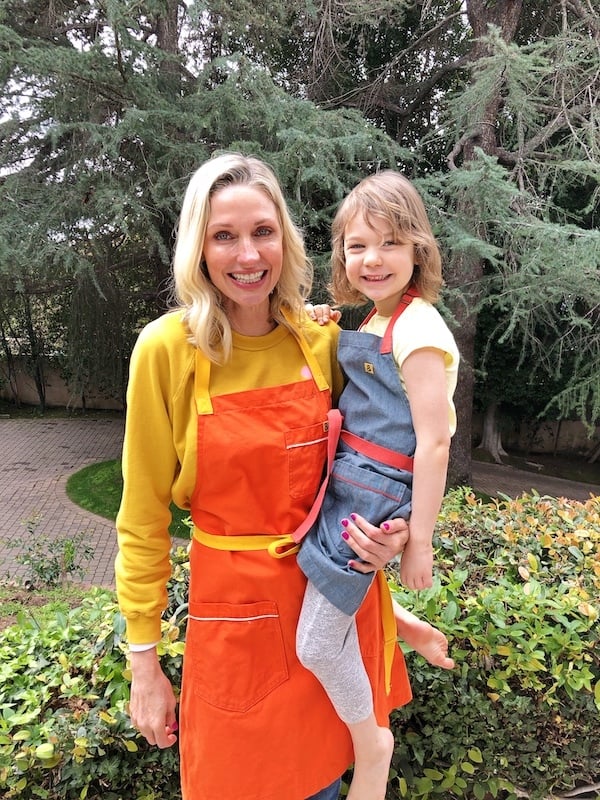 6. Light Brite: Gemma's friend gave her one, and it's one of her favorite activities to do alone or with anyone in our family. My husband and I especially love it because it brings back so many great childhood memories!
7. Dress Up: Whether you're using pretend clothes (fairy, cowboy costumes, etc) or letting kids raid Mom and Dad's closet, it's imaginary play at it's finest.
8. Have a Dance Party: It gets everyone happy and provides much needed exercise for all. Here's a playlist I'm loving from Dymano Girls that will totally put you in the mood! https://open.spotify.com/playl…
9. Read: No explanation necessary. Especially stimulating for toddlers, but perfect for any age. If you're in need of options, most libraries have free digital rentals. Some even are having virtual story times to tune into so check out what's on offer. Here are some of our favorites to read right now: Stuck, Square, Don't Let the Pigeon Drive the Bus, El Deafo, Ms. Bixby's Last Day.
10. Make Your Own Picture Book: Fold a few pieces of paper in half widthwise and staple along the crease to make a book. After that, the options are limitless. You can do one featuring fingerpainted characters (press fingertips in an ink pad or paint your digits, press them down on the page and then, using a pen, draw faces and bodies) or go more traditional with crayons and markers. Create characters and a story throughout!
11. Personalized Treasure Boxes: Gather up any empty shoe boxes (any smallish sized box will work) in your house and use glue, tape, feathers, stones, crayons and any other art supplies and crafting materials you have so each person can personalize their own. You can decorate the insides too, then use them to hold special gifts, treasures or other special trinkets that are meaningful.
12. Indoor or Backyard Picnic: Roll out a picnic blanket, grab your favorite snacks and put on a playlist you love. Don't overthink it. Just keep it simple and enjoy eating and hanging in a new setting. It's a great change of pace.
13. Puzzles: Jigsaw puzzles are a great way to make the hours pass. Plus they can ease anxiety and help slow time down. Something we could all use.
14. Write a Letter to Grandparents or a Senior Citizen in Your Life: It's a particularly difficult time for so many elderly people right now, especially ones who live alone. Writing a handwritten letter or card to a grandparent, elderly relative or neighbor can really go a long way to brightening their day!
15. DIY Karaoke: While a Karaoke machine would be an awesome thing to own right now, you don't need one to have the experience at home. Compile a list of some of your kids favorite songs to choose from and have a living room karaoke party. Grab a hairbrush or spatula to use as a microphone and sing-along to your heart's content! I've not done much digging but if you really require the pure karaoke experience of a lyric-less track, there are apparently sites on the web you can find that offer karaoke versions of songs.
16. Meditate: Meditating is an incredibly helpful tool for relieving stress and anxiety, and helping all of us live more in the moment. Headspace is an amazing app that makes meditation easy for all ages. With fun and engaging animations that simply teach you the basics to tons of guided meditations categorized by need (focus, sleep, anxiety, etc) and age, it's a resource that's just one tap away.
17. Lifesize "Me" Portraits: Whether you have a large roll of butcher or craft paper or an area outside your front door, this will keep kids occupied for a while. Trace your child's entire body using a marker on paper or chalk on the ground outside. Then have them fill in the details.
18. Plant a Garden: If you can't plant one outside there are ways to make an indoor or window box version. This activity is especially great because it offers so much to kids, teaching them where food comes from, the joy of caring for something, and all-important patience. Here's a great intro for starting your own http://blog.activityhero.com/indoor-gardening-with-kids/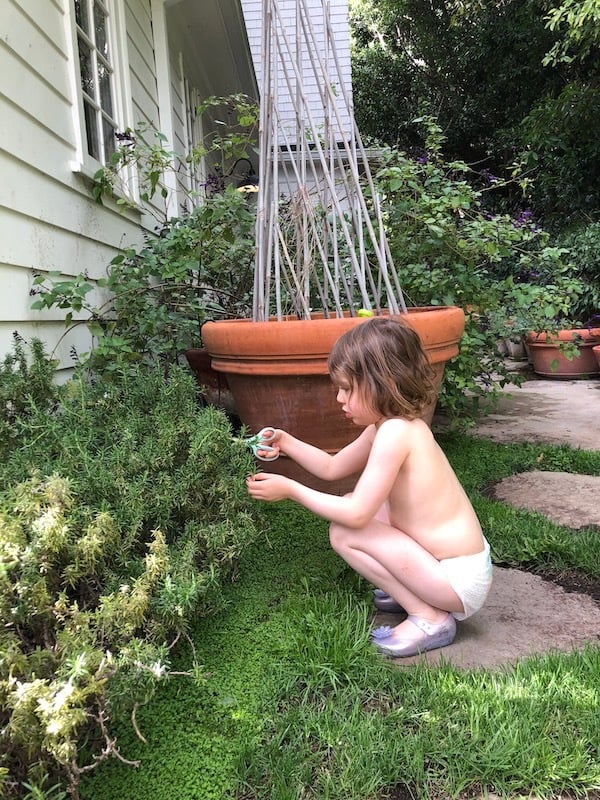 19. Hide and Go Seek: An oldie but a goodie! Gemma could play this one for hours.
20. Start Learning a New Language: Duolingo is a great app which makes learning a new language fun and easy.
21. Parachute!: Take a bedsheet, have everyone grab corners and edges and then start waving your arms up and down to make it rise and fall. If you have enough arms to allow one person at a time to go crawl in the middle, go for it. Sure to provide giggles galore.
22. Make your own MadLibs: I was a big MadLibs kid and my kids inherited the gene. Take turns writing out your own MadLibs, and when you're done, have someone else in your family fill in the blanks.
23. Make a Movie With LEGOs: My son has an affinity for storytelling and building which makes this activity so much fun for him. Smart phones make shooting and editing your own story super simple. This activity can work with any kind of toy really, just let your childs' imagination run wild. If you are really into this idea, try a stop motion video, which are time consuming for kids (yay!) and produce awesome results. Stop Motion is an app we've used to make the process super simple for kids.
24. Have a Fancy Tea Party: What's better than an old fashioned tea party? Get out the paper and crayons, make a guest list (don't forget to invite any stuffed animals or favorite toys) and have your kids make formal invitations to deliver to their guests. Then set up the tea party, get dressed up and enjoy. While pretend tea and snacks are the norm, actual tiny sandwiches and pastries are always a welcome addition!
25. Paper Airplane Competition: Have everyone make their own paper airplane and set up fly zone to see whose can travel the furthest. You can even go so far as to make a bracket for different levels of the competition!
26. Hopscotch: Use either chalk outdoors or painter's tape indoors to make the play area. My girls will play this for hours together! Fun, easy and even provides a bit of exercise.
27. Lava Floor!: This is a great game to keep things fun and exciting. The rules are easy. Whenever someone yells out, "lava floor!" then everyone in the room has to find a place to perch off of the floor. To keep things safe, place cushions or other soft items to be your safe zones so you don't wind up with a kid leaping on a side table or worse!
28. Make Your Own Fortune Teller: Give my kid a piece of paper and four markers, and within minutes she'll be telling you your future. A childhood favorite activity for so many of us, making your own fortune tellers can be a great way to keep kids creative and give them a silly outlet.
29. Take a Virtual Tour of a National Park: With needing to spend so much time inside, this is a nice way to experience nature. Yellowstone and Yosemite both have tours that you can experience through the comfort of your home.
30. The Guessing Game/I Spy: These are two classic, simple games that my littlest has recently come to love. They can keep her entertained for hours and it's a joy to watch her imagination soar.
31. Balloon Volleyball/Tennis: Blow up a balloon and see how long you can keep it in the air without letting it hit the ground. Or grab a couple of rackets and use the balloon for a fun (and mellow) new way to play tennis.
32. Put on a Play: Write a script, make your own costumes and set up a makeshift stage area to let your sweet ones play and shine!
33. Indoor Olympics: Take a day to have your own family olympics at home. Have an opening ceremony where each person represents a country of their own choosing. Create different events: Use cushions and other things from around the house to make an obstacle course (kids always come up with better ideas than the grownups, I find), have an egg-on-a-spoon relay race, a pillowcase race, the list goes on. You can even sneak some chores in as events and kill two birds with one stone (who can clean their room faster, anyone?). Make medals to award at the closing ceremony.
34. Print Coloring Pages- There are tons of sites that let you print free coloring templates. If you don't have any coloring books at home or are running low, this is a great, easy alternative. They have them for adults too!
35. Choreograph a Dance: Have each person pick a favorite song, then send everyone off to choreograph it. When everyone is ready, get dressed up and unveil them to each other!
36. Charades: In our tech crazy world, this classic game too often gets forgotten as a great way to have fun together. Cut out five pieces of paper for each person and have everyone write out a person, place or thing on each. Then, put them in a bowl and let the fun start.
37. Make Finger Puppets: Take any scraps of fabric, buttons, or anything that's crafty laying around the house and get creative!
38. Card Games: One deck of cards can provide hours and hours of fun. A few of our favorites include Go Fish, Crazy Eights and Old Maid. Online sites abound with games suited for all ages and rules to go along with them in case you're rusty.
39. Friendship Bracelets: A fun way to keep your kids connected to their friends and a sweet gesture for someone else. Perfect for mailing.
40. Write a Story Together: Have one person write the beginning, pass it onto the next person to write the next part and so on until you have a completed story. If your kids are too young to write, have them dictate their part to you.
41. Yoga for Kids: Keeps kids moving, flowing and feeling peaceful. Love this video.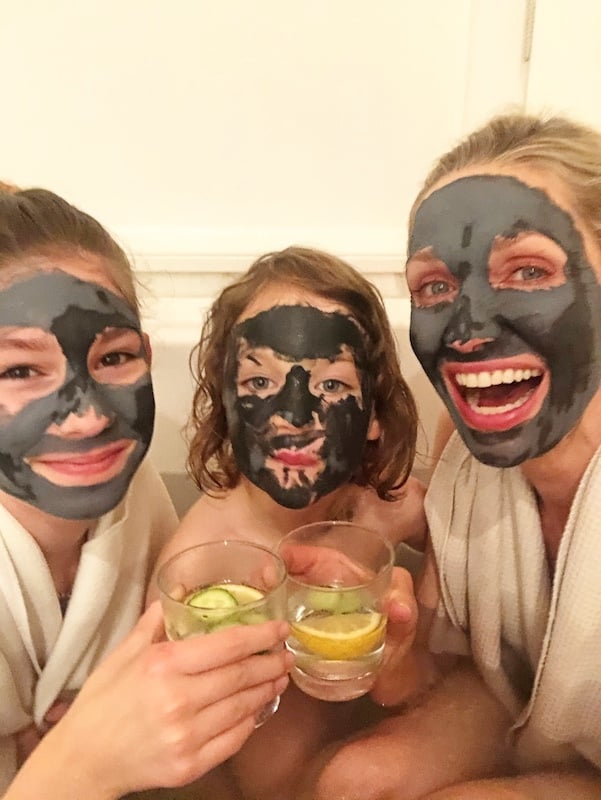 42. Make Homemade (and Nontoxic!) Playdough: Here's a helpful recipe to make nontoxic, dye free playdough that your kids are sure to love https://mommypotamus.com/play-dough/
43. Put on a Magic Show: It doesn't have to be extravagant, but there are some easy card tricks on the web that anyone can master. Have everyone spend time practicing them and then try them out on each other.
44. Bowling with Cups: Set up reusable cups in the shape of a pyramid and see who can knock the most down with any kind of soft ball you've got lying around.
45. Make a List of Things You Like About Yourself: One of my son's teachers encourages their students to do this and I find it to be incredibly helpful for boosting confidence and reminding your child what makes them special and wonderful. Once they have their list, it's nice to decorate it and hang it in their room.
46. Teach Your Pet a New Trick: …or just spend quality time with him or her. It's good for them and so good for you too!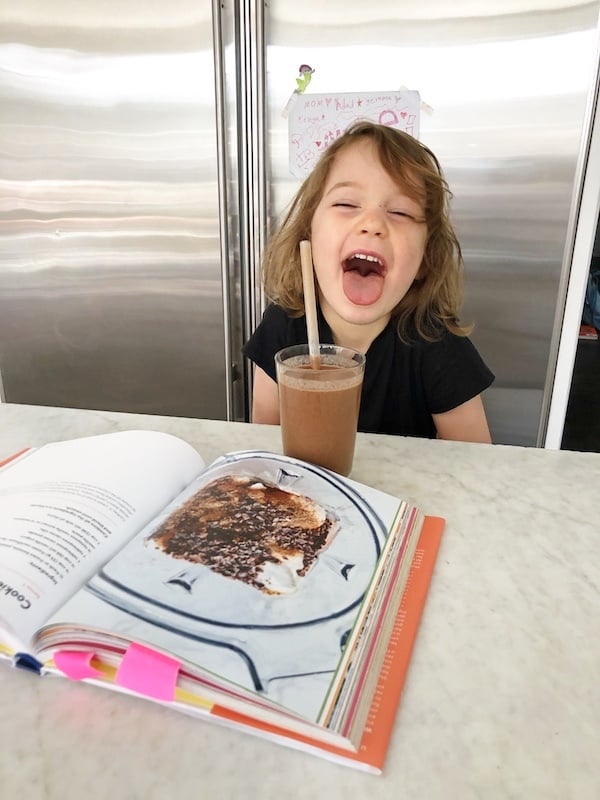 47. Do a Crossword Puzzle: Crosswords are a useful way to keep our minds stimulated and active. The NY Times has an archive of puzzles for kids and students —https://www.nytimes.com/2016/09/07/learning/student-crossword-archive.html
48. Shadow Puppet Show: Growing up, this was one of my favorite things to do! And all you need is a flashlight and your imagination.
49. Journal or Draw What You're Feeling: Adults aren't the only ones feeling the effects of this trying time. Kids are too. Encourage them to express themselves through writing or drawing. It might help them work through some things they or you aren't even aware that they're feeling.
50. Make a Schedule!: Maybe I should have put this one first? I for one need a schedule these days to help keep everyone's sanity in tact. Get kids involved in creating a weekly schedule that feels fun and keeps them organized. Here's a great example from Plinkit.