We've been making Cottage Cheese Pancakes since Kenya was just a teeny tiny little guy. I can't believe it's been that long! Two things have changed since then. Kenya now enjoys cottage cheese (and actually devours it) and especially when I give him these pancakes he will eat an entire stack in one sitting! Going back through the Weelicious archives I wanted to make sure these unbelievably delicious and easy to make pancakes were at the top of your recipe to do list!
If you know me or weelicious, you know I am not a fan of tricking kids into eating their vegetables. There has been a trend in children's cooking over the last few years which advocates hiding or disguising the foods our kids should be eating. For example, if you have a kid who doesn't like spinach, you can just bake a batch of brownies incorporating spinach into the recipe and your child will never know he's eating his greens.
Aside from being a time consuming way to feed your children, I simply don't like the idea of deceiving kids, especially when it comes to food and establishing good lifelong eating habits. Inspiring kids to love fruits and vegetables is much more fun, rewarding and easy (yes, I said easy) than you think.
Still, even when you are as committed to nutrition as I am, kids will be kids and not easily swayed from what they do and don't like. For instance, Kenya isn't a huge fan of cottage cheese and, trust me, I've tried (and repeatedly failed) to make it taste yummy to him. I've topped it with Raspberr-Wee Sauce, let him squeeze honey on it, mixed it with diced pineapple (one of my childhood favorites) and attempted many other variations, but each time he takes a bite he refuses to eat any more.
I embrace and respect the fact that every kid has his own unique palate and that Kenya may just not like cottage cheese, but I still wasn't ready to give up on it. After all, cottage cheese is packed with protein and is such an inexpensive and nutritious food that it became a personal mission of mine to devise a recipe using it that Kenya would enjoy.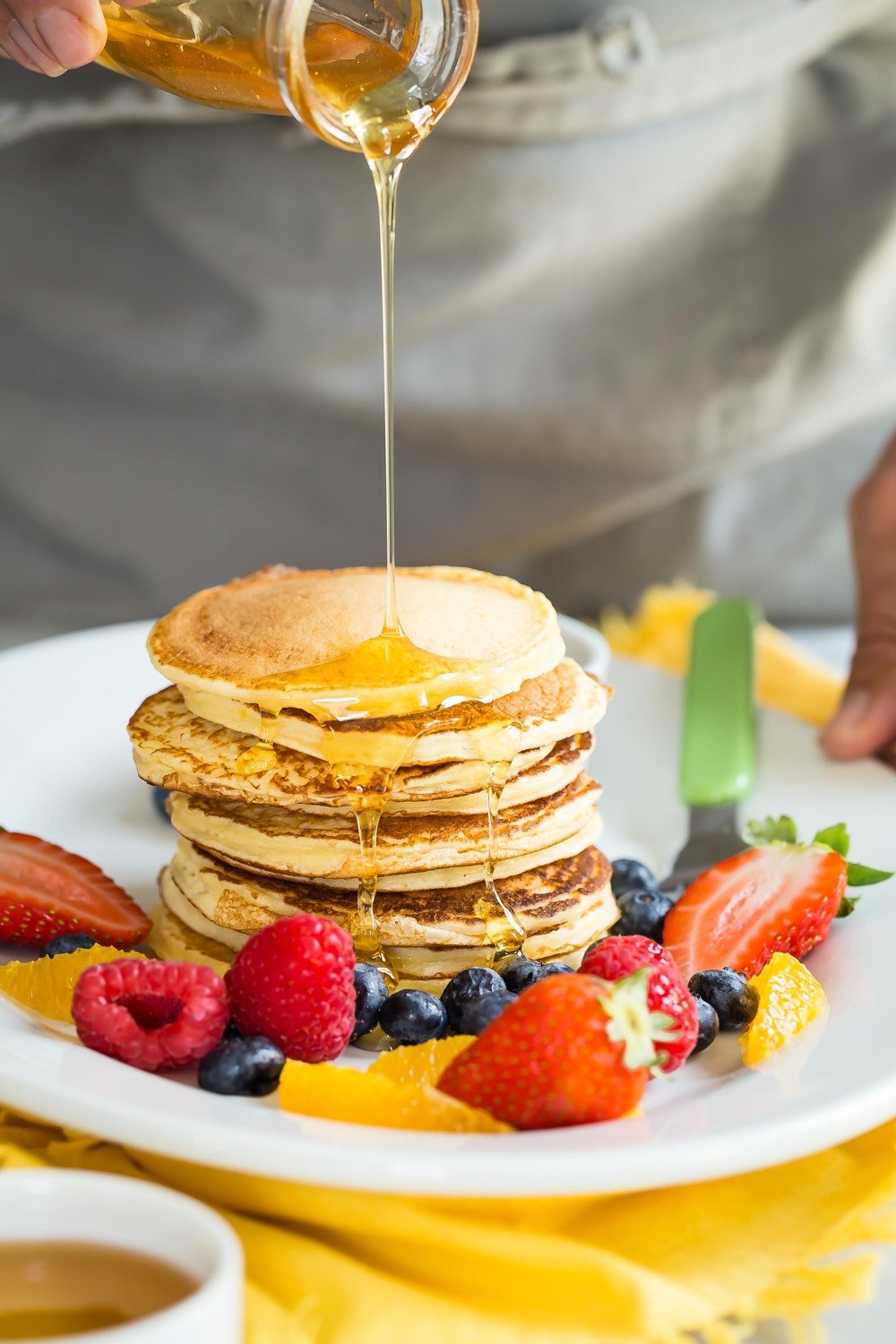 These pancakes were my final try and I was excited to see how they would go over with Kenya. Six pancakes into his breakfast (no exaggeration, SIX), he asked, "what kind of pancakes are these mommy?" It was as if I had gotten caught. I stopped in my tracks and hesitantly mumbled, "cottage cheese pancakes". He just looked at me and said "they're really good," and he's viewed cottage cheese differently ever since. Just goes to show you when it comes to food, don't give up on something you believe your kids will ultimately love and remember, honesty is always the best policy!
If you get a chance to make these beauties tag @weelicious on Instagram so I can see your creation and spread the love!
Photos by Gerry Speirs