Stumped about what to give your kids for breakfast because they're sick of the same old, same old? These 5 Nutritious Toppings for Oatmeal will shake things up and get you out of your everyday breakfast rut! We're really big oatmeal eaters in our house. Even in the summer when it's warm outside you can still find us eating it weekly. Oatmeal is affordable, quick to make, super nutritious and a great canvas for any toppings your family loves.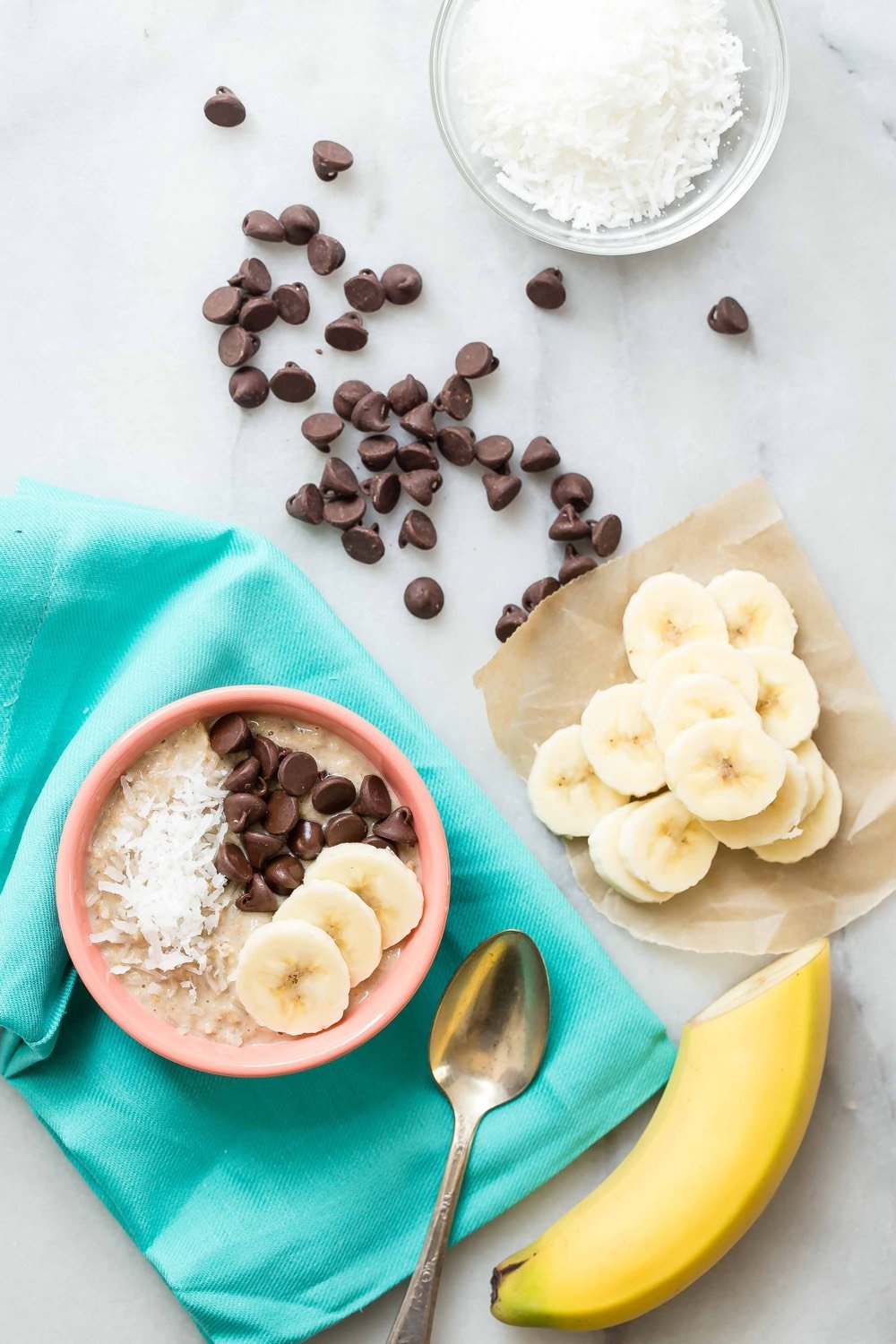 I'm constantly mixing the toppings I serve with oatmeal so the kids don't get bored. I want to make sure they're really healthy, but also add a touch of sweet and often something crunchy, chewy or just mind blowingly delicious like chocolate, coconut and bananas mixed together!
How about Raspberries, blackberries and blueberries with a swirl of honey and Go and Grow Food Mix Ins sprinkled in for those kids who might not be getting all of the nutrients they need. It's the perfect addition to foods as babies transition from breast milk or formula to solids too!
Or your Oatmeal made in the Crockpot with Go and Grow Food Mix Ins swirled in and a variety of chopped apples, cinnamon and a touch of cinnamon on top?
Peanut butter and fresh strawberries is an all time favorite and a great way to stay away from added sugar by using naturally delicious strawberries and protein packed peanut butter. Your kids PB&J never tasted so good!
What nutritious toppings do you put in your growing kids oatmeal?
In the comments below tell me your favorite nutritious topping for oatmeal to win this adorable toddler mealtime-themed gift basket that makes an adorable gift for you or your family for a chance to win! Good luck!
Giveaway Details
Prize: One (1) lucky Weelicious reader will receive A Toddler Mealtime-themed gift basket - with Similac's Go & Grow Food Mix-Ins to help parents enhance toddlers' meals with nutrition, a packet of oatmeal for parents to test out the Mix-Ins, a cute bowl & spoon, and other fun gifts to make toddler mealtime happy and healthy! This giveaway is provided by Similac. All thoughts and opinions are my own.
Duration: This giveaway will be open until Thursday, July 7th at 11:59pm.
How To Enter: Leave a comment below. For more chances to win, share this giveaway on Pinterest, Twitter, Instagram, Facebook and Google+ with the hashtag #WeeliciousGiveaways, and leave a separate comment for each letting me know you've done so.
Who Can Enter: Open to residents in the U.S.A.
How Winner Will Be Chosen: The winner(s) will be chosen at random and will be notified via email. The winner(s) will have 48 hours to respond or a new winner will be chosen.
Similac partnered with influencers such as me for its Go & Grow by Similac Food Mix-Ins Launch Program. As part of this Program, I received compensation for my time. Similac believes that consumers and influencers are free to form their own opinions and share them in their own words. Similac policies align with WOMMA Ethics Code, Federal Trade Commission (FTC) guidelines and social media engagement recommendations