If I turn food into an array of shapes or to resemble an animal my kids will devour it in seconds. Teddy Bear Toast is still a weekly favorite as are Bacon and Egg Bunnies, but when I showed them these Banana Bears that I made for Bolthouse Farms UnBake Sale they went positively nuts with excitement. After all, what's not to love?!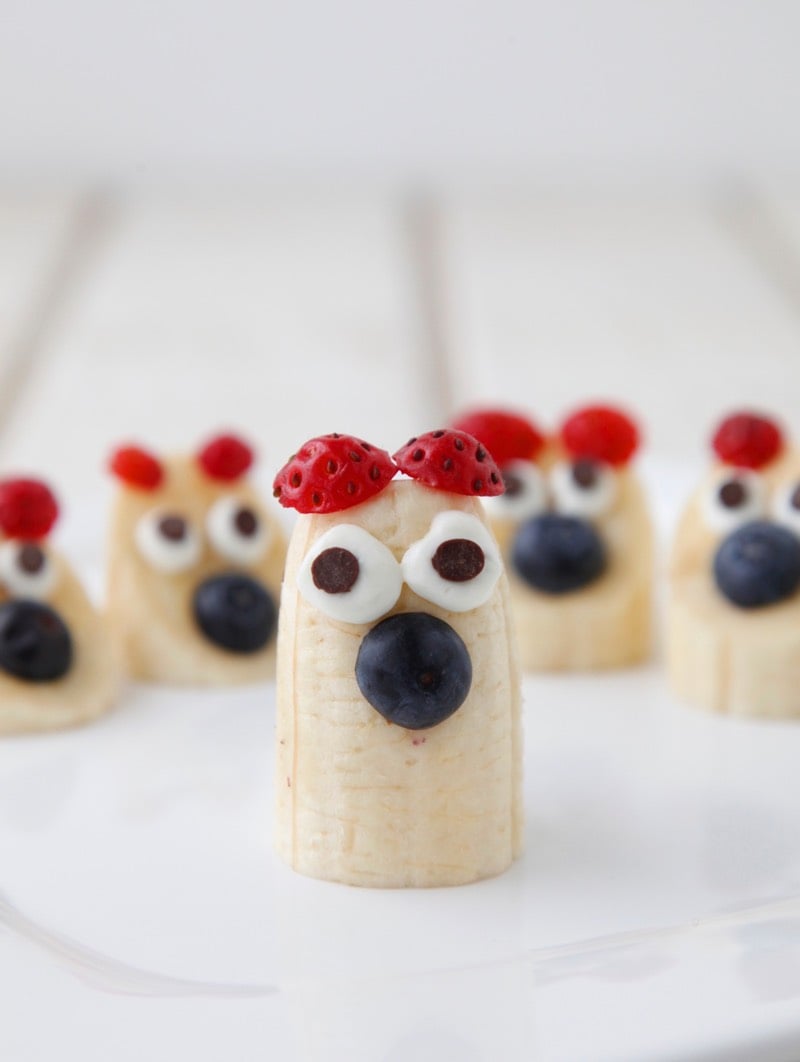 Pin
Little nuggets of bananas are topped with the tiniest bit of whipped light cream cheese as the "glue" to add sweet blueberries, strawberries and of course a nibble of chocolate to turn everyday bananas into these adorable little bites. Each little Banana Bear takes less than 20 seconds to make and each bite takes less than 1 second to disappear as both Kenya and Chloe demonstrated for me over and over.
Pin
Banana Bear is one of the recipes I created for Bolthouse Farms UnBake Sale initiative, a fruit and veggie twist on traditional bake sales. To learn more, go to TheUnBakeSale.com and download all the tools to host an UnBake Sale at your school. Fill up your UnBake Sale table with snack items made of fruits and veggies – if you don't have time to make a snack item, have no fear – Bolthouse Farms Kids Smoothies are a great item to feature at your UnBake Sale. As an added bonus, the smoothies fit perfectly into your school lunch box!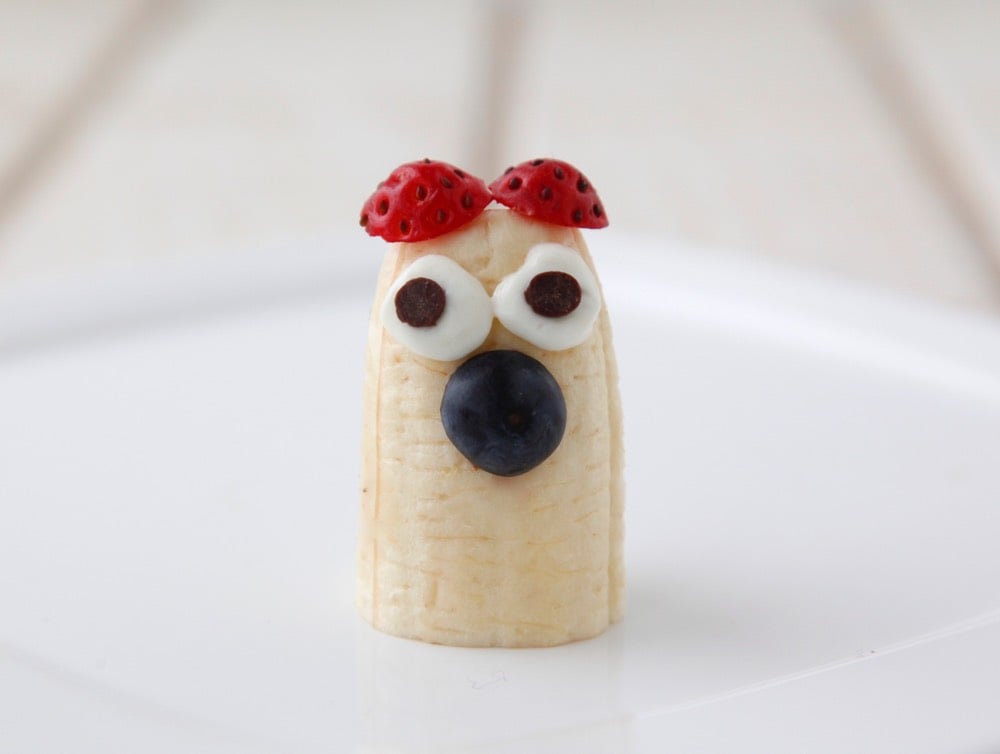 Pin
For more inspiration on how to create a gang of Banana Bears you can watch the video above for a bunch of easy tips!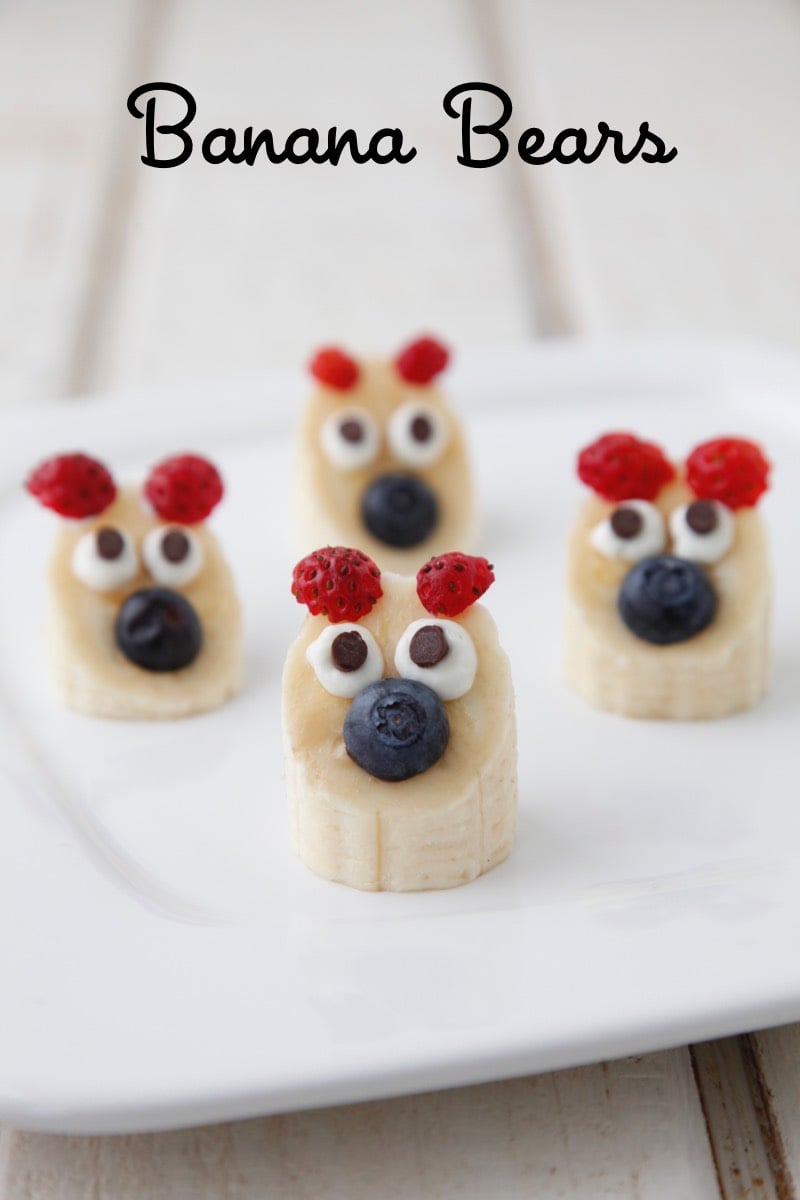 Pin
This post is sponsored by Bolthouse Farms. All views and opinions expressed are my own.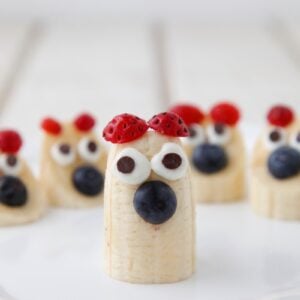 Banana Bears
Ingredients
2

ripe

bananas

1

tablespoon

whipped light cream cheese

16

mini chocolate chips

8

blueberries, cut in half

16

strawberries, tips cut off into small rounds
Instructions
Peel the banana and slice into 1 1/2' inch diagonal pieces so that each slice has a flat bottom and an angled side.

Spoon the cream cheese into a plastic sandwich baggie and snip off one corner of the bag to create a mini piping bag.

Place a banana slice on a flat surface in front of you.

Squeeze 2 small dots of cream cheese onto the angled side of the banana slice and press a mini chocolate chip onto each dot to create eyes.

Squeeze a dot of cream cheese below the center of the eyes and press on a blueberry half to form a nose.

Squeeze two dots of cream cheese near the top of the banana slice above the eyes and press a strawberry tip onto each one for ears.