This is my foolproof recipe for a delicious Christmas Morning Breakfast Strata, which is essentially a savory bread pudding. It's perfect for a family get together because I find that everyone loves it no matter what their age!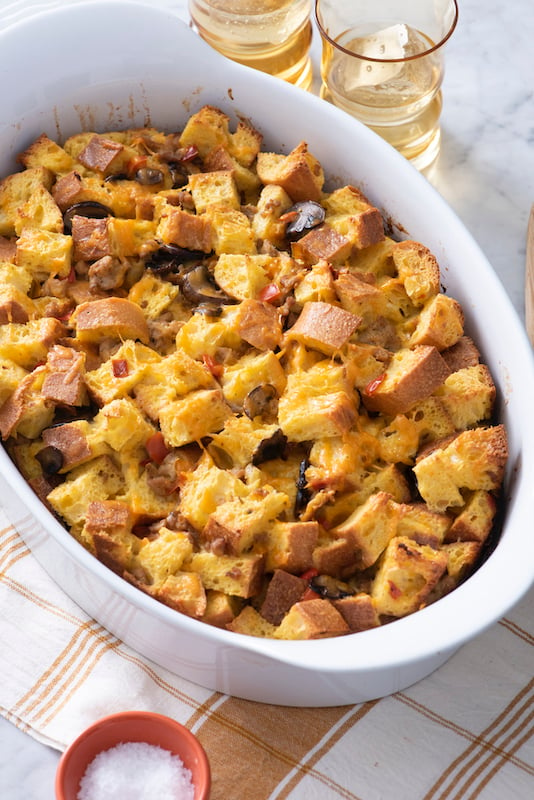 OK. It's Christmas morning. Everyone else in the house is relaxing. However, YOU'RE exhausted, YOU feel like you've been cooking, shopping and entertaining non stop since Thanksgiving and you STILL have to make one more dish for brunch. When I tell you this strata couldn't be easier, I mean it. You take crusty bread and mix it with sharp cheese, eggs and other goodies, which when baked all together smell like heaven right out of the oven.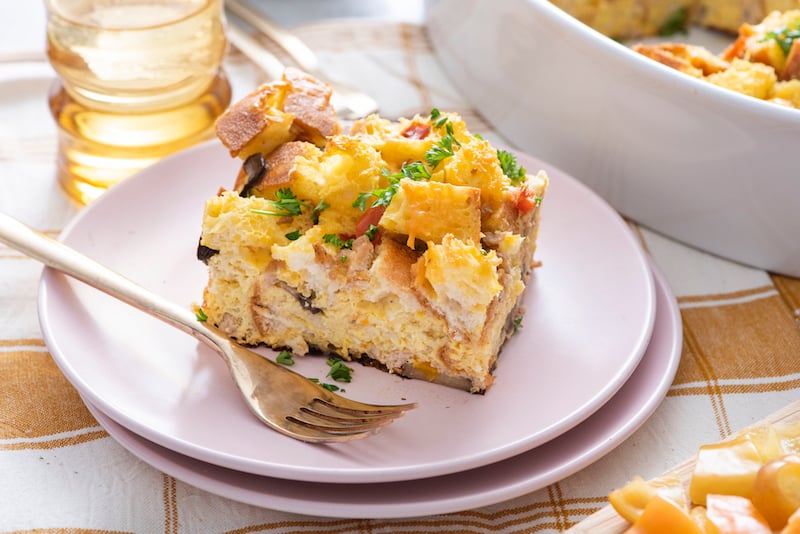 The bonus is that kids love it too. And really, what's not to love? Eggs, cheese, bread and sausage….yummy. Best of all, you can make it the night before, refrigerate it and all you have to do is throw it in the oven Christmas morning before the crowd arrives and use all that found free time to relax and enjoy your family! I made so much recently that the kids wound up having Breakfast Strata and then Dinner Strata for 2 nights in a row! They loved every bite.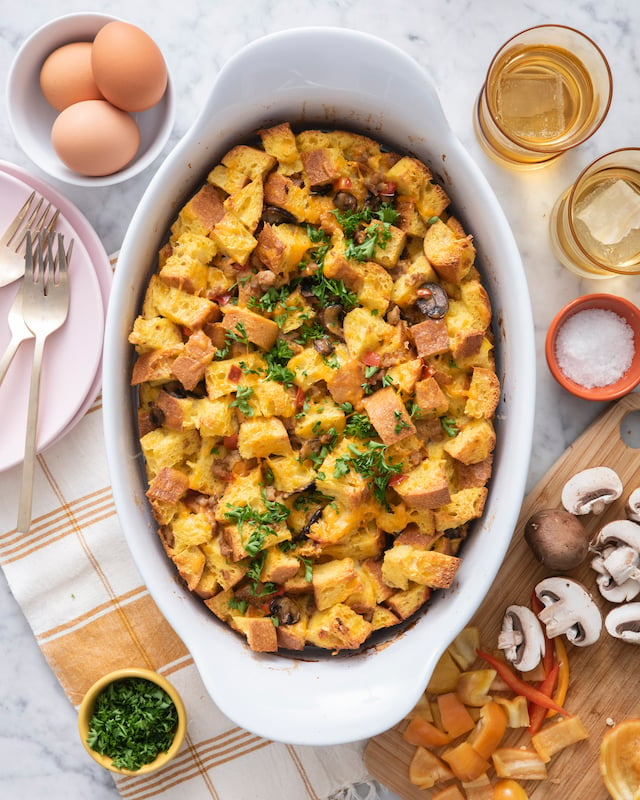 This recipe is also perfect for using up bread that's about to be old or has gone stale because you want to use a crispier type of bread like a baguette or ciabatta bread to soak up the egg mixture. Of course, I call this my Christmas Breakfast Strata because that's usually when I make it, but I've been known to make one of these in the middle of the year too. I love a recipe I can prep the night before and throw in the oven, so feel free to make my Christmas Breakfast Strata in July if you want and just call it Christmas (in July) Strata!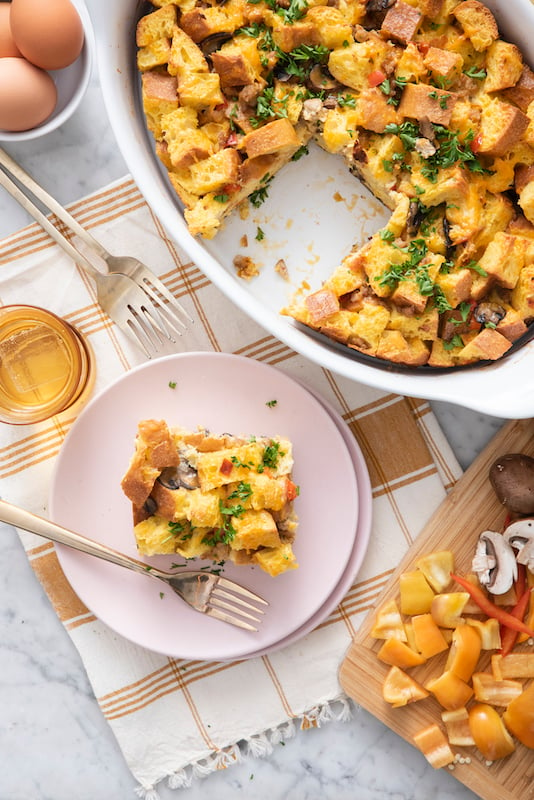 Are you hosting a big group Christmas morning this year? Let me know in the comments!
Christmas Morning Breakfast Strata
Make this recipe the night before Christmas and pop into the oven the day of for a simple breakfast everyone will love!
Ingredients
1

pound

ground breakfast sausage (I used fully cooked chicken apple sausage cut into bite sized pieces)

2

cups

mushrooms, sliced (I like to use cremini or white)

2

teaspoons

salt, divided

pepper, to taste

1

loaf

Italian bread, ciabatta or baguette (crusty bread), cut into 1 inch cubes (about 8 cups of bread)

1

1/2 dozen

large eggs (18)

1

cup

whole milk

1

1/2 cups

cheddar cheese, shredded

butter for baking the dish
Instructions
Cook the sausage in a saute pan over medium heat for 3 minutes, breaking it into bite size pieces. (If using fully cooked sausage, add some olive oil to the pan and heat through.)

Add the mushrooms, bell peppers, 1 tsp of salt and pepper. Continue to cook for 5 minutes. Let cool.

Preheat oven to 375 degrees.

In a bowl, beat the eggs, 1 tsp salt and milk. Add the cheese and stir to combine.

Butter the 13×9 inch baking dish and add the bread cubes and cooled sausage mixture. Toss to combine.

Pour the egg mixture over the bread and sausage, pressing the bread mixture down gently to soak up some of the egg mixture.

Cover the dish with foil and bake for 30 minutes.

Uncover the dish and continue to bake an additional 20 minutes.
Video
Nutrition
Calories:
370
kcal
|
Carbohydrates:
15
g
|
Protein:
21
g
|
Fat:
25
g
|
Cholesterol:
325
mg
|
Sodium:
990
mg
|
Fiber:
1
g
|
Sugar:
3
g