Breakfast Bread Pudding might sound complicated, but in reality, it couldn't be easier. Or more delicious!
Oh, breakfast, the meal of the day that you try to avoid like the plague. At least it is for me. One of the last things I want to do first thing in the morning is cook. Still, you want to give your brood the best start you can to start their day.
Cereal? Easy, yes, but boring day after day. Oatmeal? Great, but we eat it almost every other day in our house. Pancakes? Delicious, but see the above — I certainly don't have the energy for that unless someone is celebrating a birthday or it's Saturday. Breakfast bread pudding? Sounds super complicated, right? Wrong! It's delicious, surprisingly fast to whip up and it's even easier to serve than cereal in the morning if prepared the night before. Bingo!
The key to this dish is preparing it ahead of time. I'm a big fan of recipes like this, just like my Refrigerator Oatmeal and Chia Seed Pudding because the prep is so simple and as you already know, I'd prefer to cook the night before than in the morning!
Another reason I love dishes like this one is because you can serve it to a crowd. It freezes super beautifully (just make sure you do it before baking) and it smells like some kind of cinnamon heaven when it comes out of the oven. The morning of Thanksgiving, I don't like to serve a huge breakfast, as my family would rather save their appetite for the big event, but I've found this Breakfast Bread Pudding is the perfect dish to serve to my crowd first thing in the morning. Plus, with all of the cooking I have to do already that day, having this meal ready to go in the morning makes my life so much easier.
Kenya loved this breakfast so much, he asked for it for dessert after dinner. I'm thinking this bread pudding might just have to be a new addition to our Thanksgiving dessert table as well!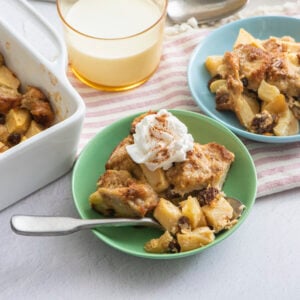 Breakfast Bread Pudding
Ingredients
3

large eggs

3/4

cup

milk

3

tablespoons

honey (or to taste)

1

teaspoon

vanilla

1

teaspoon

ground cinnamon

pinch kosher salt

2

small apples, peeled, cored and cut into small dice (I like Gala, Fuji or Golden Delicious)

1/3

cupe

raisins

5

slices

whole wheat or multigrain bread (fresh or stale bread), cut in 1-inch cubes (about 4 cups)
Instructions
Preheat the oven to 350°F.

Butter a 1 1/2-quart, 8-inch square baking dish.

Beat the eggs, milk, honey, vanilla, cinnamon and salt in a large bowl.

Stir in the apples, raisins and bread cubes. Using your hands or a rubber spatula combine the ingredients to make sure everything is evenly coated.

Transfer the mixture to the prepared dish pressing down lightly. Cover with foil and allow to rest for 15 minutes.

* You can prepare the breakfast bread pudding ahead at this point. Cover and refrigerate overnight.

Bake for 30 minutes covered. Uncover and continue to cook for an additional 20 minutes. Bake until golden and cooked through.
Nutrition
Calories:
230
kcal
|
Carbohydrates:
40
g
|
Protein:
9
g
|
Fat:
4
g
|
Cholesterol:
115
mg
|
Sodium:
200
mg
|
Fiber:
4
g
|
Sugar:
26
g