Some kids simply don't want to eat their vegetables. I don't believe that should be the case.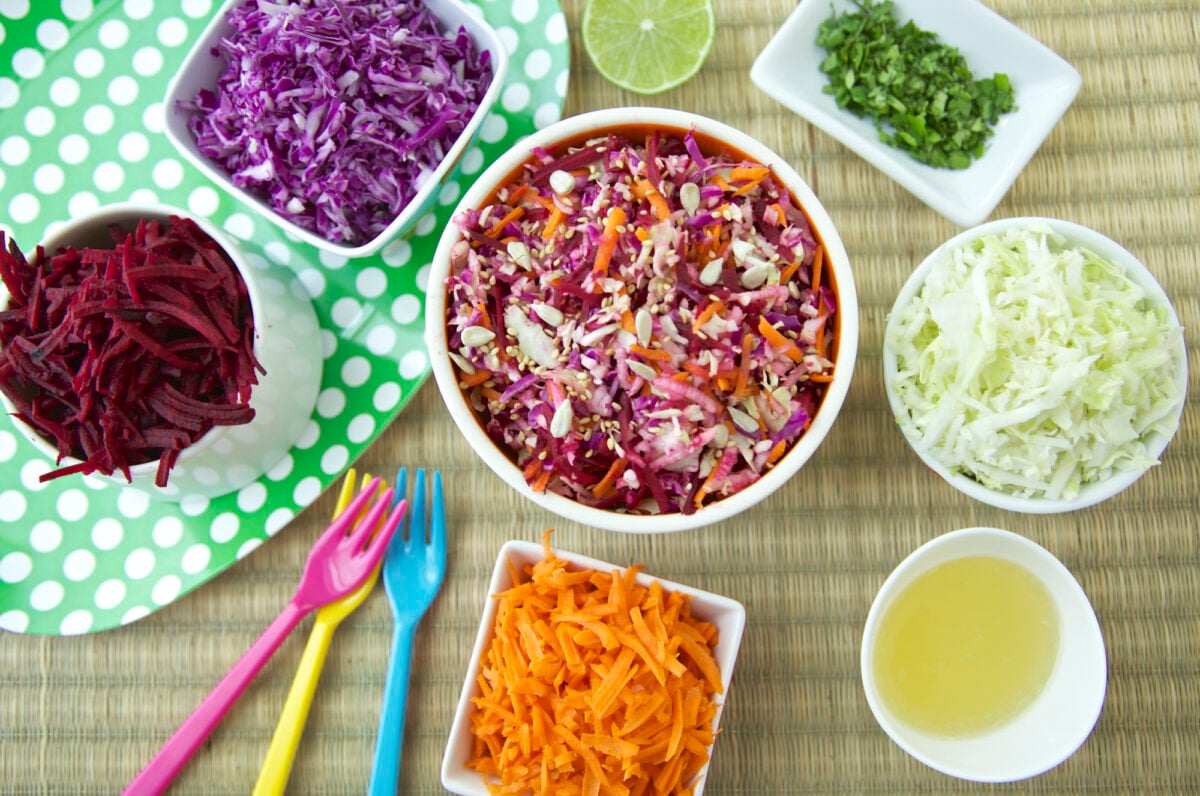 Have you ever put out big bowls of grated vegetables and let everyone build their own veggie salad? You've probably heard the saying that possession is nine tenths of the law. Well I've found that when it comes to kids and their veggies, presentation is nine tenths of the law. At your next meal, instead of pushing a bowl of salad at your little ones, try shredding the ingredients and allowing them to make their own instead. It makes them active participants and I bet they'll enjoy their food more as a result.
The idea for this recipe came to me when I tried to put my finger on why both of my kids always devour the vegetable slaw from our local Vietnamese restaurant. Even though they love veggies, I think the shape and texture is the most appealing part for them.
Since my kids love anytime I put out ingredients for them to assemble their own meal — be it Chicken Fajitas or Fish in Parchment — I thought that approach might work here too. I was right. The first time I put out all the bowls on the dinner table, it was an instant hit. To me this approach to eating is the same difference as putting a picture in front of your kids for them to appreciate versus giving them each blank pieces of paper and a box of crayons. Kids' engagement level goes way up when they are asked to be the artist.
A handful of this here, a sprinkle or squeeze of that there and before you know it, dinner is just the way they want it. Simple, but spectacular. How "grate" is that?!
Grated Vegetable Salad
Ingredients
2

raw carrots

peeled

1

raw beet

peeled

1/2

head purple or white cabbage

or 1/4 head of each

2

tablespoons

rice vinegar

2

teaspoons

lime juice

about 1 small lime

1

teaspoon

sugar
Instructions
Combine the carrots, beets and cabbage (including whatever accompaniments, if applicable) in a large bowl and toss to combine.*

Whisk the vinegar, lime juice and sugar in a bowl to combine, pour over the vegetables and toss.

* Alternatively, place each ingredient in a separate bowl and allow everyone to build their own salad!