These Immunity Boosting Shots are mega cold and flu busters to help make you feel better fast.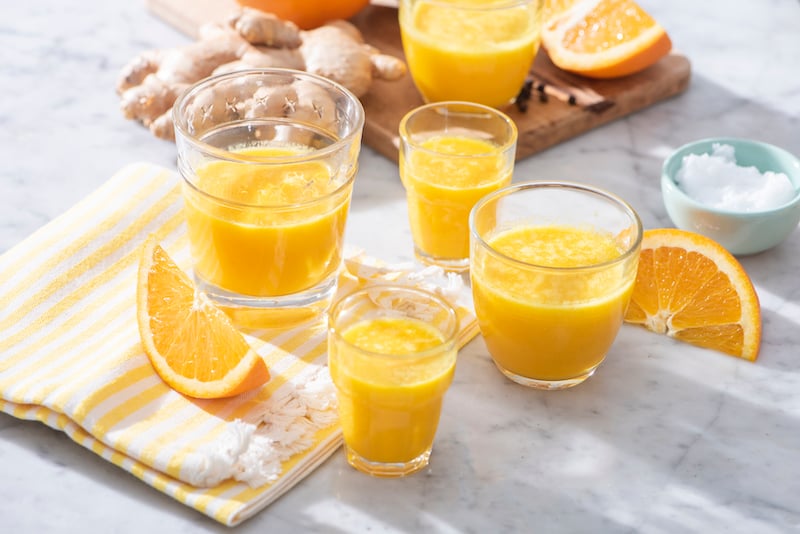 When anyone in our family is feeling under the weather I try to avoid medication if there's an alternative to getting back to health as all costs. As often as possible I focus on staying healthy and well through the foods we eat opposed to getting sick and trying to bandaid after the fact.
When we're feeling sick I try to make as many healing recipes as possible including Slow Cooker Chicken Noodle Soup, Golden Milk, Ginger Lemon Honey Tea and Turmeric Sautéed Greens to name a few. One of my go-to's are these Immune Boosting Shots.
We've been making them homemade for years, but there are plenty of companies selling them now for upwards of $3.50, so making these is a bargain in comparison. They're intense if you're not accustomed to eating fresh ginger and turmeric, but once you and your kids get used to them they're totally addictive.
I'm a big advocate of making them all cold and flu season as much to prevent getting sick, but they're especially helpful with upset stomachs, inflammation, a boost of vitamin C and more when you're already on your way to feeling yucky.
Here's what the ingredients do and why I add them into the shots:
Fresh ginger has been used for centuries to reduce inflammation and treat inflammatory conditions. It's also known to reduce nausea, pain and has antioxidant compounds.
Fresh Turmeric is a spice that's been used in cuisines around the world for thousands of years. Curcumin is the main active ingredient (which also gives curry powder is golden yellowish orange color) and also has powerful anti-inflammatory properties. When your body is feeling inflamed, especially when you're sick, fresh turmeric is key.
Navel or Valencia oranges are an amazing source of power vitamin C, antioxidants and fiber plus a naturally sweet taste in this juice.
Black pepper: since turmeric, consuming even a small amount of black pepper with it help the absorption by 2000%. You don't even taste the pepper which for many kids would be a bonus plus you get all the affects.
Oregano or coconut oil: To receive the full benefits of fresh turmeric you also want to ingest a fat at the same time. Any fat will work, but I prefer oregano or coconut oil. Oregano oil is a natural antibiotic, may improve gut health and has anti-inflammatory properties. Coconut oil can kill harmful microorganisms in your body. If you're trying to decide which type to use know that virgin coconut oil has a mild coconut flavor and refined coconut oil has a neutral taste and flavor.
Looking for even more nutritionally dense and powerful ingredients to add to the shots? Add a pinch of cayenne pepper or detoxifying lemon juice to give it an extra kick.
What do you eat or drink when you're feeling under the weather? Tell me in the comments below!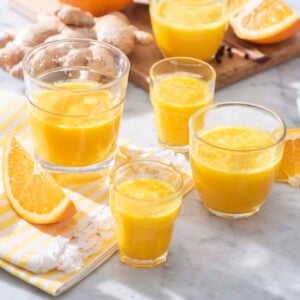 Immunity Boosting Shots
Ingredients
1

navel or valencia oranges

1

-inch piece

fresh ginger root

1

-inch piece

fresh turmeric root

black pepper

1

teaspoon

coconut or oregano oil
Instructions
Peel oranges (removing seeds and white pith), ginger and turmeric root.

Add all ingredients to the blender and blend until pureed. If needed, add more orange juice to achieve the correct consistency.