I guarantee these Pancake Sausage Muffins on a Stick are about to become a family favorite in your household. I think my kids would have these every single day if they could!
I'm one of those people who believes that everything tastes better on a stick. Be it Popsicles, Chicken on a Stick, Peas in a Pop….there's just something about food with a handle that says, "I'm telling you, you want to pick me up and find out just how delicious I am". Or something like that.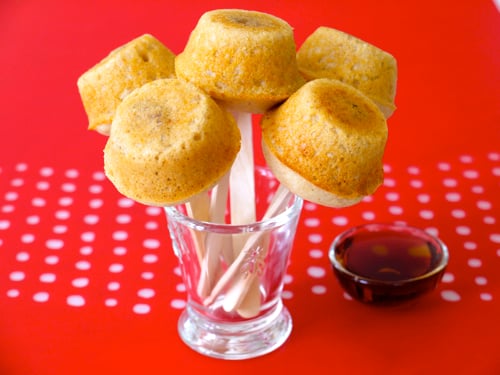 Pin
When I presented Kenya and Chloe with a glass filled with an arrangement of these Pancake Sausage Muffins on a Stick for breakfast one recent morning, both of their eyes were as wide as saucers. Kenya plucked one out and meticulously dipped it in his dish of syrup prior to each bite while Chloe tore into three at the same time, first pulling out the sausages to eat, then bathing the gutted pancake muffins in syrup before stuffing her little mouth with them.
And, they're not only good for breakfast! These muffins make a great accompaniment to any gathering. They look fun and enticing and can be paired with any sauce you'd like.
This dish will probably take you less time to make than a platter of pancakes with sautéed sausage on the side — and the fun factor is definitely way higher. Just ask your kids, who I guarantee will agree with me that everything indeed tastes better on a stick!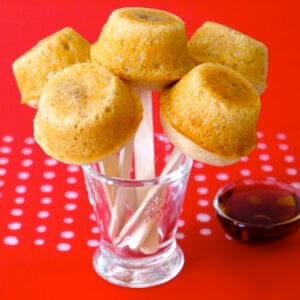 Pancake Sausage Muffins on a Stick
Ingredients
2

cups

of favorite pancakes batter

6

breakfast sausage links, cooked
Instructions
Preheat oven to 350 degrees.

Place 1 tbsp of the pancake batter into greased mini muffin cups.

Cut the sausage into 1 inch pieces and lay flat side down in the center of each batter filled muffin cup.

Top sausage with another tbsp of batter in each cup.

Remove muffins from molds and poke popsicle sticks through the muffins.

Serve with desired accompaniment.
Nutrition
Calories:
60
kcal
|
Carbohydrates:
7
g
|
Protein:
3
g
|
Fat:
2
g
|
Cholesterol:
25
mg
|
Sodium:
150
mg