These Spaghetti and Meatball Muffins will blow your mind! Fun, delicious and perfect for kids and adults alike and perfect for #NationalPastaDay which is basically every day in our house.
Pin
Does your family love spaghetti and meatballs as much as ours? If you ask my girls their favorite meal, 9 out of 10 times they will say spaghetti and meat balls. When I told them I was making their classic go-to meal in muffin tins it totally blew their minds. Not only are these Spaghetti and Meatballs Muffins incredibly kid friendly, but a playful combo for adults too.
What sets this recipe apart from traditional Spaghetti and Meatballs, though, are three secret ingredients all created by Gourmet Garden. Have you ever used their Roast Garlic Stir-In Paste and Lightly Dried herbs like parsley and basil (which I use here) as well as Italian herbs, chili pepper, cilantro and more? They're lifesavers for any home cook and add endless flavor to dishes. Just a sprinkle of their lightly dried herbs or a spoon full of garlic stir in paste adds so much flavor into dishes in your weekly rotation.
On those busy nights (basically every night these days) when I want to make a beloved dish, but don't have garden fresh herbs or a clove of garlic on hand I'm grateful to have my Gourmet Garden stash on hand. Gourmet Gardens range of 13 stir-in pastes and 7 lightly dried herbs and spices make flavorful cooking even more accessible. The herbs stay fresh for up to 4 weeks once opened and the pastes up to 3 months. I use them in everything from scrambled eggs to sauces, stir fries and more. As much as I love fresh herbs I have no "wilt guilt" when they go bad and I don't have enough time to use them. The best part is that the herbs are pre-chopped so I can just sprinkle them right in. For anyone who hates garlic hands after chopping endless cloves (like me), the Gourmet Garden Garlic or Roast Garlic Stir-In Paste will become your new best friend.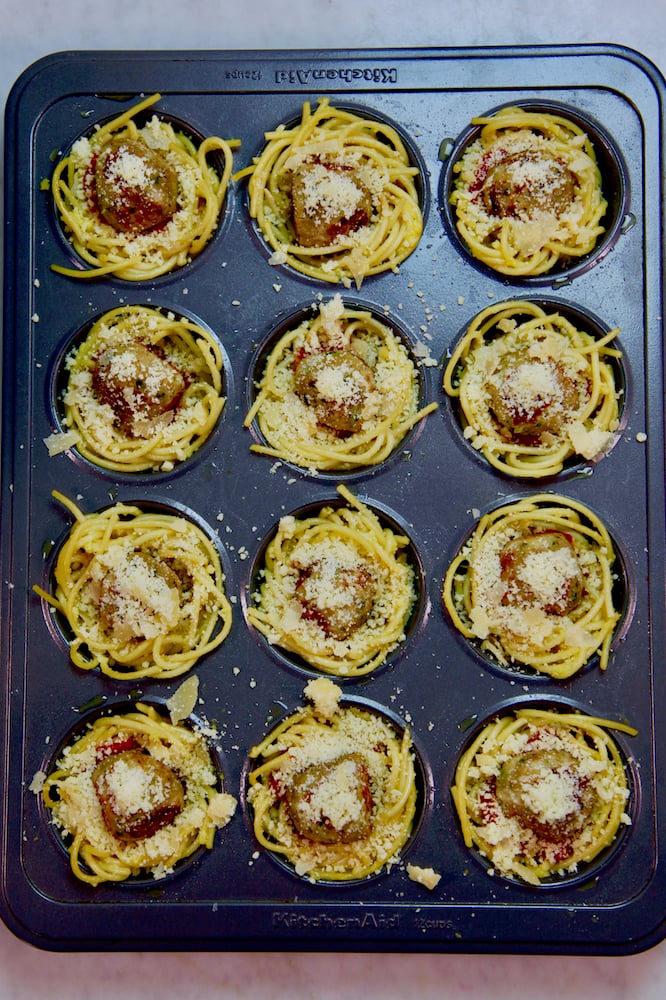 Pin
I start by making the juicy meatballs filled with lightly dried basil, parsley and roasted garlic. I give them a light sauté to bring out the flavors even more before popping them into the spaghetti nests with just a touch of marinara sauce. You can also make the meatballs with ground beef or even vegetarian meat substitute.
Once they have baked for about 20 minutes or until golden, I top them with mozzarella cheese, pop them back in the oven for 5 minutes and once removed start to salivate at the spaghetti crisping up just on the edges and gooey cheese all over the top. Now you know what I mean about the girls excitement seeing these beautiful little nests pop out of the oven.
Want to make a recipe that will blow your friends and family away? Whip up a batch of these Spaghetti and Meatball Muffins which will quickly be added to your weekly rotation!
Spaghetti and Meatball Muffins
Ingredients
1/2

pound

ground turkey, light or dark meat

1/2

small onion, diced

1

teaspoon

Gourmet Garden Lightly Dried basil

1/2

teaspoon

Gourmet Garden Lightly Dried parsley, plus additional to sprinkle on top

1

tablespoon

Gourmet Garden Roast Garlic Stir-In Paste

3/4

cup

grated parmesan cheese

1/4

cup

bread crumbs

1/2

teaspoon

kosher salt

2

large eggs, whisked and divided

1/3

pound

spaghetti

2

tablespoons

olive oil, divided

3/4

cup

marinara sauce

1/2

cup

mozzarella cheese, grated
Instructions
Place first 9 ingredients (using only 1 egg whisked) in a bowl and mix to thoroughly combine.


Using a tablespoon or small ice cream scoop, roll 1 tablespoon of turkey mixture into balls.

Heat 1 tbsp of olive oil in a sauté pan over medium heat and cook the turkey meatballs for 5 minutes or until golden on the outside.

Boil the spaghetti, al dente according to package directions, drain, toss with 1 tbsp olive oil and cool thoroughly.

Toss the spaghetti and remaining whisked egg in a bowl to combine.

Divide the spaghetti between 12 regular muffins cups (about 1/4 cup each) and press down to make nests.

Place a meatball into each spaghetti nest, top with 1 tablespoon marinara sauce and sprinkle with 1 tablespoon parmesan cheese.

Bake in 350 degree oven for 20 minutes.

Remove spaghetti nests from oven, sprinkle with 1 tablespoon of mozzarella cheese and bake for 5 minutes or until pasta starts to become golden and cheese has fully melted.

Sprinkle with reserved lightly dried parsley and serve.