The night I gave birth to Chloe all I wanted afterwards was a peanut butter and jelly sandwich. Call me a girl with simple taste, but it's true — I only craved thick, sliced sandwich bread, toasted and slathered with tons of smooth peanut butter and fresh strawberry preserves. I forgot one thing. It had to be made in a waffle iron!
If you've never had a PB&J made this way, you are missing out. I literally dreamed about having this "push" sandwich for weeks prior to Chloe arriving. Hours after she was born and resting in my arms, I gobbled up not one, but two. After all, I felt like I had more than earned it!
When you want to impress someone with your incredible culinary skills, whip up one of these ooeey-gooey, delectable treats. They will definitely say that you indeed made……..
For more Peanut Butter Inspiration, check out these fabulous links!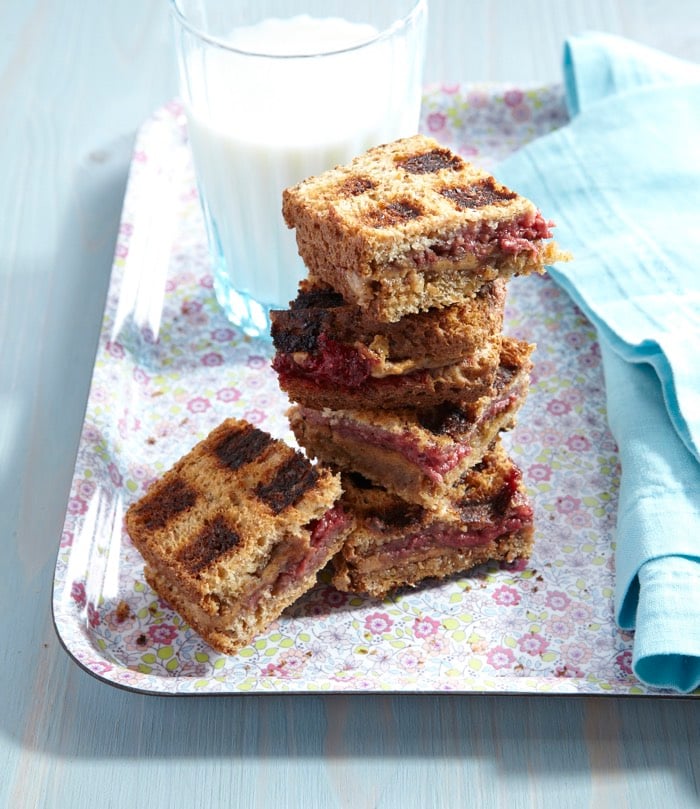 Pin
Photo by Maren Caruso
Domesticate Me_ Peanut Butter and Banana Overnight Oats (Vegan and Gluten-Free)
Jeanette's Healthy Living_ Gluten-Free Chocolate Peanut Butter Chip Cookies
The Heritage Cook_ Peanut Butter-Chocolate Chip Oatmeal Cookies (Gluten-Free)
Virtually Homemade_ Mini Nutter Butter Baked Donuts with Chocolate Ganache
Weelicious: World's Greatest Peanut Butter and Jelly
In Jennie's Kitchen_ Peanut Butter & Chocolate Cinnamon Buns
Red or Green_ Peanut Butter and Ginger Cookies
Napa Farmhouse 1885_ Thai Red Curry and Peanut Vegetable Slaw
Devour: Most-Comforting Peanut Butter Desserts
Taste With The Eyes_ Korean Buckwheat Noodles, Peanut Sauce and Banana
Sensitive Epicure_ Peanut Butter Oat Bars (Gluten-Free)
FN Dish_ 10 Peanut Butter Pairings
Feed Me Phoebe_ Thia Peanut Chia Pudding
The World's Greatest Peanut Butter and Jelly Sandwich
Ingredients
2

slices

sandwich bread

2

tablespoons

peanut butter

2

tablespoons

preserves

butter, optional
Video
Nutrition
Calories:
430
kcal
|
Carbohydrates:
59
g
|
Protein:
12
g
|
Fat:
18
g
|
Sodium:
420
mg
|
Fiber:
4
g
|
Sugar:
25
g