Veggie Dinner Strata is a perfect breakfast for dinner recipe that the whole family can enjoy!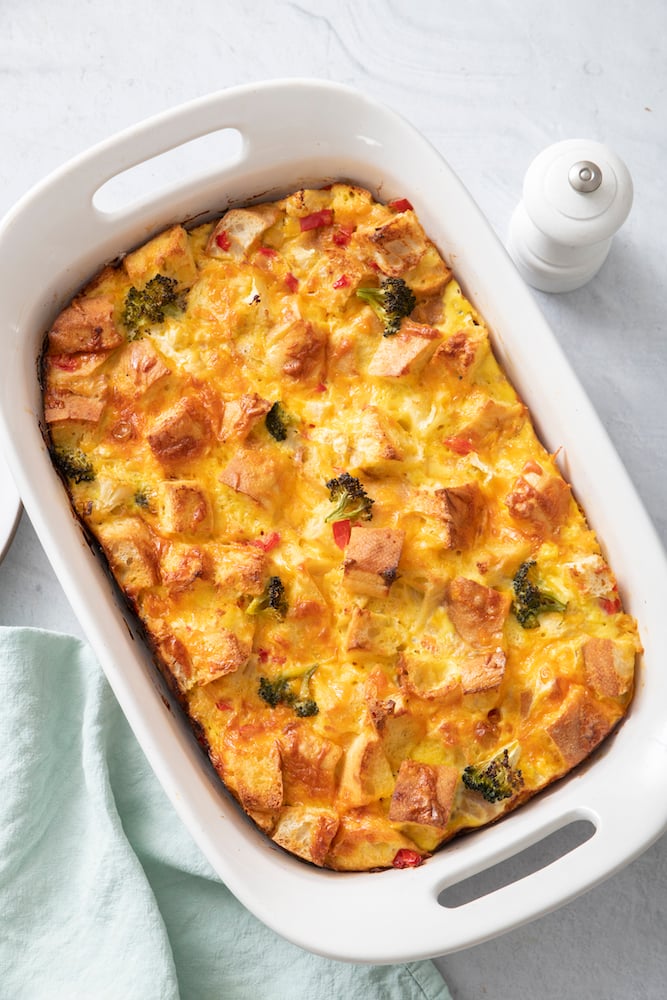 Once a week I like to mix things up and make fun theme dinners like "at-home takeout" night, "Mexican food" night, "eat only with a spoon" night, or "breakfast for dinner" night. Breakfast for dinner has come to be one of my kids absolute favorite meals they look forward to most after a long day of school and after school activities. A few recipes they love those nights are Pumpkin Waffles, Crispy Fried Eggs, French Toast on a Stick and Breakfast Rice Cakes.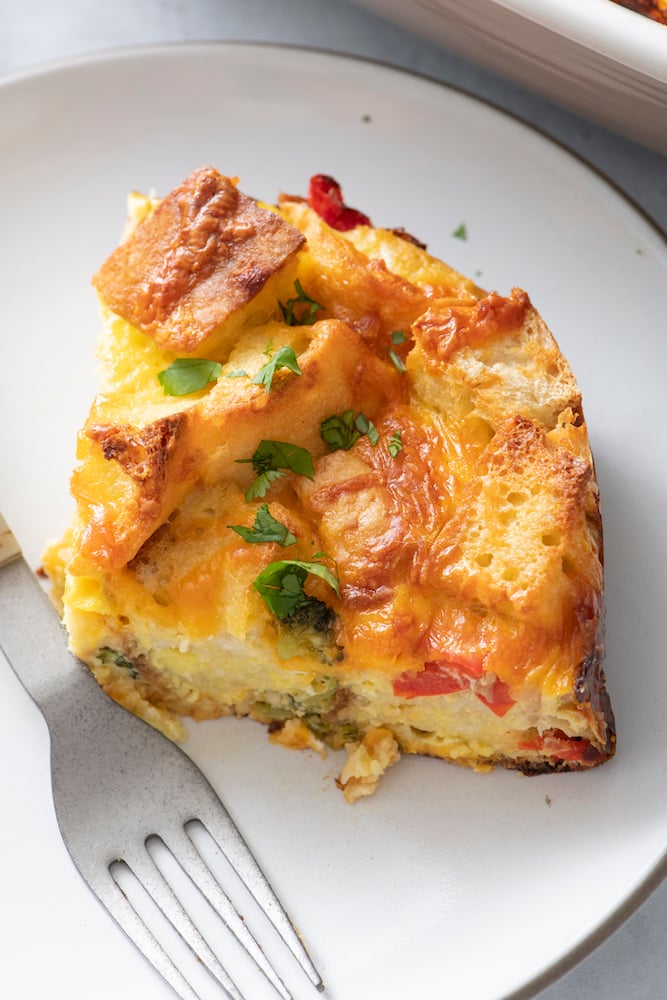 I try really hard at night to make sure the kids have a balanced meal with a protein, vegetable and carbohydrate on their plates. This can be challenging when you're serving breakfast for dinner as that first meal of the day is generally more focused on fruits, carbs and protein. The kids love this strata made with lots of tasty sausage, so I worked up this Veggie Dinner Strata recipe to serve on our breakfast for dinner nights when we're going meatless.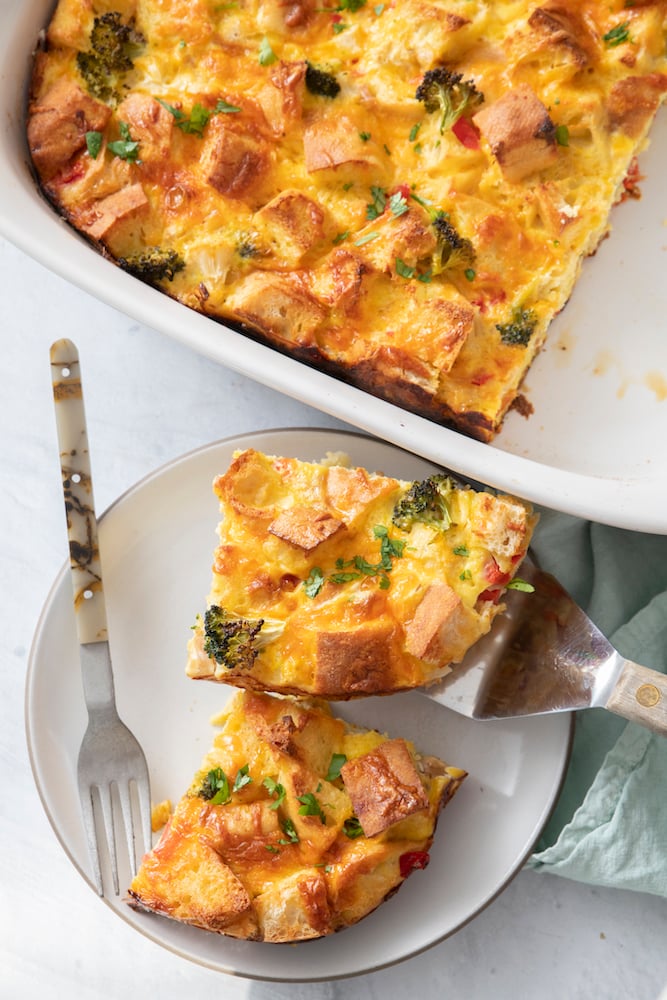 What I love about this Veggie Dinner Strata is that no only is it delicious and filling, but it's also a really economical dish yet feels kind of fancy. The last time I made it I served it on fancy china to make it feel even more special alongside Strawberry Parfaits for dessert. The kids loved it!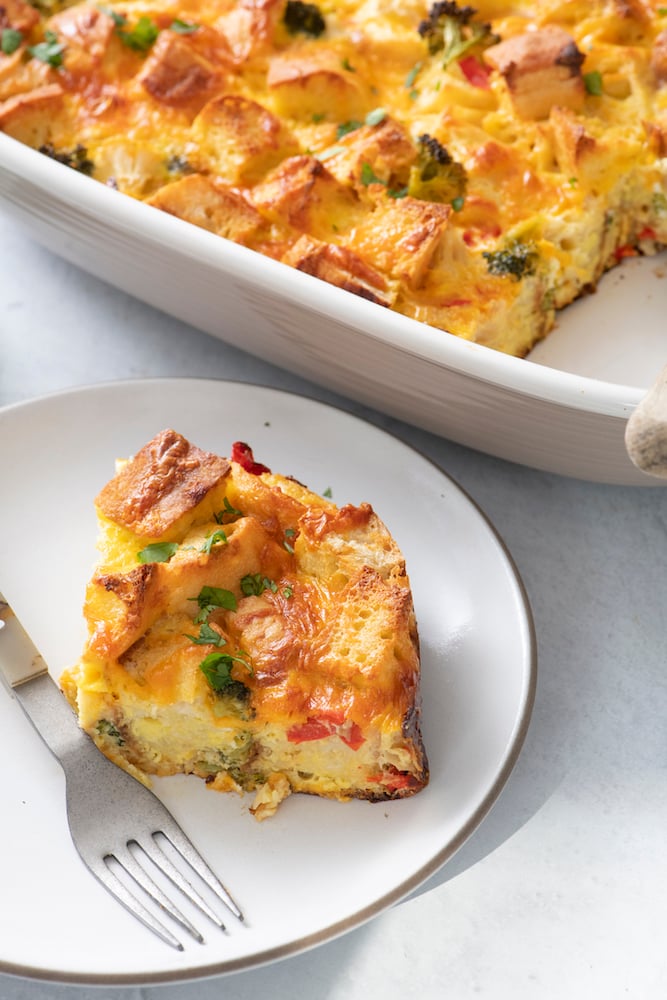 Since the dish makes eight plus servings it's perfect for a crowd as well or even for breakfast leftovers the next day. You could also prep it in the morning or the day before and have it ready to go easily by dinner time.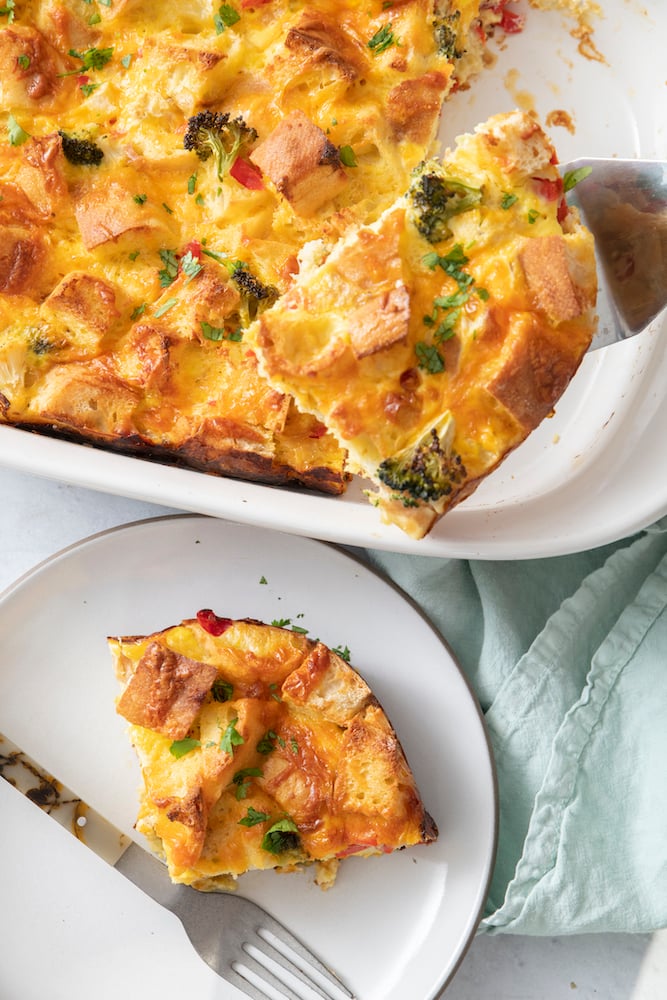 Make an easy dish that's relatively light on your budget and your busy schedule by making this wholesome Veggie Dinner Strata! Let me know what you think by tagging me on social media!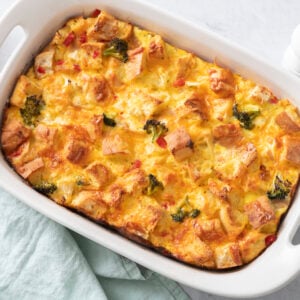 Veggie Dinner Strata
Veggie Dinner Strata is a perfect breakfast for dinner recipe that the whole family can enjoy!
Ingredients
1

tablespoon

olive oil

1

small yellow onion, diced

1

garlic clove, minced

2

red bell peppers, diced

1

cups

broccoli florets

2

cups

cauliflower florets

2

teaspoons

salt, divided

12

large eggs

1

cup

low fat or whole milk

1

loaf

italian bread, ciabatta or baguette, cut into 1 inch cubes (about 8 cups)

1

cup

shredded cheddar cheese, divided

1

tablespoon

butter, for greasing the pan
Instructions
Preheat the oven to 375F.

Heat the oil in a large saute pan over medium heat. Add the onions and cook for 3 minutes.

Add the garlic, bell peppers, broccoli, cauliflower, and 1 teaspoon of the salt. Cook 5 more minutes, until the onions are soft. Allow to cool.

In a large bowl, beat the eggs, milk, the remaining 1 teaspoon of the salt and 2/3 cup of the cheese.

Grease a 13 x 9 baking dish, add the bread cubes and the cooked veggies, and toss to combine.

Pour the egg mixture into the baking dish, pressing down the bread mixture gently to soak up some of the eggs and sprinkle with the remaining 1/3 cup of cheese.

Cover with foil and bake for 30 minutes.

Remove the foil and continue to bake an additional 20 minutes.