Banana Sushi is a fun and interactive snack for kids! If you've got bananas, a bunch of spreads and goodies to roll the pieces in you've got Banana Sushi! 
I'm not sure if all kids love traditional sushi with raw fish and seaweed, but this banana sushi recipe and video will inspire even the most hesitant eater to get in the game.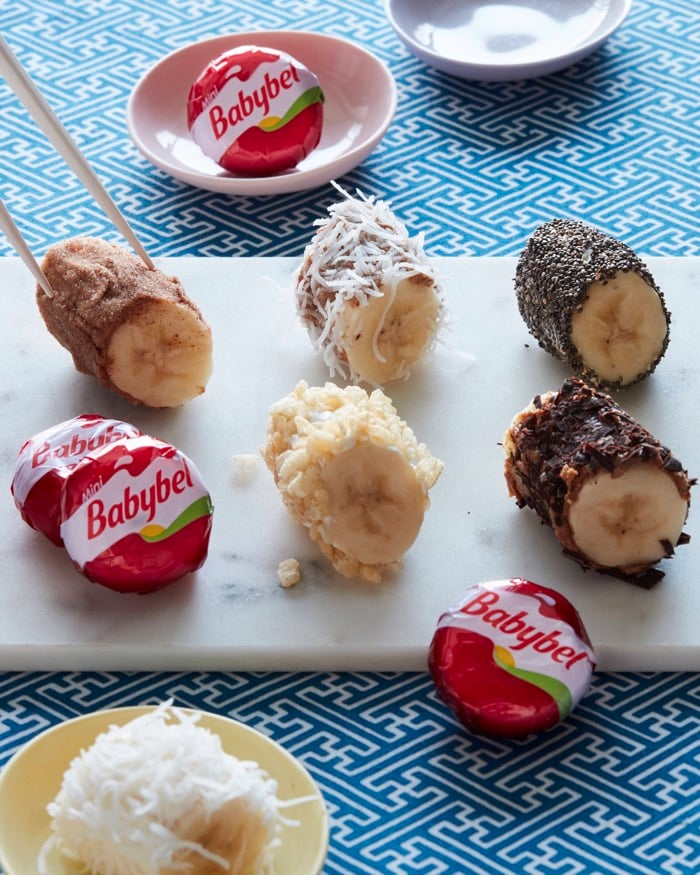 The day I was shooting this video Kenya ran in the kitchen after school, jumped on the counter and attempted to eat every last piece of my creations. After we finished shooting I lined up bowls of whipped cream cheese, Nutella, almond butter, chocolate chips, chopped nuts, coconut, chia and hemp seeds and more for them to make their own. Chloe was right behind him as both kids proceeded to cut, spread and roll their banana sushi and then pop them in their mouths one by one.
Not only is this an incredibly delicious snack or dessert, it's also incredibly easy to make for toddlers or big kids. Whenever I do DIY food projects like this, Strawberry Aliens, Veggie Garden Cups, Magic Berry Wands or Veggie Bunnies the kids get super excited. They're like little edible art projects that have a great big pay off at the end!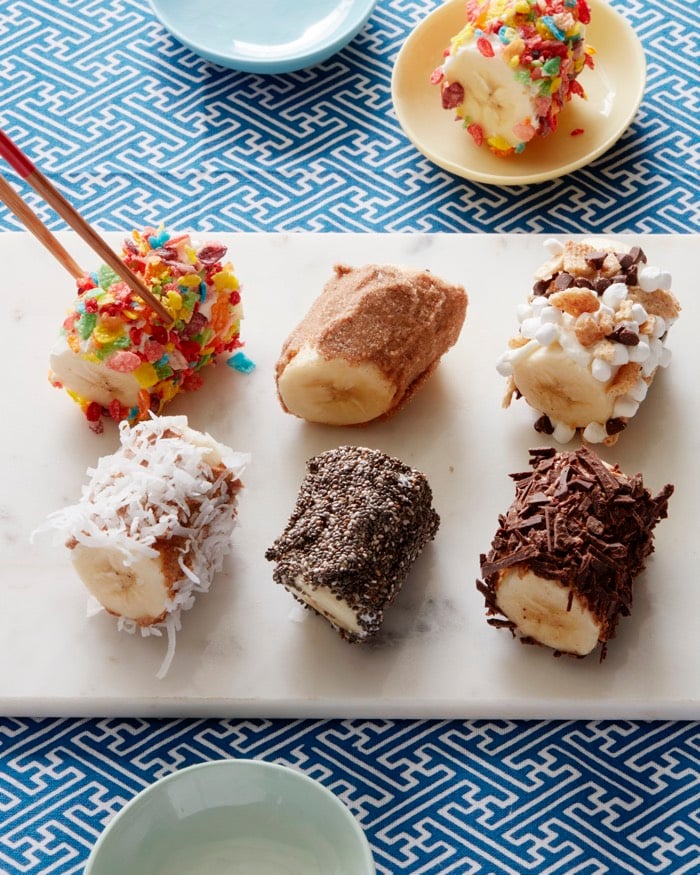 A major bonus for Mom is the fact that you get a fruit and protein in every bite. Bananas are an excellent source of potassium and Vitamin B6. You can skew the nutritional benefits of banana sushi any way you want depending on the type of spreads and toppings you choose.
If you want to give it a whirl, pull up a chair to let your kids watch this Banana Sushi video so they can come up with their own fruit sushi recipe too!
Let me know in the comments below what other spreads or toppings you love, and share your Banana Sushi images on social media by tagging @weelicious.
Photos by Matt Armendariz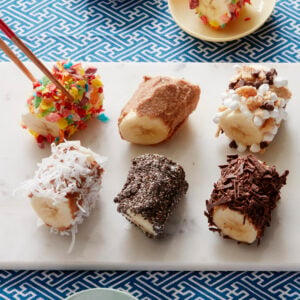 Banana Sushi
Banana Sushi is a fun and interactive snack to make with your kids.
Ingredients
whipped cream cheese

crushed cereal

rice crispy cereal

chopped chocolate

cinnamon sugar
Instructions
Cut the bananas into 1 1/2-2 inch pieces, roll in almond butter OR whipped cream cheese and roll in any desired coating. Feel free to use other ingredients you have on hand as well!
Video