Need a savory find for the Fourth of July that uses natural red, white and blue coloring and is perfect for the holiday? These Blue Corn Chip Crusted Fish will give you all the answers to making a delicious themed mealtime treat. Crunchy on the outside and tender inside, it's a treat that kids as well as adults are sure to love!
Pin
I know, I know, another red, white and blue recipe for the holiday. What can I say? I love holidays. This is one of my favorite recipes that I've ever made for Weelicious.
I'm a firm believer that it's important for little ones to spend their first year or so not eating added salt (some fruits and vegetables naturally have some sodium). You want them to love the fruits and vegetables they're eating, not the salt that enhances or changes the flavor and does not add nutritional value.
Now that Kenya's 16 months-old, I give him food with added salt every now and then just to introduce the flavor of it for him. When I was shopping for this recipe, you can buy salt-free blue corn chips, but I used organic blue chips from Garden of Eatin,' which only has 60 mg of sodium.
I tested this dish with tilapia and orange roughy which both turned out delicious, but you could use almost any white fish available such as snapper or halibut. Kenya loved watching me dip my fish stick into the sweet red pepper coulis (just a fancy word for sauce. He thought it was so funny, so I helped him dip his stick in and take a bite which he thought was even funnier. It's amazing to see what entertains a little one.
Happy 4th of July!!!!
Don't forget to watch the Blue Corn Chip Crusted Fish Sticks video! If you need help roasting the red bell pepper, we have a video for that, too!
Pin
We used these to make this recipe: Cuisinart DLC-2 Mini Prep Plus Food Processor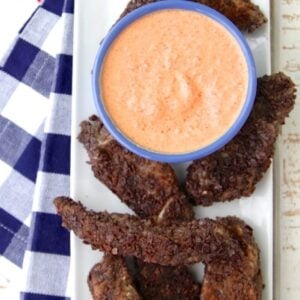 Blue Corn Chip Crusted Fish Sticks with Red Pepper Coulis
Ingredients
1

red bell pepper (you could also use roasted bell peppers in a jar)

1/2

cup

greek yogurt

1/2 lemon

1/2

teaspoon

kosher salt

2

cups

blue corn chips (about 30 chips)

2

fish fillets, cut in 4 pieces (tilapia, orange roughy, snapper or halibut will work)

1

large

egg, beaten

2

tablespoons

flour

2-3

tablespoons

olive, vegetable, or canola oil
Instructions
Place the chips in a food processor and pulse until completely fine, similar to sand.

Place the red bell pepper directly over a low flame on your stove. You want the skin of the pepper to turn black in spots. Keep turning the pepper with tongs every few minutes until it's charred all over and starting to soften.

Place the pepper in a bowl and cover with plastic wrap or a towel. Let the pepper steam for several minutes.

Peel the skin off the pepper (it will easily peel off), cut it in half removing the seeds and stem.

Place the pepper, greek yogurt, lemon juice, and salt in a food processor and puree until smooth.

Place the egg, flour and the blue chip crumbs each into separate shallow bowls.

Roll the fish pieces in the flour and tap off to remove any excess.

Dip the fish in the beaten egg, letting any excess liquid drip off.

Roll in the blue corn chip crumbs making sure the fish is completely coated.

Repeat with the remaining pieces of fish.

When all the fish pieces are coated, heat a large saute pan over medium heat.

Heat the oil for 30 seconds.

Place the fish pieces in the pan and cook 2 minutes on each side.

Place the cooked fish on a paper towel lined plate.

Cool to room temperature (very important for the little ones) and serve.
Nutrition
Calories:
150
kcal
|
Carbohydrates:
7
g
|
Protein:
13
g
|
Fat:
8
g
|
Cholesterol:
45
mg
|
Sodium:
45
mg
|
Fiber:
1
g
|
Sugar:
1
g