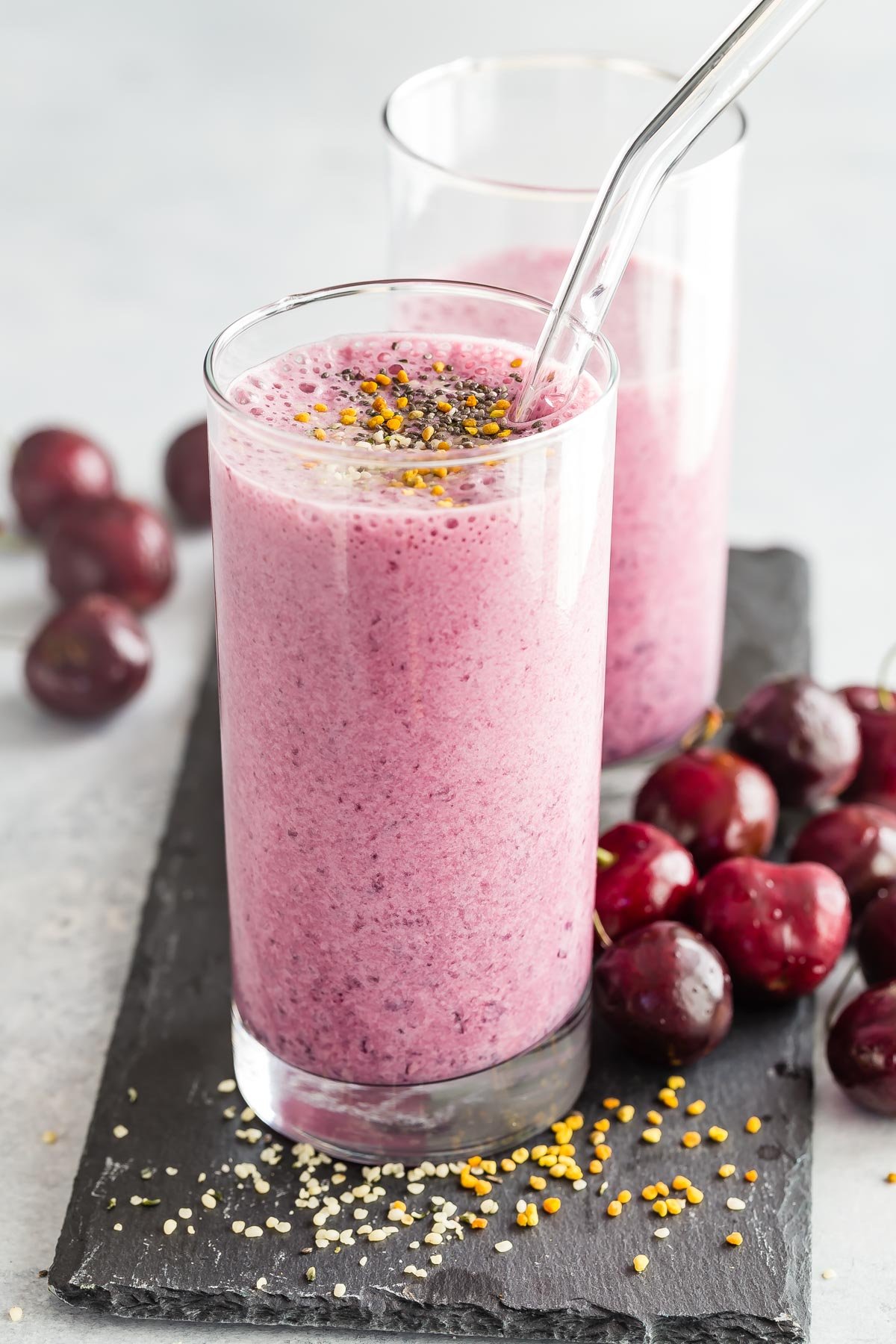 Pin
Let's make a Cherry Vanilla Smoothie! It's the healthiest shake you'll ever suck down full of flavors that are a match made in heaven. But wait, there's more!
I'm over the moon excited to tell you about my weekly Monday feature for the next few weeks focusing on my passion for making smoothies for our family every morning. It all started over a year ago. Kenya's health started to weaken as he complained about daily headaches, stomach aches and nausea for months. Even after several trips to the doctor we couldn't figure out what was going on with his body. I started reading endless articles about the correlation between what kids put into their bodies and how it affects their mind and bodies. This is all stuff I know only too well, but somehow I too fell into the carb loading trap day after day. Don't get me wrong, I'm all for pancakes, waffles, french toast, and crepes, but I started realizing as a vegetarian, Kenya was eating way more flour-filled carbohydrates than the proteins, fruits and vegetables his body needed to function especially at the beginning of the day as he headed into school. This is how the smoothie project was born.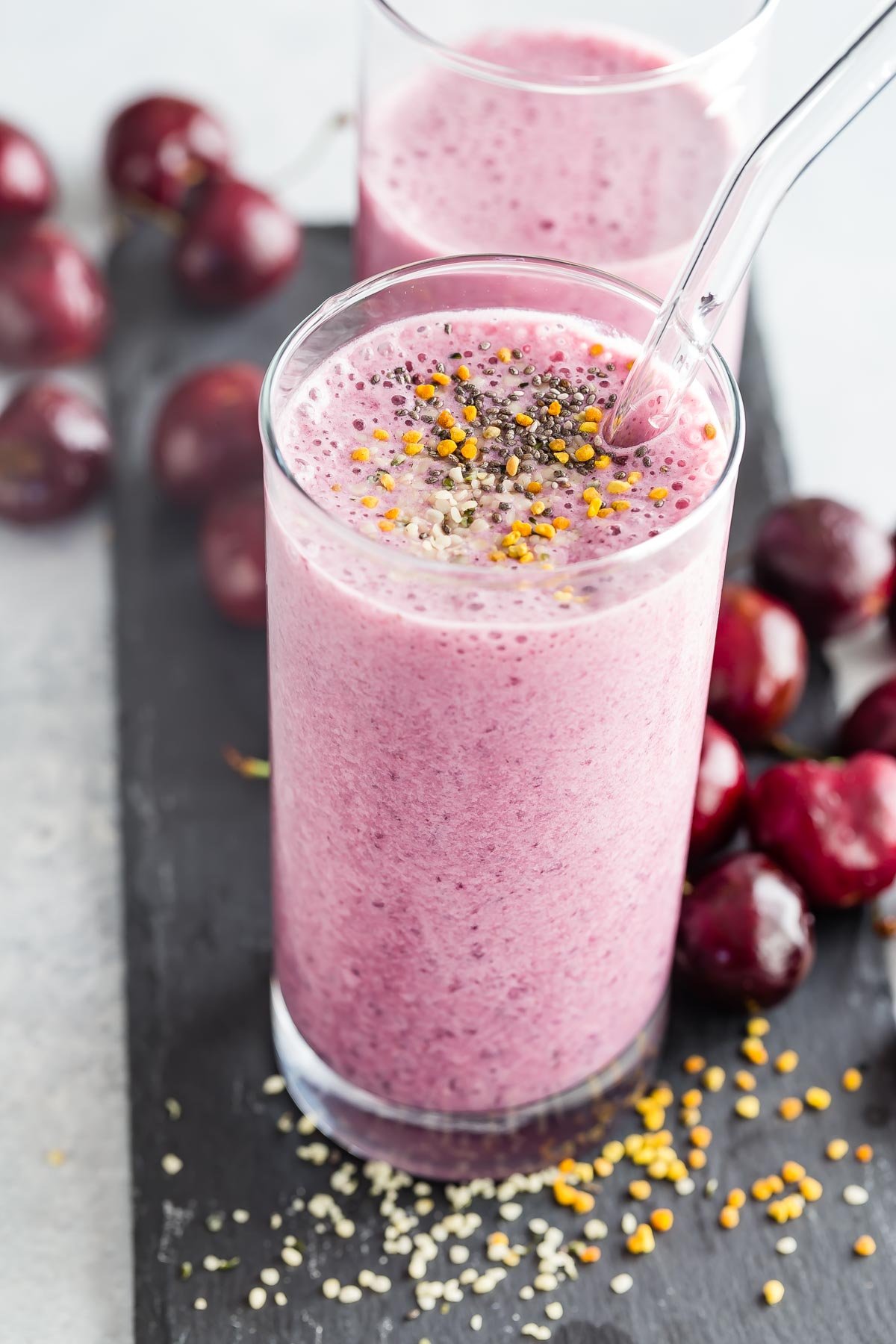 Pin
Every day I make a different smoothie for my kids bright and early using the Smoothie Project guide that they fill out the night before creating irresistible combinations. It's the easiest way to let kids have a hand in what they will slurp up for breakfast. They can even throw everything in the blender and press the button to whirl it all up! This Cherry Vanilla Smoothie was all Kenya's creation, although, I helped steer him towards a few of the extras in it to make sure he gets what he needs. He started by wanting a base of sweet cherries (frozen cherries are key) with a little vanilla extract and unsweetened vanilla almond milk to give it a little extra somethin' somethin'. The best part is when you get rockin' and rollin' making smoothies everyday you'll never look back! It's the easiest morning routine focused on a tall glass of heaven that's easy to slurp up and 100% for you too!
If you make your own smoothies please share them on Instagram and tag @weelicious or #smoothieproject so I can get inspired by your creations!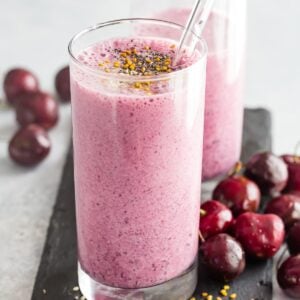 Cherry Vanilla Smoothie
Ingredients
1

cup

frozen cherries

1/2

cup

vanilla yogurt

1/4

cup

frozen cauliflower

2

teaspoons

bee pollen

1

tablespoon

hemp seeds

1

tablespoon

chia seeds

3

tablespoons

cashews, soaked overnight

1

cup

milk of choice
Instructions
Place all of the ingredients in a blender and puree until smooth.

Pour into a tall glass, pop in a straw and you're ready!