Trust me when I tell you that Waffle French Toast is one of those game changing breakfasts that will make you a super mom in everyone's eyes!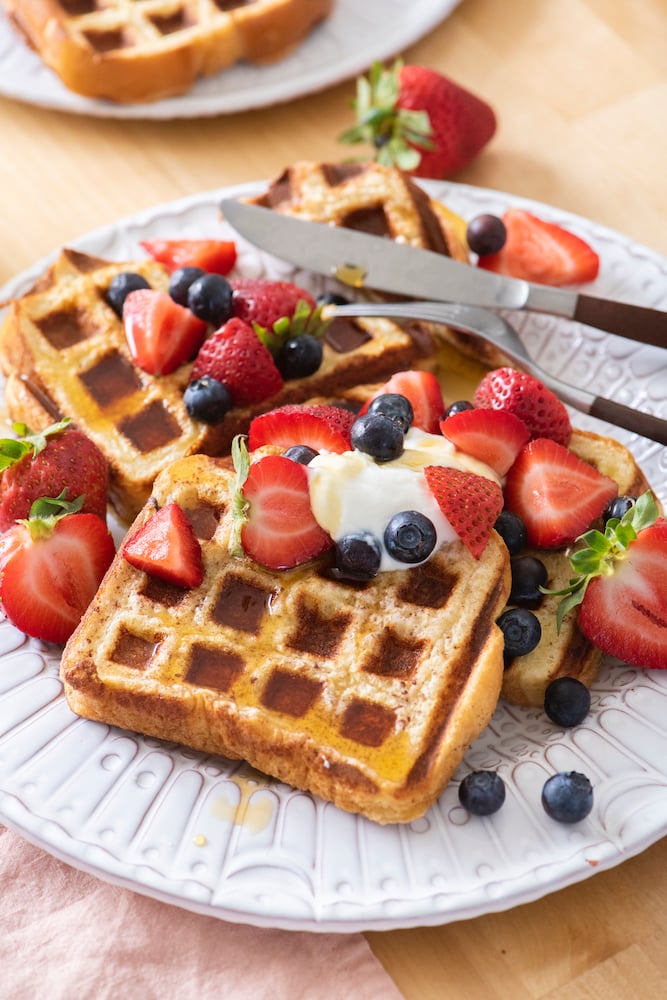 I love Cinnamon Raisin bread. It's so darn good when it's toasted. It tastes like dessert to me no matter when I eat it. Recently I started asking my kids at bedtime what they want for breakfast the next morning, trying to get them to pick one thing so I don't wind up being a short order cook, making something different for everyone. I find that breakfast more than any other meal is when I risk falling into this bad habit.
One morning when I had forgotten to ask about breakfast the previous night, Kenya wanted waffles and Chloe asked for French toast. It started to turn into a bit of a power struggle so I decided to rectify the situation and fulfill both of their wishes by making Waffle French Toast. Plus I made it even more special by doing it with my beloved cinnamon raisin bread. I also used a waffle iron so I didn't need to worry about flipping it halfway through — giving me extra time to get organized and out the door for school on time!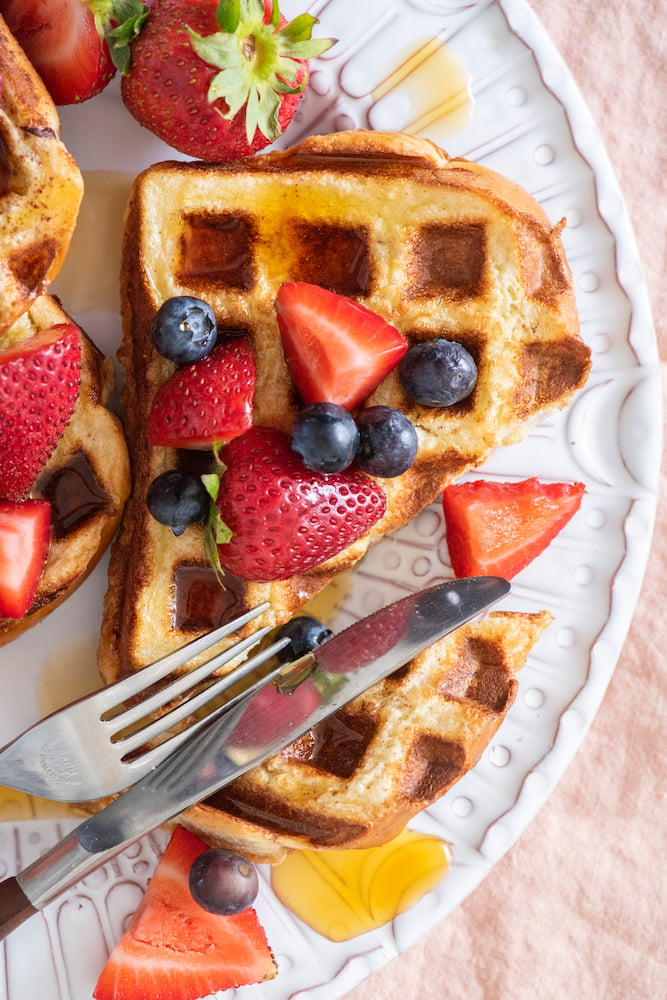 Since all of the ingredients are so simple you want to use the best possible. Grab a really tasty loaf of bread to start. Whole wheat or white is perfectly suitable, but cinnamon raisin is a total game changer. In general I love breads with tons of "stuff" in it because in the waffle iron it becomes really sweet and toasty tasting. Next you want some really creamy organic milk, maple syrup, a dash of cinnamon and eggs. That's it! Let your waffle iron do all of the magic. And believe me it will.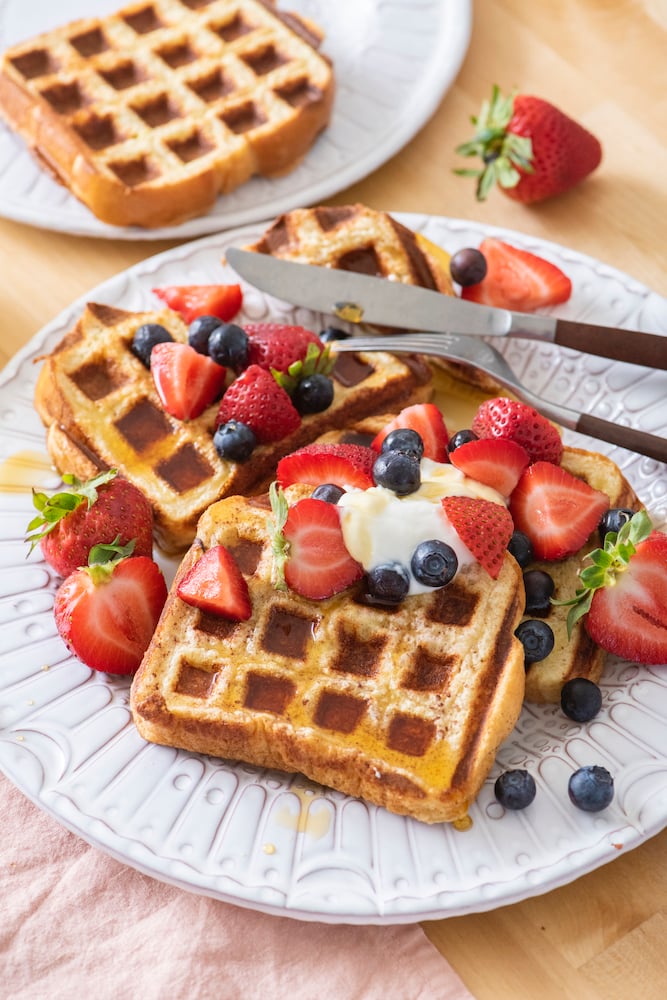 This has given me a newfound passion for "waffling" something. Is that a thing? I'm making it a thing! I've made sandwiches in the waffle iron like The World's Greatest Peanut Butter and Jelly Sandwich and Waffle Heart Sandwiches. I've even made eggs in my waffle iron! My new question about food these days is, "will it waffle?". Most of the time – yes it will!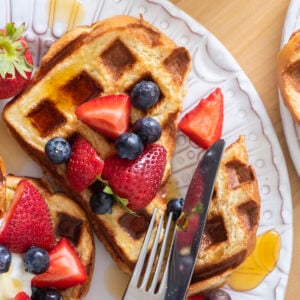 Waffle French Toast
Ingredients
3

large

eggs

1/3

cup

milk

1

tablespoon

maple syrup

salt

1/2

teaspoon

ground cinnamon, optional

8

slices

bread (I use cinnamon raisin, challah, pain perdu or other good bread)
Instructions
In a shallow bowl, whisk together the eggs, milk, maple syrup, salt, and cinnamon.

Dip each side of the bread in the egg mixture to thoroughly coat.

Place the coated bread in a pre-heated and greased waffle iron for 5 minutes.

Serve with desired accompaniment.
Nutrition
Calories:
180
kcal
|
Carbohydrates:
32
g
|
Protein:
7
g
|
Fat:
3
g
|
Cholesterol:
5
mg
|
Sodium:
240
mg
|
Fiber:
2
g
|
Sugar:
7
g