Ever have a scoop of ice cream so delicious you wish you could eat the cup too? Now you can with these super cute Chocolate Chip Cookie Cups!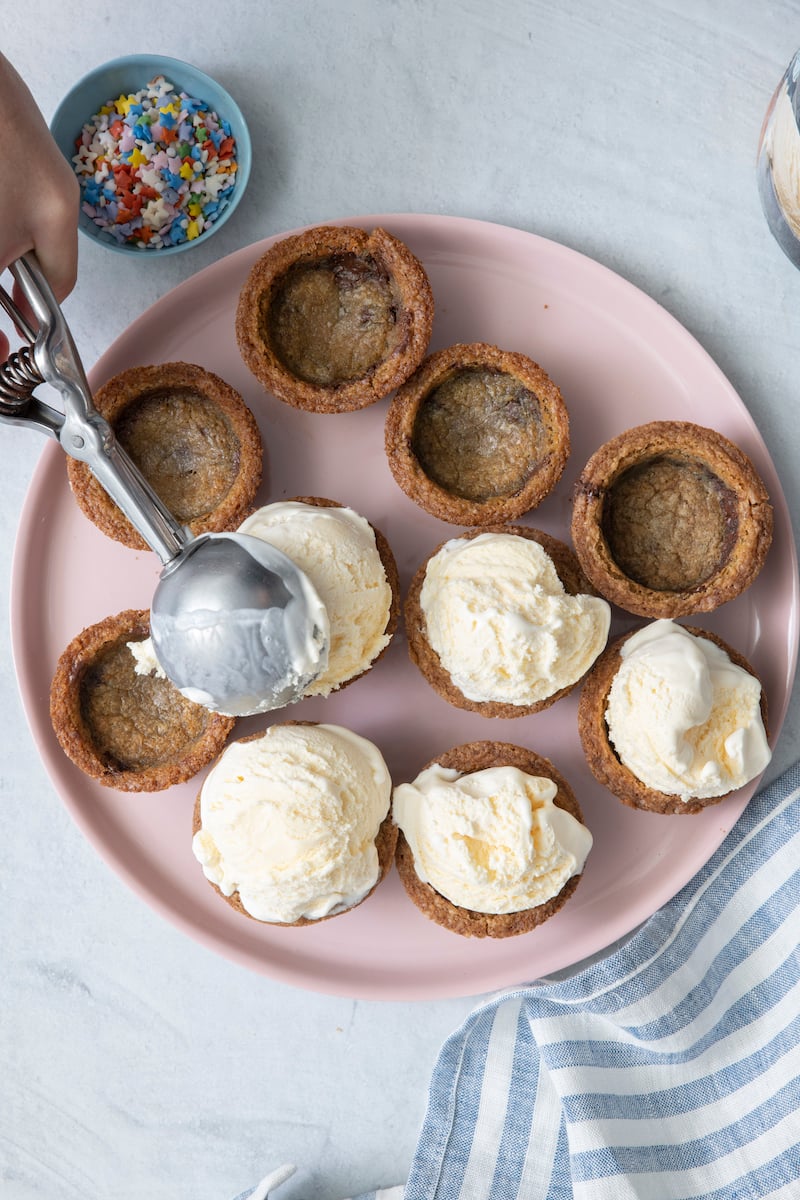 We celebrated my youngest daughter's birthday recently, and I wanted to make a dessert for the kids that was delicious (obviously) but also fun to eat. I had seen many versions of an edible ice cream bowl over the years and decided to try my hand at it. They were a huge hit! Of course, ice cream and cookies aren't on our menu every night of the week in our house, but for a birthday treat these were SO worth it! It's all about moderation.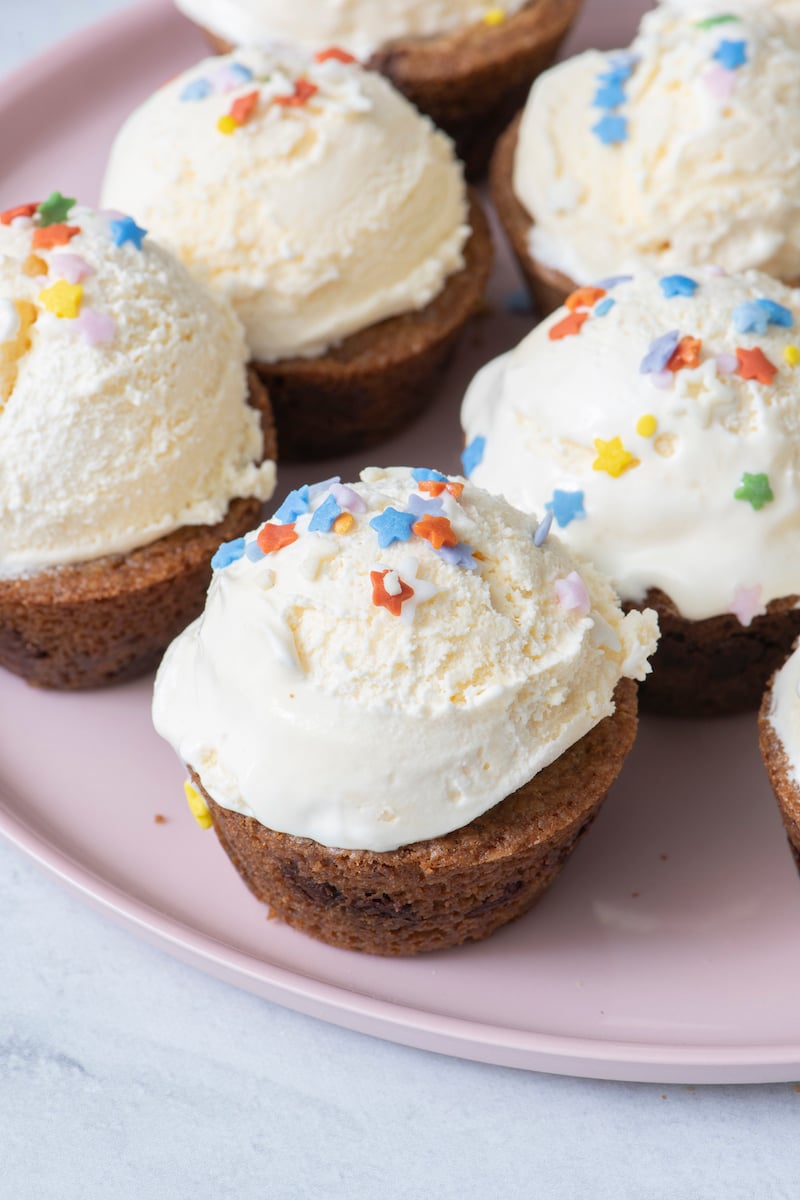 There are few things better than a chocolate chip cookie fresh out of the oven, all warm and gooey. I can smell them now! I thought for sure it would be hard to top a tried and true classic, but these Chocolate Chip Cookie Cups might have done the trick! Plus, I couldn't believe how easy they were to make. Just whip up a batch of your favorite cookie dough, bake them in a muffin tin and press down on the center before they cool to form a cup! Fill with your ice cream of choice or even just some fresh whipped cream and enjoy.
Another great thing about these cookie cups is that you can make them ahead of time and refrigerate (for a few days) or freeze them (for 1-2 months in an airtight container) so you can have them ready to go whenever you want. Whether it's for a bigger event like a birthday or school party or for a special sweet treat one night by yourself, Chocolate Chip Cookie Cups are the way to go!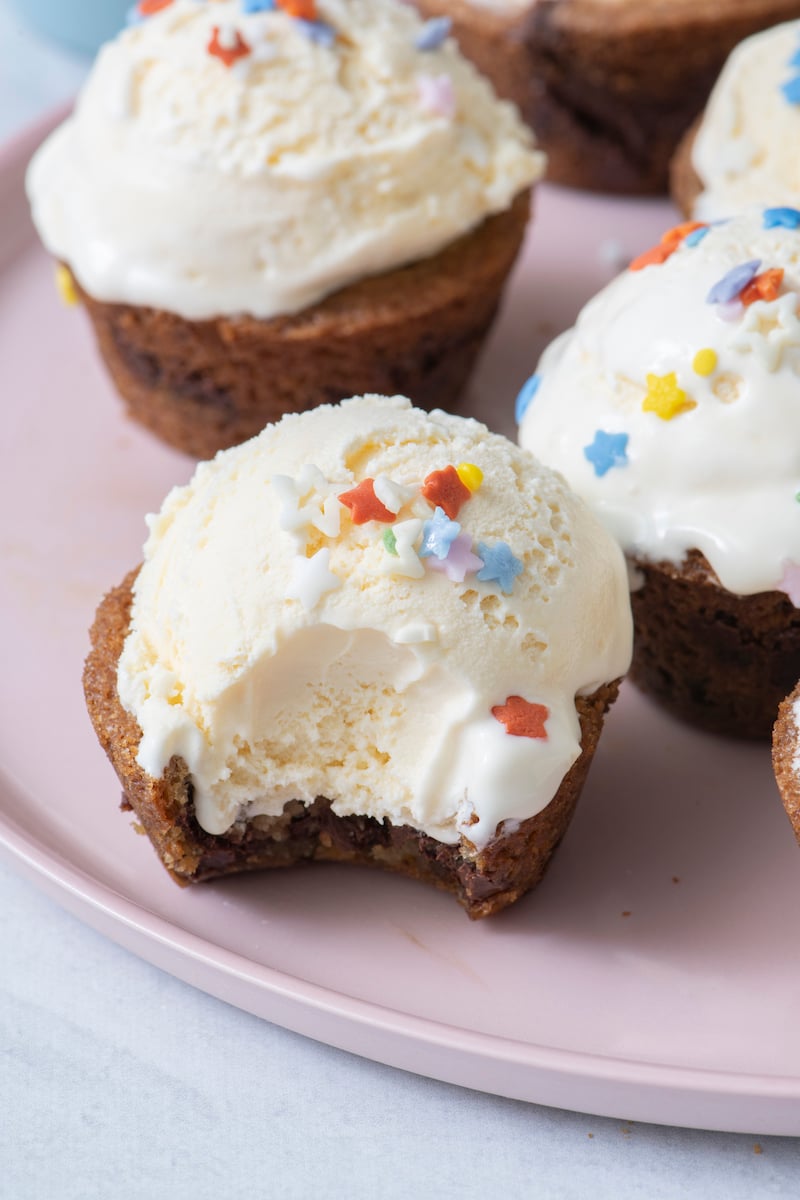 I'm so excited for you to make these! They're everything you know and love about a chocolate chip cookie but with a super fun presentation. Kids and adults alike will be impressed when you pull these out to enjoy. If you're looking for more fun ways to eat chocolate chip cookies, try out Chocolate Chip Cookie Cake, Skillet Double Chocolate Chip Cookie or this Banana Chocolate Chip Cookie Bread.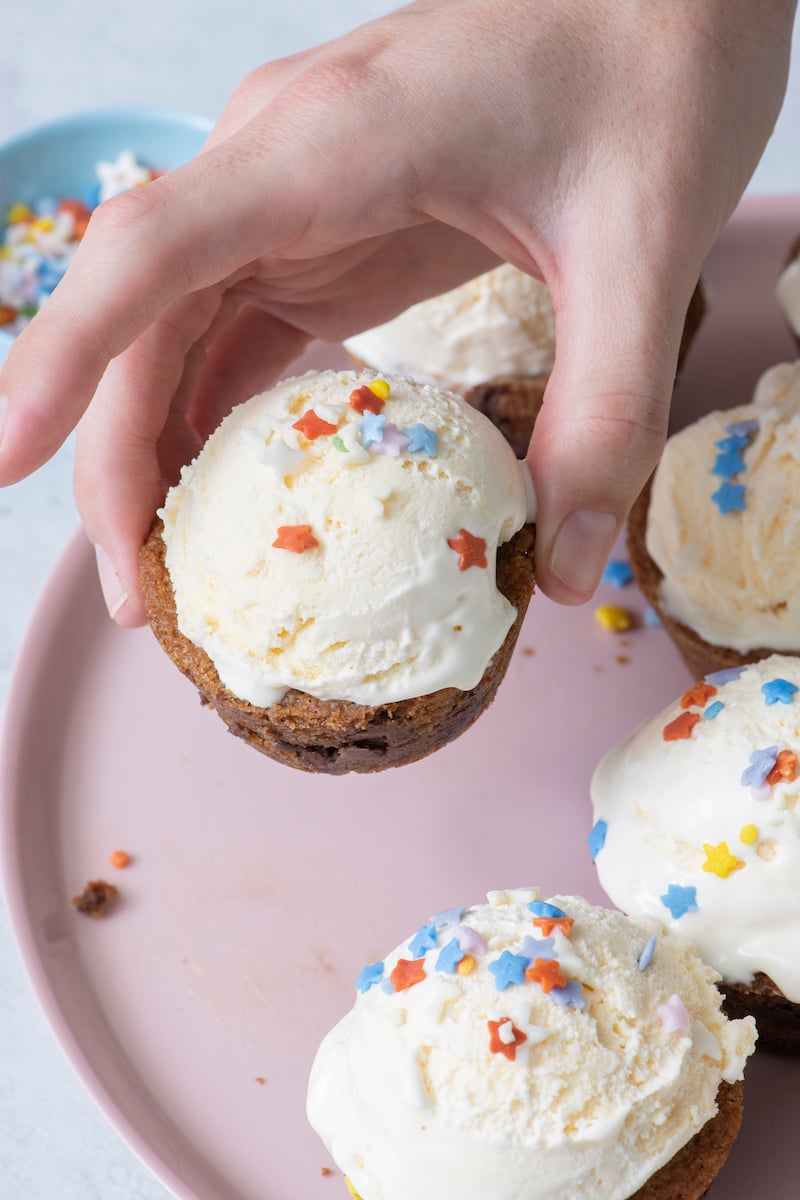 Will you be making these Chocolate Chip Cookie Cups soon? Let me know in the comments!
Chocolate Chip Cookie Cups
A chocolate chip cookie in a super fun presentation. Scoop your favorite ice cream into these and eat every last bite!
Instructions
Preheat oven to 350 F. Grease a 12 cup standard size muffin tin and set aside.

Cream the butter and sugar in a standing mixer (or in a bowl using a hand mixer) for 4-5 minutes until light and fluffy. 

Add the eggs one at a time and vanilla extract and mix for 1 minute. 

Combine the all purpose flour, baking soda and salt in a bowl and slowly incorporate into the butter and egg mixture. 

Mix until combined then fold in the chocolate chips and stir.

Scoop the dough into heaping 2 tablespoon portions and form into balls. Place one ball into each muffin cup. Don't flatten as they will spread while they bake.

Bake for 13-14 minutes or until the edges begin to turn golden. The center should still be SLIGHTLY under done. Remove from the oven and immediately use a small jar or container to press down on the muffins to form a well. 

Run a sharp knife around the edges of the cookie cups (to help release later) and allow to cool completely in the pan.

Carefully remove cups from muffin tin. Scoop favorite ice cream into the cups, top with any desired toppings and serve.