This Skillet Double Chocolate Chip Cookie is a dessert lover's dream! It's melty, chocolatey, decadent and will have you wondering if you have to share it with your family!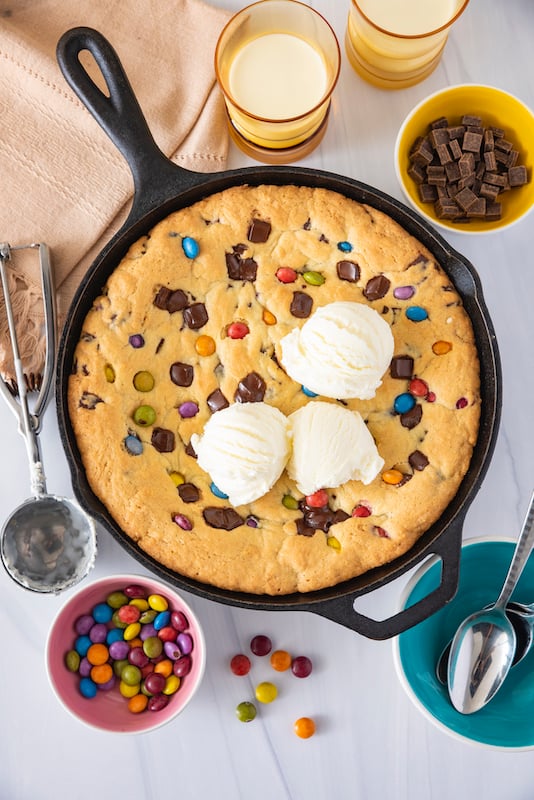 Have you ever wanted an ooey gooey chocolate chip cookie the size of your head? Yeah, same. That's where the Skillet Double Chocolate Chip Cookie comes in. It's out of this world delicious and honestly I had a hard time sharing it with my kids! This skillet cookie is perfect because the edges get nice and crispy thanks to the cast iron skillet, but the middle stays soft and warm.
This is the best skillet cookie you can make! Trust me. I doubled up on the chocolate by adding dye free chocolate pieces from Trader Joe's or Whole Foods so you get a taste of melty chocolate in every bite. Chocolate chips work in the recipe, but if you can get your hands of chocolate chunks like I did here, you'll understand why adding them makes this skillet cookie next level. Want to knock your crew's socks off even more? Top it with vanilla ice cream to take it over the top. Is there a better combination than a warm cookie with ice cream? I don't think so!
I made this for the first time weeks ago, and my kids went wild for it. They had their spoons out like little vultures ready to go when it came out of the oven! They couldn't wait. We practically had a spoon war fighting for every bite until all of the sudden the cookie disappeared. While I wouldn't tout this as one of my healthiest recipes, I try to practice everything in moderation. A skillet double chocolate cookie every now and then is a fun, delicious TREAT so… treat yourself!
While this skillet cookie isn't something you'd probably want to make for your family every night, I do have some cookie recipes that you can still feel good about eating like Nature Cookies, Banana Oatmeal Chocolate Chip Cookies or Breakfast Cookies!
So, get your spoons out and get ready to dig in and be amazed at how quickly this skillet cookie disappears! Let me know if you make this recipe and tag me on social media @weelicious!
Skillet Double Chocolate Chip Cookie
This Skillet Double Chocolate Chip Cookie will make any cookie lovers eyes light up! It's decadent and 100% delicious.
Ingredients
2

cups

all purpose flour

1/2

teaspoon

salt

2

teaspoons

baking powder

3/4

cup

unsalted room temperature butter, plus more for greasing the pan

3/4

cup

sugar

1/2

cup

brown sugar

2

large eggs, at room temperature

1 1/2

teaspoon

vanilla extract

1

cup

chocolate chunks or chips

1/2

cup

dye free chocolate pieces or M&M's

1

teaspoon

flakey salt

vanilla ice cream for serving
Instructions
Preheat oven to 350 degrees.

Grease a 10 inch cast iron skillet.

Whisk the flour, baking powder and salt to combine,

In a standing mixer or separate bowl using a hand mixer beat the sugars and butter for 3-5 minutes or until fluffy and creamy.

Add eggs one at a time whisking as you combine. Add the vanilla extract and combine thoroughly.

Add flour a little a time until full incorporated.

Fold in the chocolate chips and chocolate pieces and spread batter into greased skillet.

Bake for 30 minutes or until center is just firming up and remove from oven.

Top with flakey sea salt. Cool for 5-10 minutes and serve with ice cream on top or on the side.
Notes
If you don't have a cast iron skillet you can use a 9 x 9 inch baking dish or other oven proof baking dish or skillet.