Cucumber Stackers are an easy and fun addition to school lunches that your kids will love!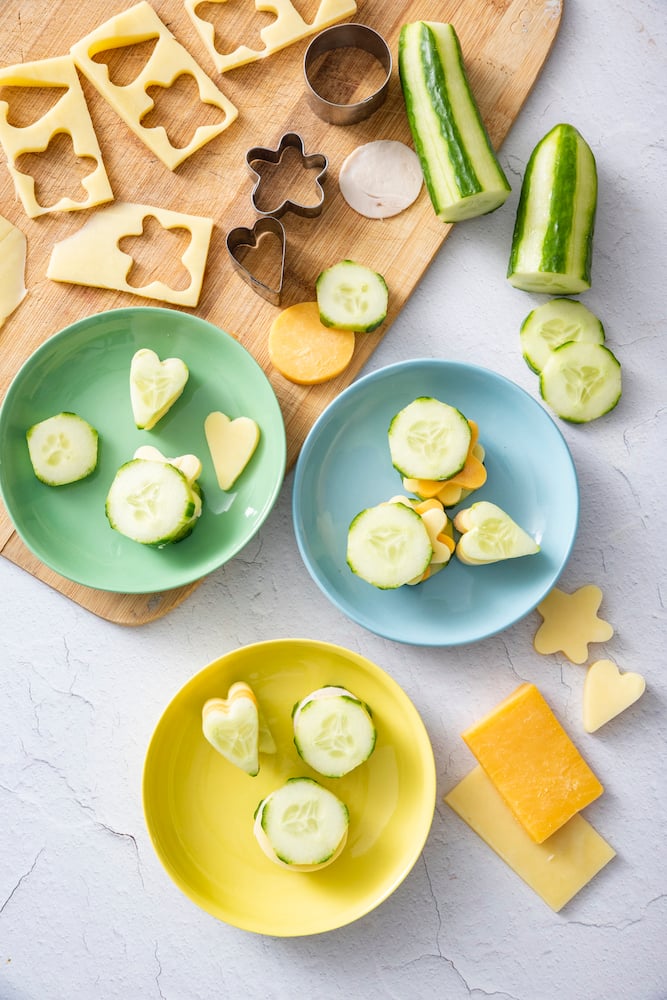 Whenever I look at images of Japanese style bento box recipes for school lunch I'm totally inspired and mesmerized. All of the food cut into fun shapes and sizes using pairing knives, food presses, cookie cutters and more to create an edible world I know my kids would absolutely love. I've seen animated characters, flowers and animals re-created out of food that's so beautiful you almost don't want to eat it.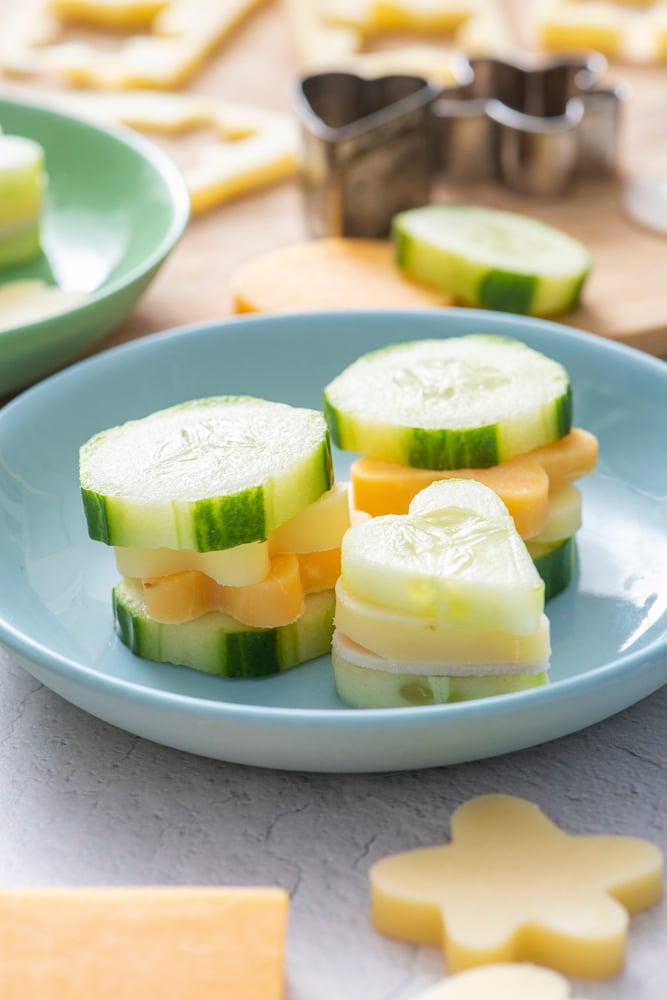 The hard part, though, is I don't have the time to create this kind of magic (and most likely the carving talent as well). When Kenya and Chloe have seen these adorable lunches they will ask me to turn their food into these Japanese creations, but honestly, that's a little out of my wheelhouse.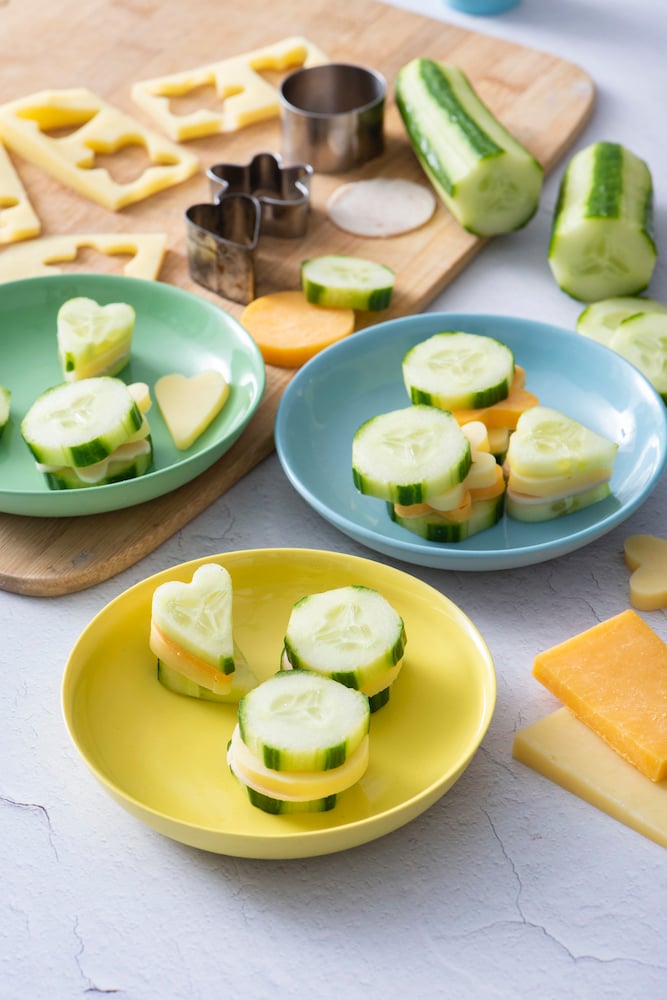 I've created Strawberry Aliens, Banana Bears, Veggie Bunnies and even Teddy Bear Toast, that are super cute, but they have still been asking for more creative additions to their school lunch, so I came up with these Cucumber Stackers. They're made with only three simple ingredients and are as tasty as can be. The best part is that you can use any kind of deli meat you've got on hand or no meat at all!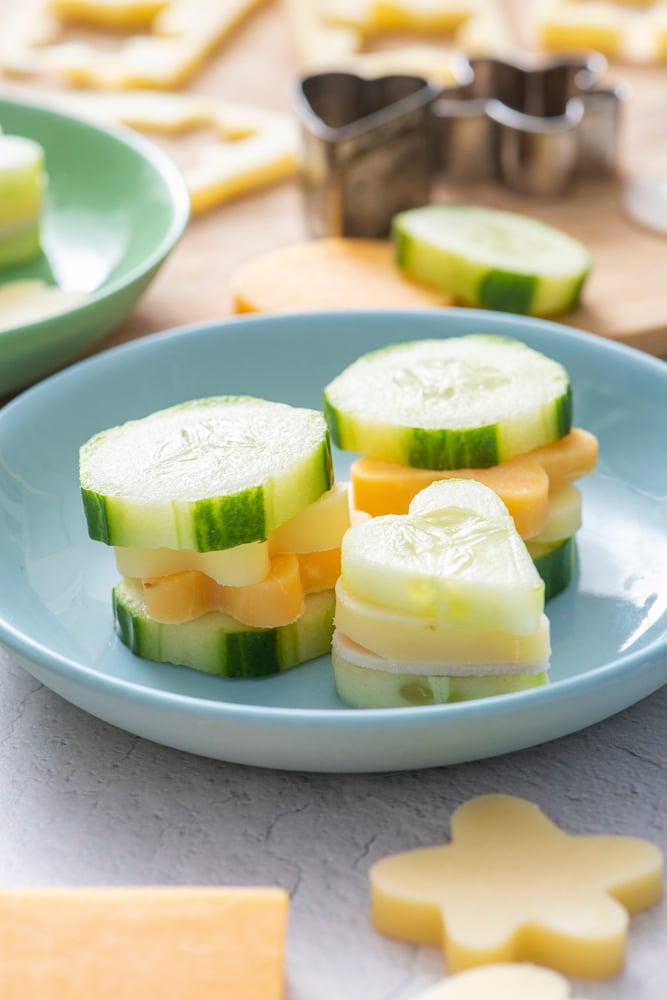 Not only are the Cucumber Stackers beautiful to look at, but they're also gluten-free for kids with wheat sensitivities. Add something simple and fun to school lunch or as a snack and look like you're a creative genius at the same time.
Cucumber Stackers
Ingredients
2

persian cucumbers

4

cheddar cheese slices

4

favorite deli meat
Instructions
Peel skin of cucumber into alternate strips.

2.Slice the cucumbers into 1/4 inch thick rounds.

Use a small flower or circle shaped cookie cutter to cut the cheese and deli meat into shapes.

Layer in this order: cucumber slice, cheese, deli meat, cheese, deli meat, and top with another cucumber slice. Repeat with remaining ingredients.