I bet you've had vanilla birthday cake more times than you care to remember, and I bet you've eaten your weight in chocolate birthday cake, but have you ever had a Fruit Tower Birthday Cake?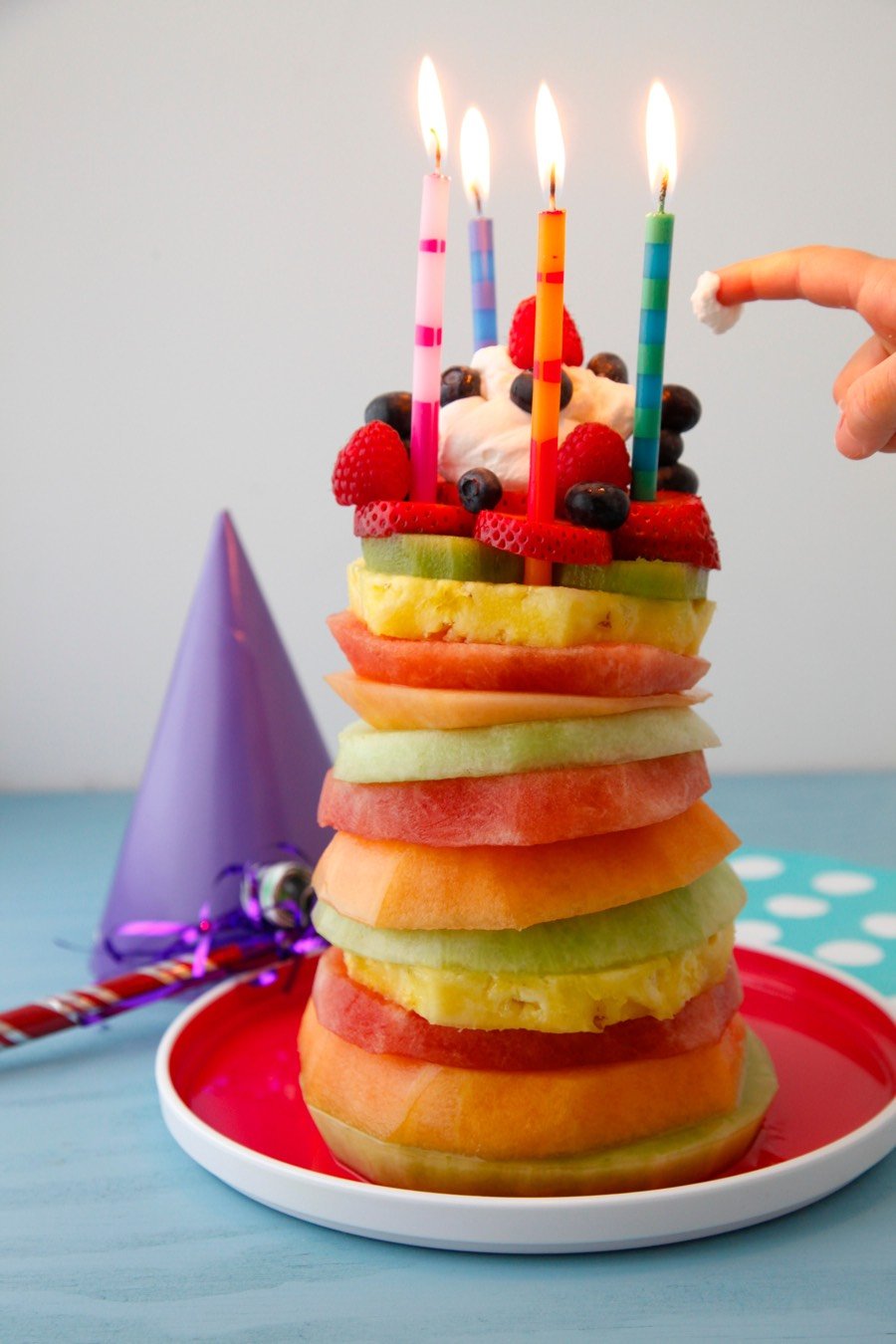 Pin
When it comes to my birthday I prefer to keep things simple, and so this Fruit Tower Birthday Cake fits the bill perfectly for me. Sure I love a baked Tres Leches Cake and Chocolate Chip Cookie Cake as much as the next gal, but there's something so straightforwardly beautiful and natural about this cake made entirely of sliced fruit.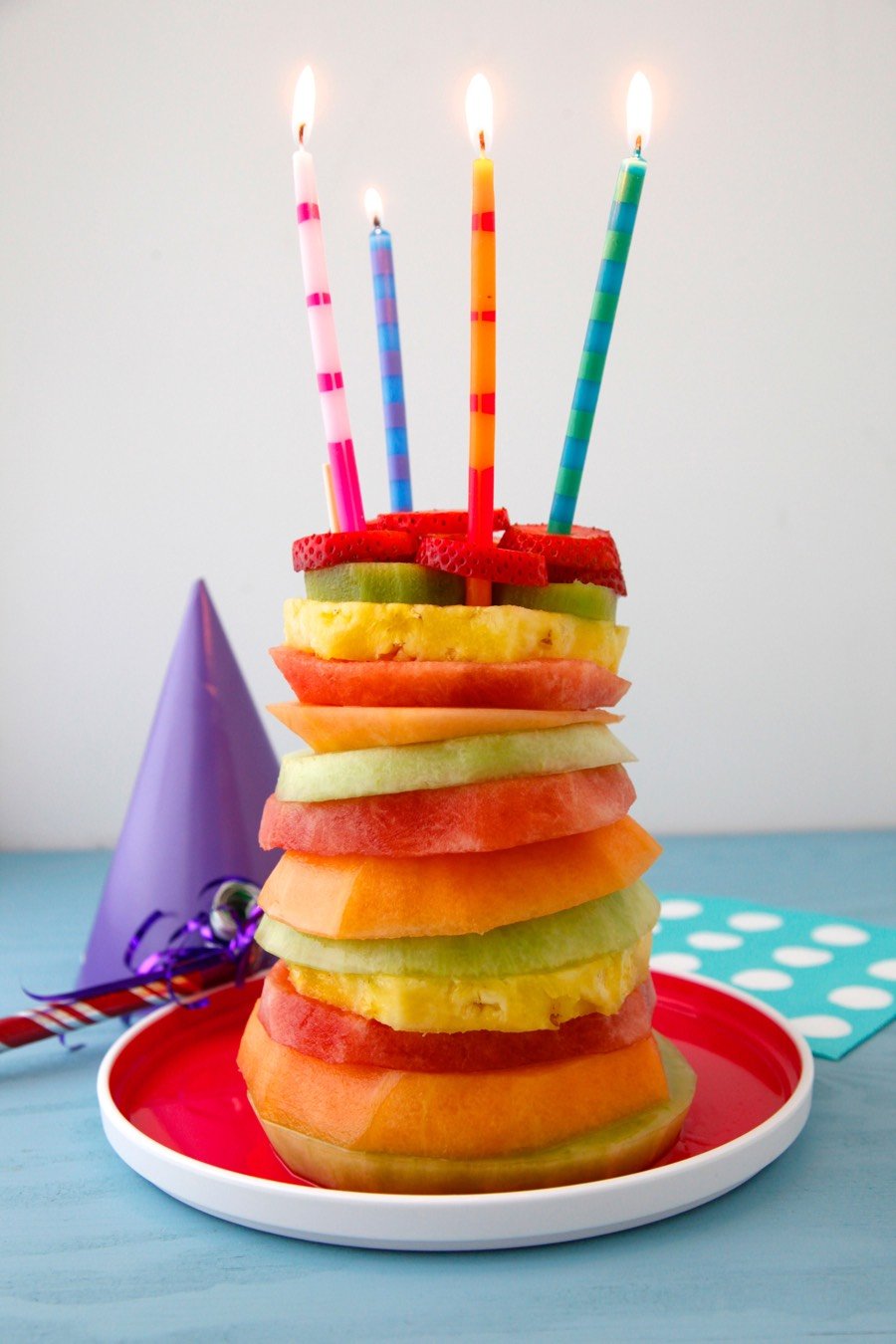 Pin
And since my birthday and Mother's Day fall on consecutive days this year, it might not be the best idea to have a rich cake two days in a row (or maybe it is? Wait, I need to ponder that a bit more.). A Fruit Tower cake is another story entirely.
I've made this healthy Fruit Tower Birthday Cake a ton of times and my kids can never get enough of it. You can stack as high as you want (or as high as the tallest skewers you can find), and add tons of whipped cream (ok, this is the one thing that makes this recipe a bit less healthy) and berries on the top for even more elevation. Wait until you see the look on your kids' faces when they see you bring this cake out. I'm betting you'll get an even bigger reaction than what you would with a typical birthday cake. I made a Fruit Tower Cake for Dr. Seuss Day at my kids' school and Kenya and Chloe tried to devour the entire thing before dinner (as you can see here)!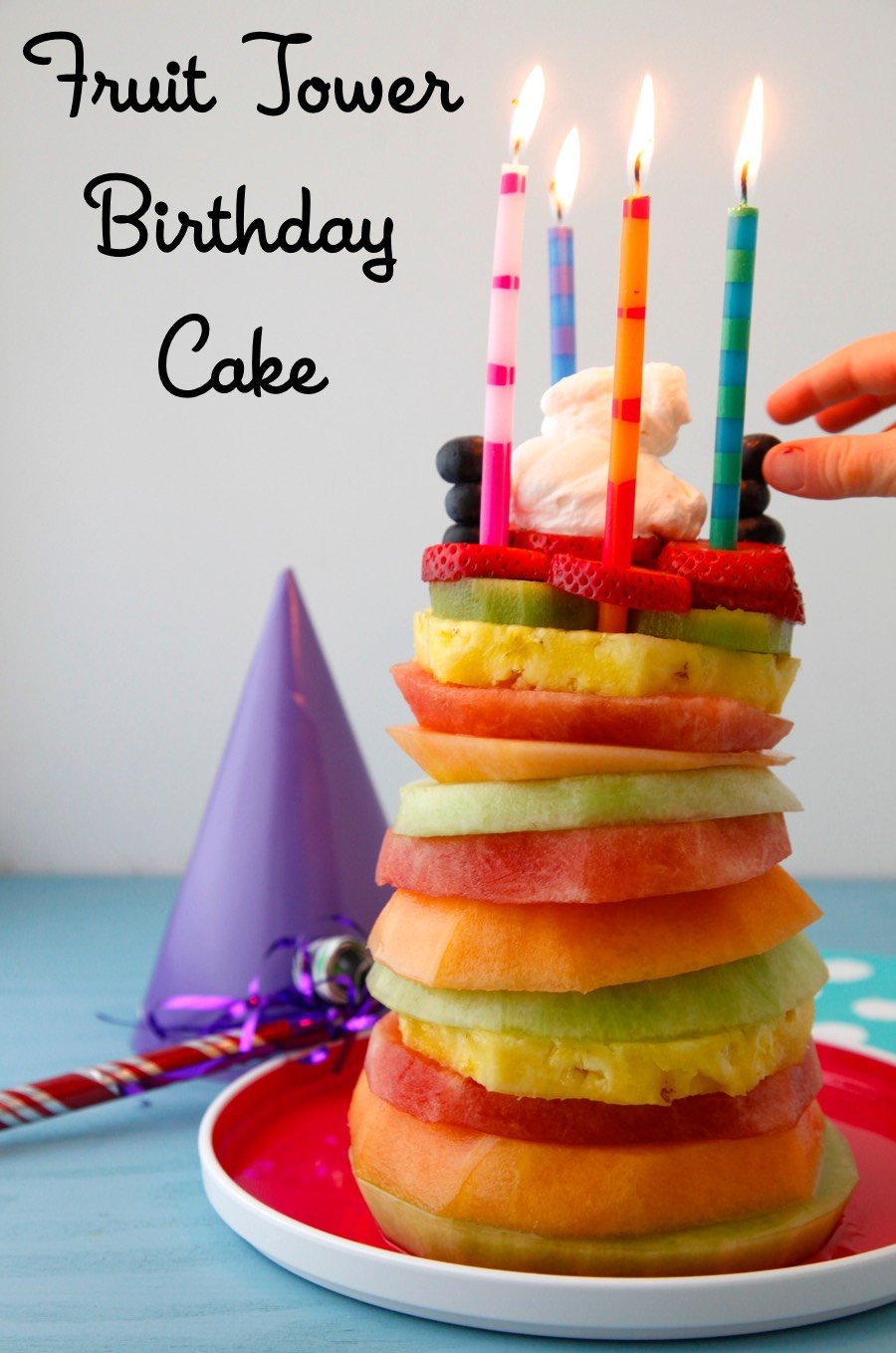 Pin
Layered with naturally sweet and juicy fruits like pineapple, honeydew, mango, cantaloupe, strawberries and basically anything else that's in season, it's a dessert that's as beautiful as it is delicious. And need I mention that it's a healthy birthday cake? I guarantee this is one cake you'll have no problem with when your little ones are asking you for second and third helpings!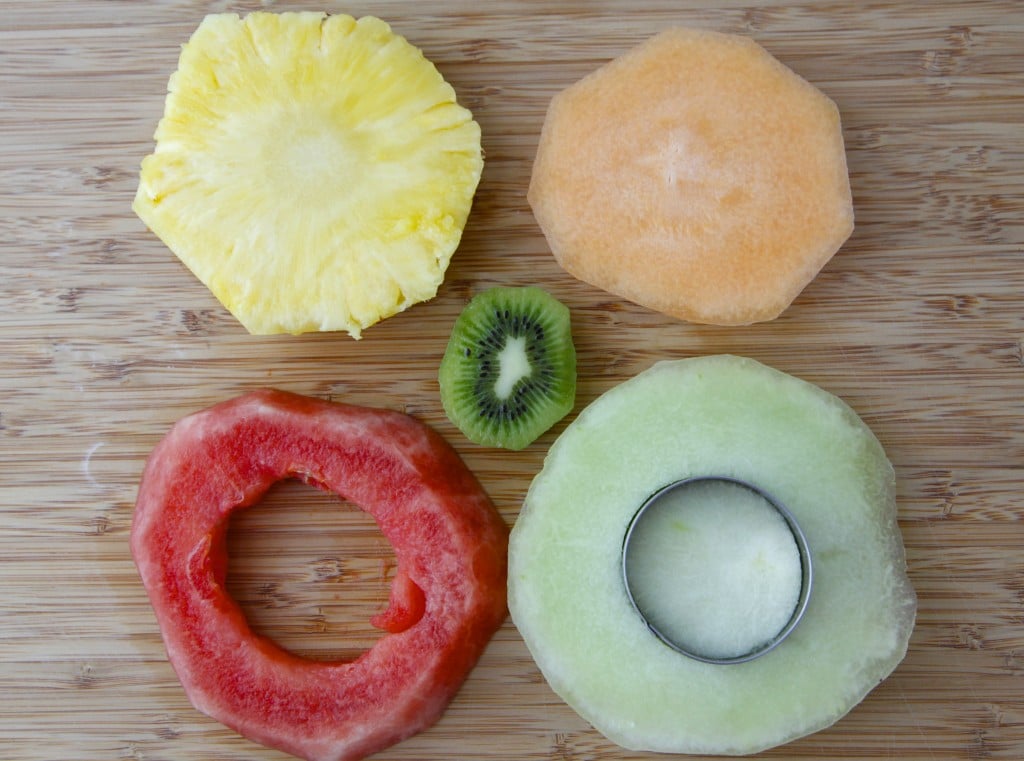 Pin
First slice your fruit, stamp or cut out the center and start stacking!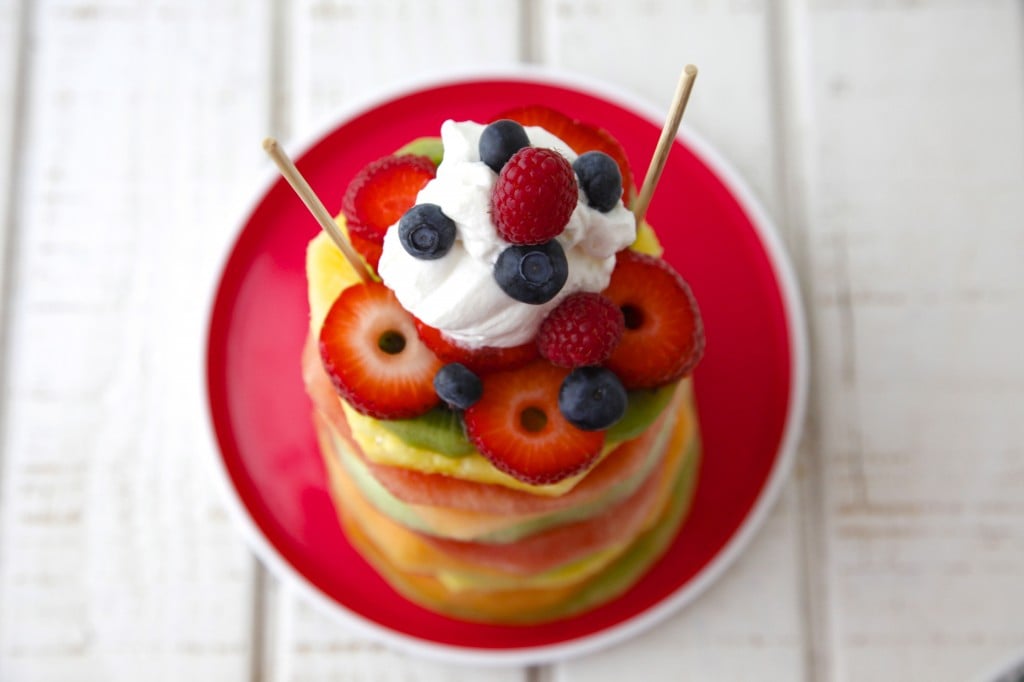 Pin
Placing wooden skewers through the cake holds everything together and prevents the fruit from sliding over!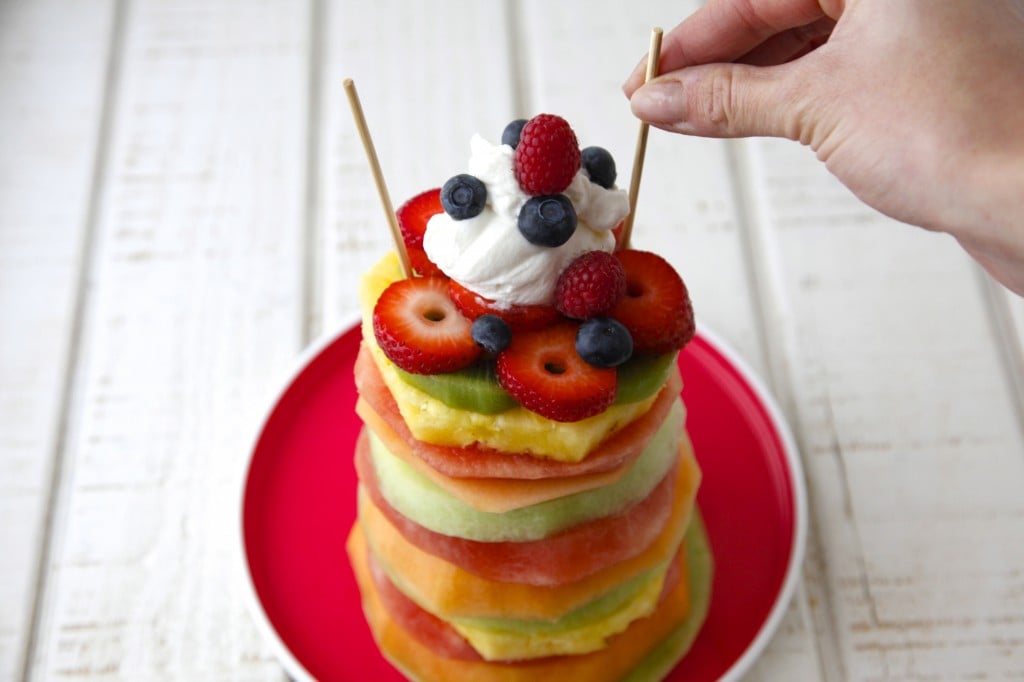 Pin
Gently push the sticks in and voila! You have a Fruit Tower Birthday Cake!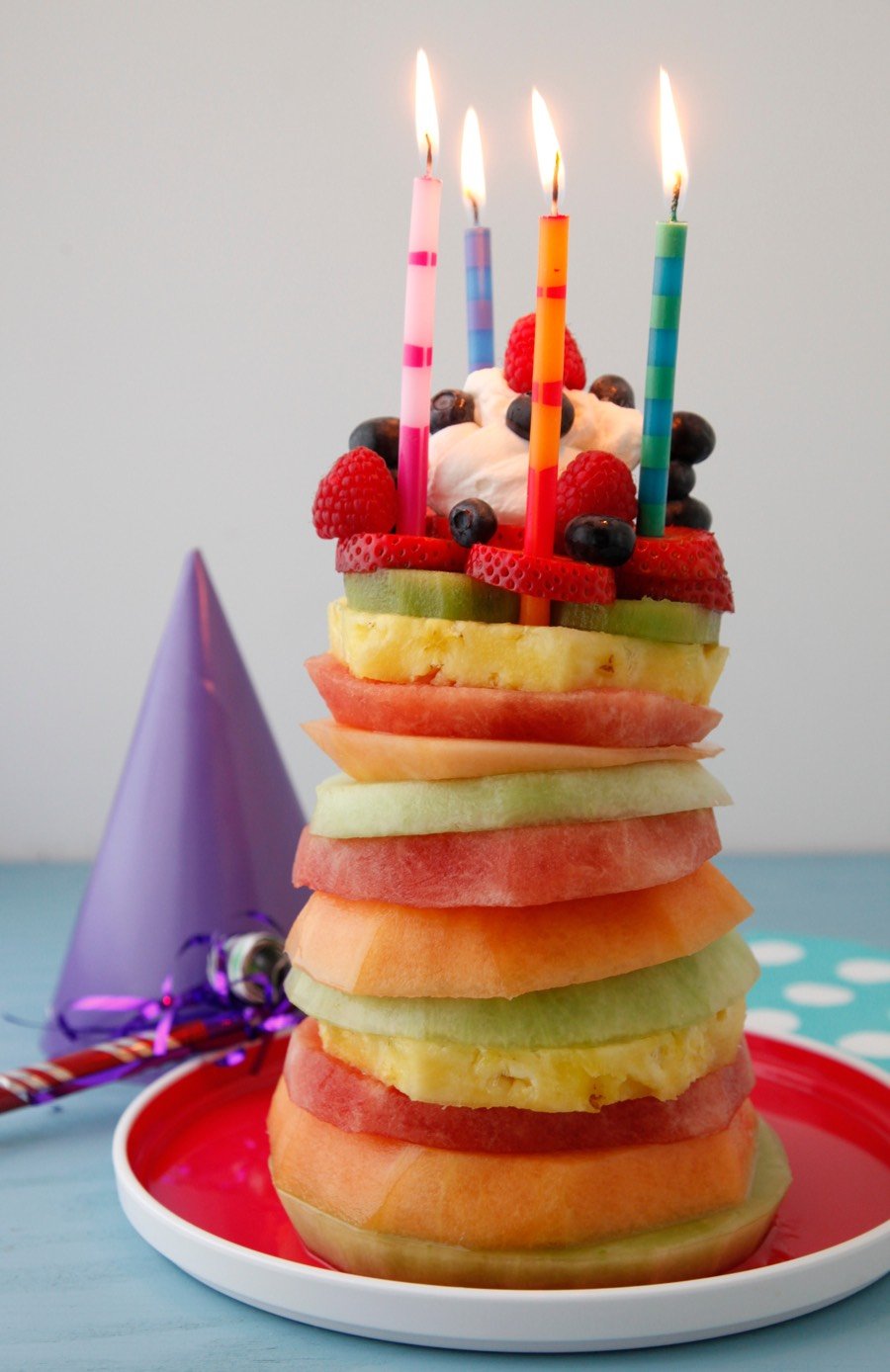 Pin
Happy birthday!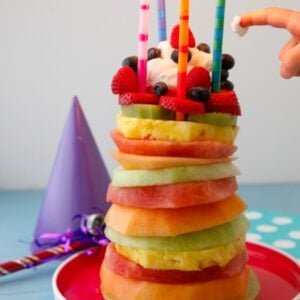 Fruit Tower Birthday Cake
Ingredients
1

cantaloupe

peeled and sliced across into 1/2 inch thick slices

1

honeydew

peeled and sliced across into 1/2 inch thick slices

1

watermelon

peeled and sliced across into 1/2 inch thick slices

1

pineapple

peeled and sliced across into 1/2 inch thick slices

1

kiwi

peeled and sliced into 1/4 inch thick slices

stemmed and sliced into rounds

greek yogurt

greek yogurt

1

cup

whipped cream

1

tablespoon

powdered sugar
Instructions
Using a round cookie cutter core the center of the cantaloupe, honeydew and pineapple to remove seeds

Stack the sliced rings of cantaloupe honeydew, watermelon and pineapple alternating. If slices are too large, trim the edges to be as even as possible.

Place kiwi and strawberry slices on the top. Using 2 skewers pierce through two sides of the stack to hold in place.

Whip cream and sugar and place a generous amount over the top of the "cake". Place raspberries and blueberries over the whipped cream.

Slice the "cake" and serve with additional berries and whipped cream.
Nutrition
Calories:
100
kcal
|
Carbohydrates:
21
g
|
Protein:
1
g
|
Fat:
2
g
|
Cholesterol:
5
mg
|
Sodium:
20
mg
|
Fiber:
2
g
|
Sugar:
17
g