These delicious Lactation Cookies are packed with all kinds of foods like nuts, brewers or nutritional yeast, oats, flax seeds and more to increase your milk production and satisfy that cookie craving!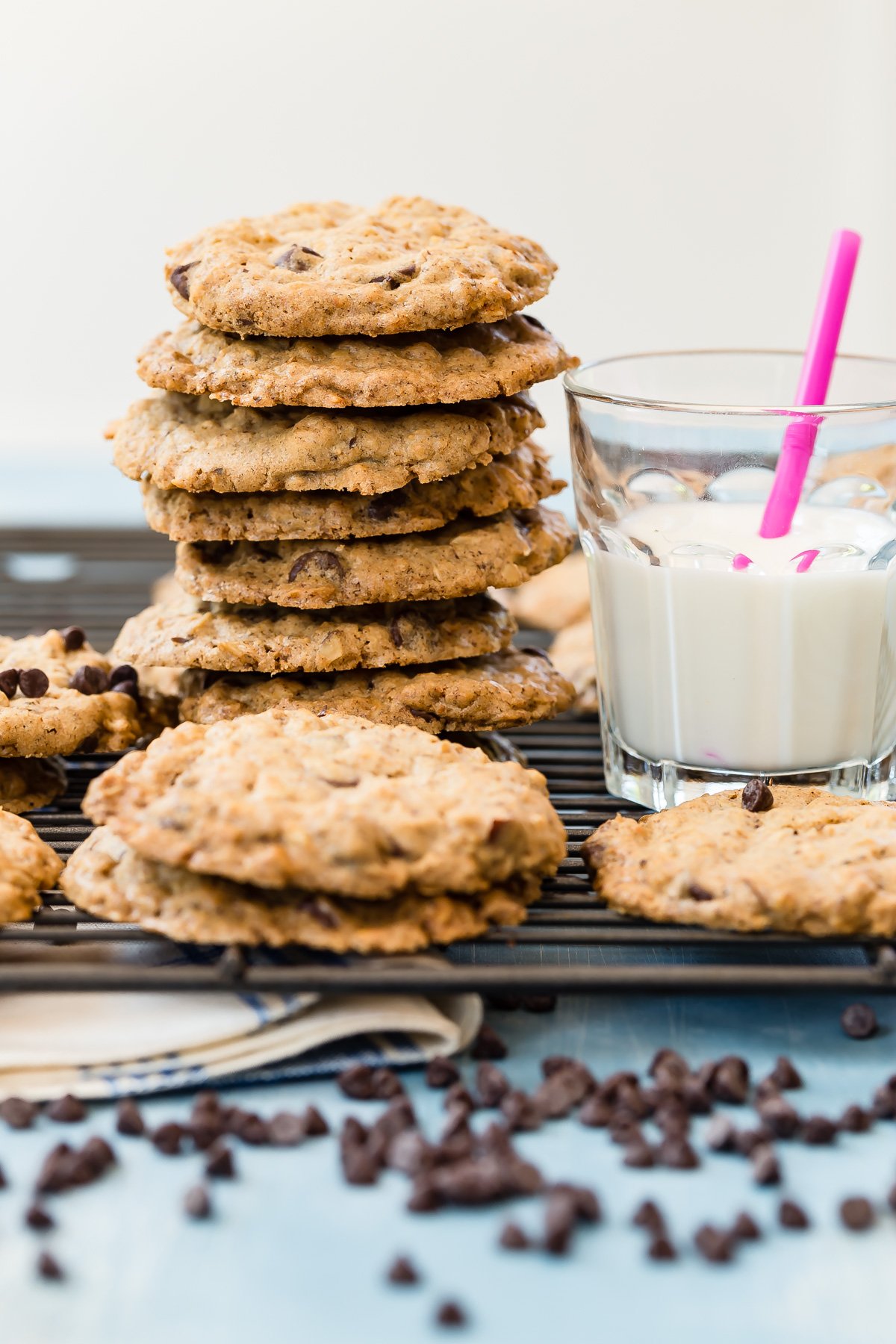 Since I started nursing Gemma I've been starving! We're talking a nonstop, all day long hunger that doesn't end morning, noon and night. I've been making sure to have a Pregnancy Parfait and Pregnancy Smoothie every day to make sure to get tons of nutritional balanced high fiber foods. You would think that you need to eat more calories when you're pregnant, but when you're nursing your baby 7 times or more a day you need to make sure you have tons of fuel to keep you going as well. While it's important to consume tons of nutritionally dense foods, you need to have a treat every now and then, so these Lactation Cookies are a twofer.
Never did I think I would write the words "lactation" and "cookie" in the same sentence, but these bad boys are seriously delicious. If you look at a list of lactation producing foods like oats, flax seeds, brewers yeast, nuts and coconut oil they're high in vitamins and good fats as well as being incredibly tasty. When I was testing the recipe I accidentally bought and used nutritional yeast instead of brewers yeast when making the first batch. After realizing the switch up I couldn't believe how delicious they tasted with the nutritional yeast which is packed with B vitamins. Having said that you can use either ingredient you choose, but if you're nursing you may want to stick with the brewers yeast.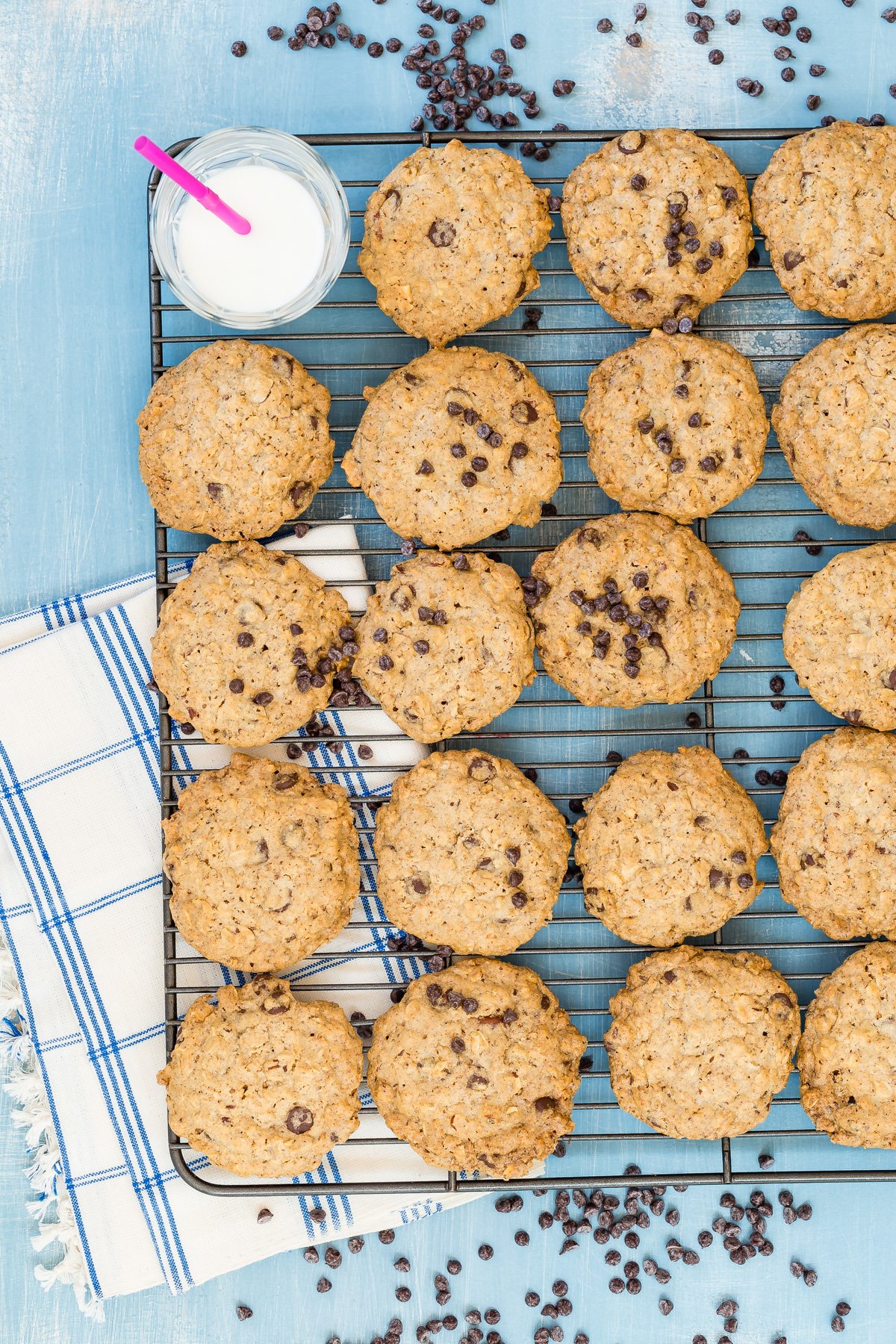 Kenya, Chloe and their friends couldn't care less what's in them as they snarfed as many as I would allow them to consume. I even brought them to the kids school with adults telling me how much they loved them until I mentioned the word "lactation". I had several parents looking at me thinking I had added breast milk to them. No, they're not that kind of lactation cookie.
If you have a friend who just had a baby this is the best gift for a new mama. They're nice and crunchy, freeze beautiful and since I made dozens of them I know they last for 2 weeks covered on your counter, if you can keep them around that long!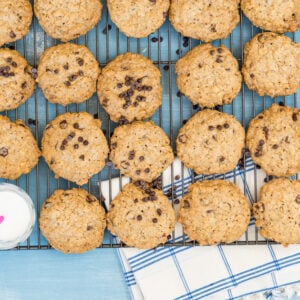 Lactation Cookies
Ingredients
3

cups

old fashioned rolled oats

1

1/2 cups

unbleached organic all-purpose flour

5

tablespoons

Brewers Yeast

3

tablespoons

ground flaxseed

1/2

teaspoon

baking powder

1/2

teaspoon

baking soda

1/2

teaspoon

ground cinnamon

1/4

teaspoon

kosher salt

12

tablespoons

unsalted butter

4

tablespoons

unrefined virgin coconut oil

1

1/2 cups

sugar

2

large

eggs

2

teaspoons

vanilla extract

1

1/2 cups

dark chocolate chips

1/2

cup

chopped almonds
Instructions
In a large bowl, whisk together the oats, flour, yeast, flaxseeds, baking powder, baking soda, cinnamon, and salt.

In the bowl of an electric mixer or with a hand mixer, cream together the butter and coconut oil until creamy. Add the sugar and continue to beat 5 minutes, until fluffy.

Add the eggs one at a time and beat until combined. Add in the vanilla.

Gradually add in the dry ingredients, beating on low speed until just combined. Stir in the chocolate chips and almonds until combined.

Using a mini ice cream scoop or 1 tablespoon measure, scoop the dough onto a silpat-lined baking sheet.

Bake for 10-12 minutes, until golden brown.