Lentil Chickpea Burgers are a super flavorful delicious veggie burger that is perfect for the vegetarians in your life.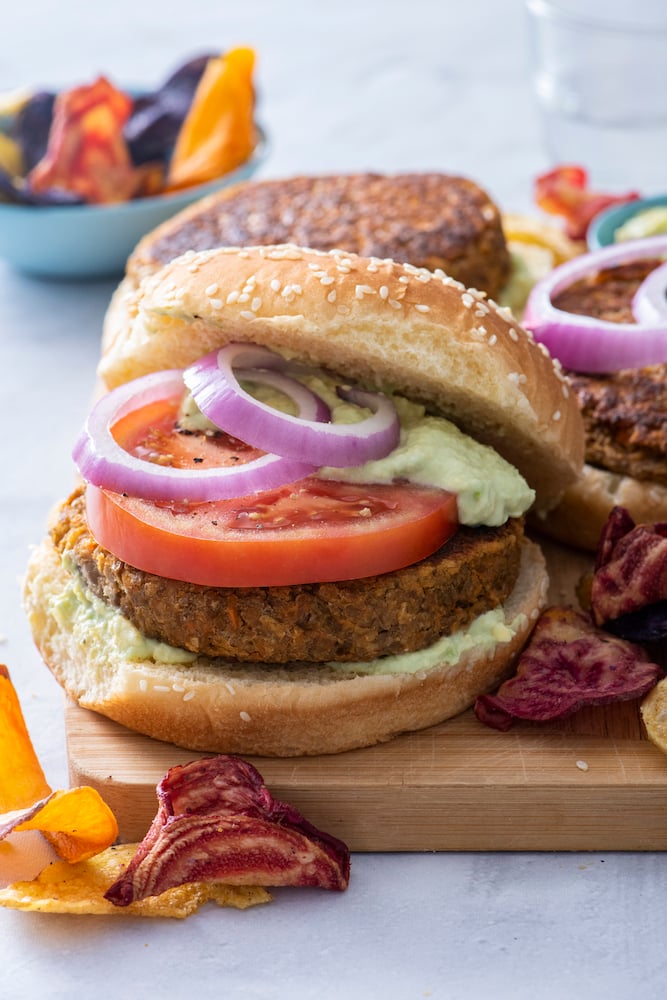 One of the of the biggest requests I get is for more vegetarian recipes. Trust me, I get it and I'm here to please. Living with two vegetarians myself (my hubby and Kenya), I fully understand the challenge of trying to make one meal that will satisfy everyone in the family. These Lentil Chickpea Burgers fit the bill. Everyone in our family, vegetarians and meat eaters, love this recipe.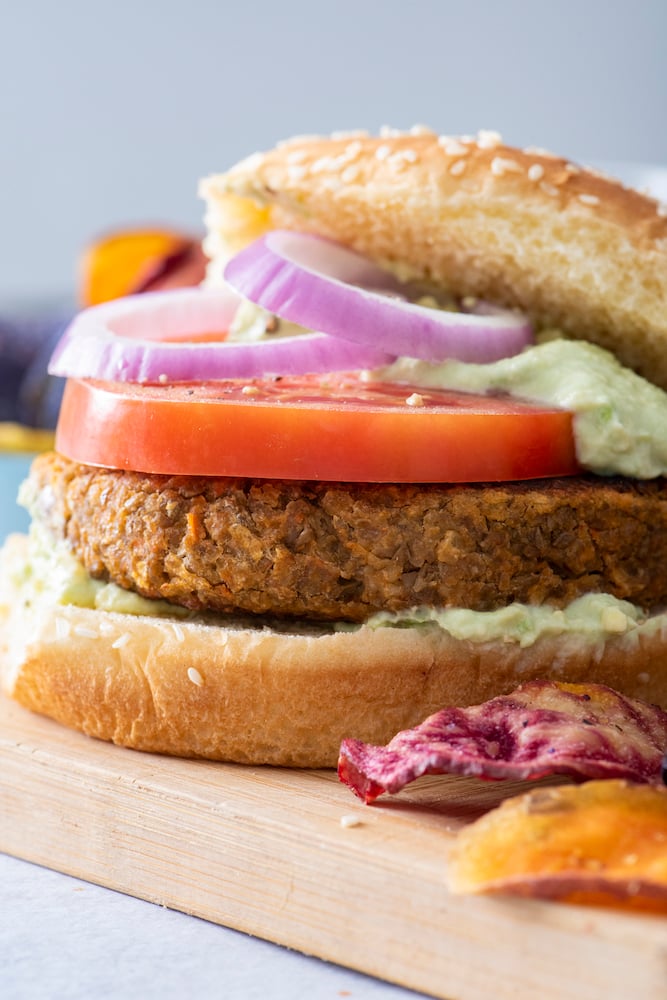 Having nutritious, full-flavored, vegetarian entrees at my disposal is always a high priority. I've come up so many vegetarian entrees over the years like Vegetarian Enchilada Casserole, Vegetarian Skillet Lasagna, Polenta Lasagna that are packed with so much flavor you wouldn't even notice there's not meat. There are so many more vegetarian recipes on weelicious that you've got to try.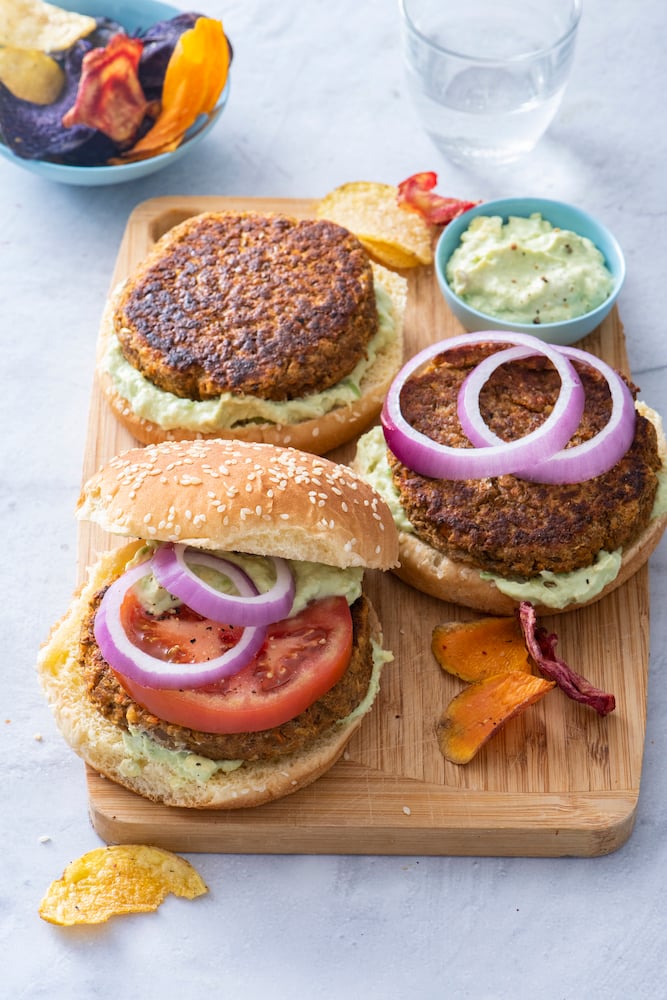 Back to these veggie burgers. Who needs meat when you have something that looks and tastes like these beauties? Whether or not you're a vegetarian, don't overlook lentils. They're inexpensive, a powerhouse of protein, cook quickly, and are super versatile. They can be tossed into salads, used for soups and stews, mashed into a hearty dip, or mixed with chickpeas and a ton of other yummy ingredients to make these delectable burgers.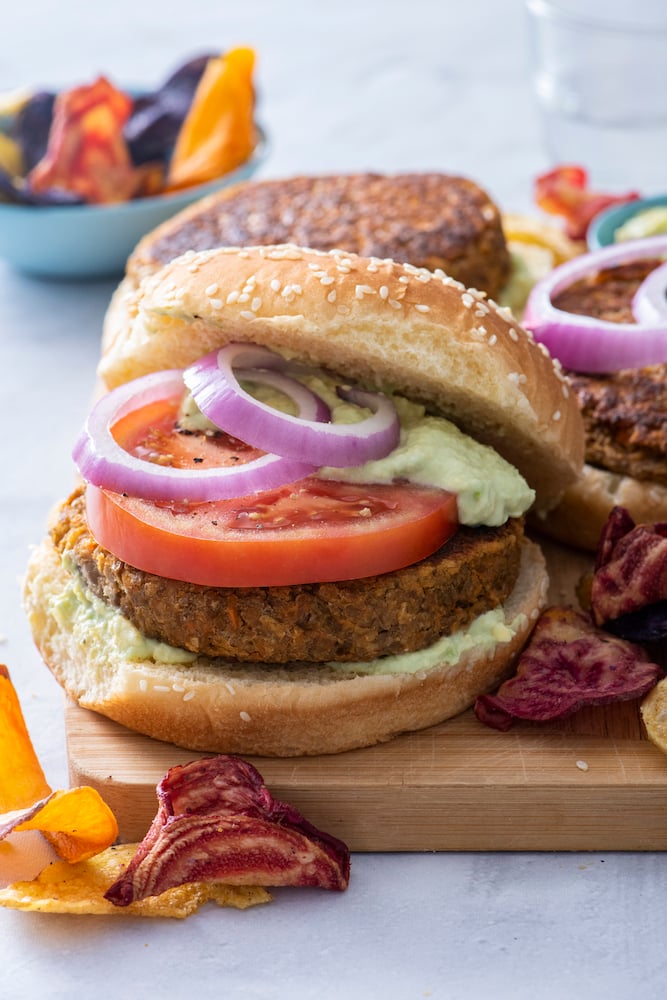 Don't miss out on making this Avocado Yogurt Sauce, which not only is simple to prepare, but balances perfectly with these flavorful patties which I am convinced even the most ardent red meat burger lover will love! Then toss some fries in the air fryer or oven and burger night is ready to go!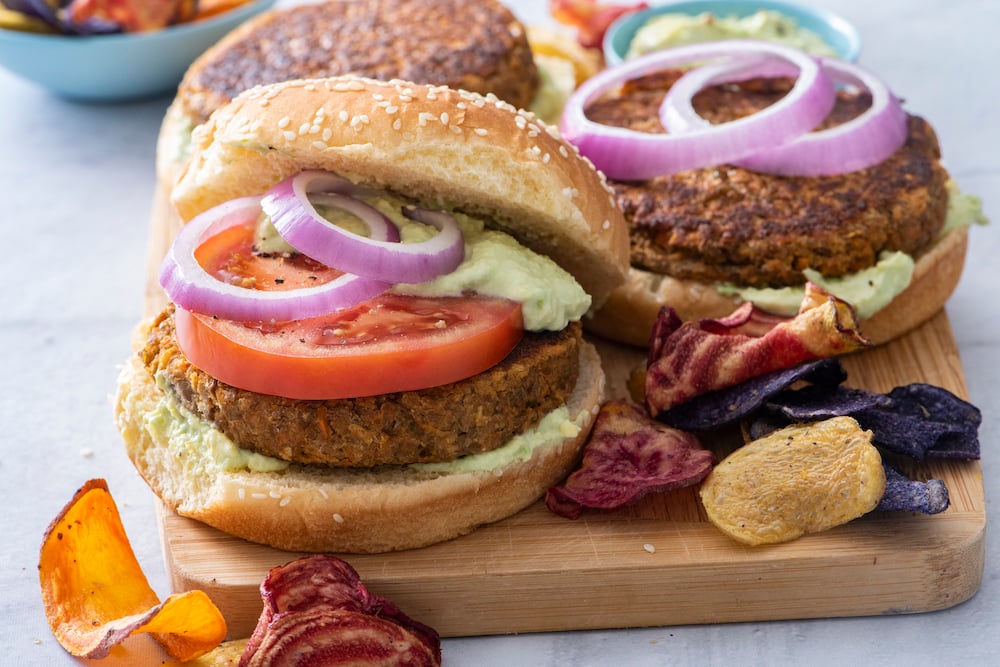 Meatless Monday just got a lot easier with these Lentil Chickpea Veggie Burgers. Try them out and let me know what you think by tagging me on social media.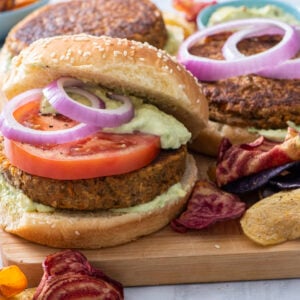 Lentil Chickpea Burgers with Avocado Yogurt Sauce
Lentil Chickpea Burgers are a super flavorful delicious veggie burger that is perfect for the vegetarians in your life. 
Instructions
Pat the lentils and chickpeas dry. Make sure to dry themwell, otherwise the mixture will be too wet.

Place the lentils, chickpeas, onion, garlic, eggs, oats, chili powder, paprika, and salt in the bowl of a food processor and pulse until the consistency of thick, chunky hummus.

Stir the grated carrot into the mixture.

Using a large ice cream scoop or hands, form the mixture into patties using 1/4 cup of the mixture at a time.

Heat a thin layer of oil in a skillet over medium-high heat. Cook the burgers for 5 minutes on each side, until golden on the top and bottom.

In a small bowl, stir together the yogurt, avocado, salt and lemon juice until smooth and well combined. Top the burgers the sauce and place between burger buns.

Note: If you are using canned lentils and chickpeas, drain and rinse them well before patting dry.