I feel like I've cracked a very important code_ how to get meals made weeks — yes weeks — ahead of when you need them. It's easier than you think. Stick with me here and I'll explain.
It all starts with your favorite slow cooker recipes. Just put all of your ingredients in a gallon size zipper bag, label it and toss it in the freezer for up to 3 months. Do this with several recipes on a weekend when you have some time and you'll have a freezer full of healthful, easy clean-up meals ready whenever you need them. Whenever you're ready to cook one just open the bag and pour the frozen contents into the slow cooker. Press a button and one hour later you'll have a mouthwatering, heavenly smelling meal that requires basically zero work from you.
I like this method of cooking because it ensures you can serve your family a fresh home-cooked meal even on the busiest of days. I prefer to double, triple, even quadruple a recipe so I can keep multiples in the freezer (especially when the ingredients are seasonal) or so I can share them with friends. If you have a sick friend or know a mom who just delivered a new baby, deliver a few of these frozen bags with cooking instructions over to them and you'll be the lifesaver they've been needing. Simply multiply your ingredient list by however many meals you want to make, create an assembly line and put your bags together in no time.
This Mexican Pulled Pork is a perfect example of my new system. It takes just minutes to measure out all the ingredients and toss them into the bag. And all you will need after it cooks are two forks to shred the tender, juicy meat and some tortilla or taco shells to serve it up in (although the last time I made this dish I just served it in a bowl topped with tomatoes and lettuce).
If you are in need of other ideas for this make-ahead freezer method, here are a bunch of other recipes the work great_
Crock Pot Pork Tenderloin with Apples and Sauerkraut
Crock Pot Mexican Corn and Bean Soup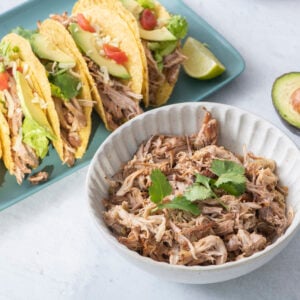 Mexican Pulled Pork Shoulder in the Slow Cooker
Ingredients
2

teaspoons

chili powder

1

tablespoon

cumin

1

teaspoon

onion powder

1

teaspoon

garlic powder

1/2

teaspoon

oregano

2

teaspoon

kosher salt

1

small onion

thinly sliced

1/4

cup

apple cider vinegar

1

4 ounce

can diced green chilies

1

tablespoon

honey

4

pounds

boneless pork shoulder, excess fat trimmed
Instructions
Place all the ingredients except the pork shoulder in a gallon freezer bag and mix together by pressing on the outside of the bag.

Add the pork shoulder, and turn to coat in the mixture.

Seal bag, labe1 tablespoon and freeze until ready to use. Be sure to get as much air as possible out the bag so that it doesn't form ice crystals inside when freezing.

When ready, remove the frozen mixture from the bag and place it all into the crock pot. Set the heat to low and cook for 8-10 hours, until hot and cooked through.

Shred the meat with two forks and serve with desired accompaniments.