Paper Bag Popcorn has totally changed my life! That may sound a bit dramatic, but when I think back to how much money I've spent over the years on microwave popcorn that comes only 3 packs to a box I'm sure it would be a hefty number.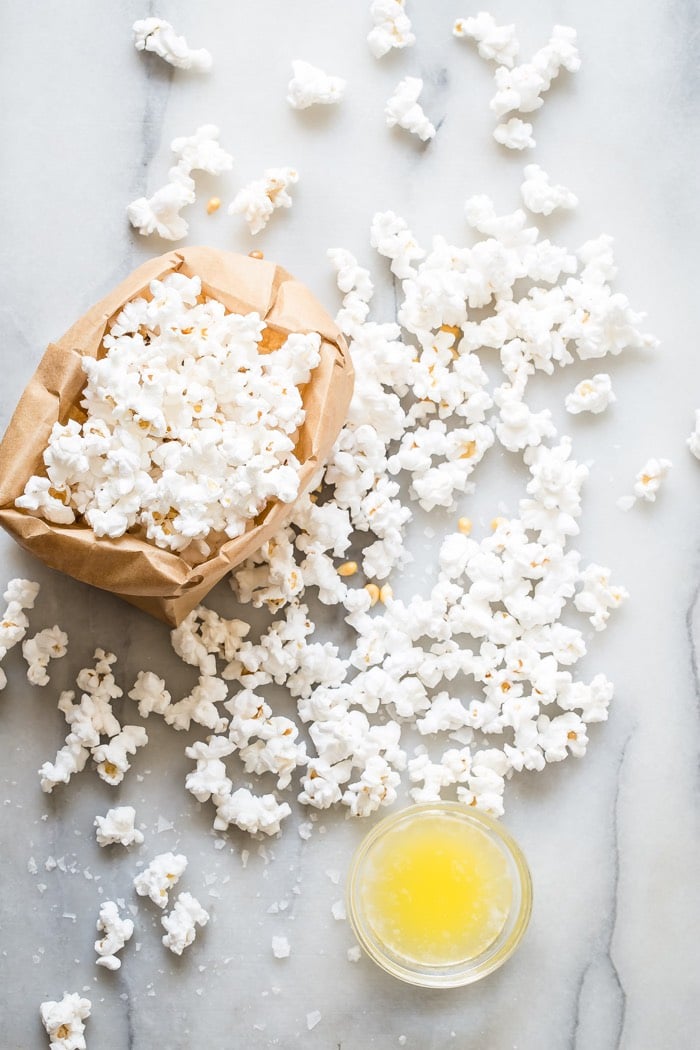 Pin
I grew up with a mother who had a big bowl of popcorn waiting for my brother and I after school every day as our snack while we did homework and watch TV. To this day popcorn is one of my favorite snack foods no matter the time of day. While I love popcorn made in a pot over the stove, there are days I don't have the time and resist cleaning yet another pot, so I reach for the pre-packaged variety in the box.
Pin
My husband, who I lovingly refer to as the food police came across an article pointing out the fact that microwave popcorn bags have BPA in the lining of the microwave bags, so I started making this version. This paper bag popcorn recipe couldn't be any easier to make and is really fun too. Watch this paper bag popcorn video to learn my quick tips for popcorn perfection.
Pin
Every bag you pop costs just pennies, you can use organic popcorn kernels to make it GMO free and it takes no extra hydrogenated oils. The best part for me, though, is that there's no clean up. Just pop it up, serve your fluffy popcorn in a paper bag, shake in any topping you love like nutritional yeast, butter or honey and cinnamon and you're ready to go!
Pin
Photos by Gerry Spiers
Paper Bag Popcorn
Ingredients
1/4

cup

organic popcorn kernels

1

brown paper lunch bag
Instructions
Place the popcorn kernels in the paper bag. Fold down just the top of the brown bag and place in the microwave.

Cook for 2 to 2 ½ minutes.

When the popping slows down remove from the microwave and pour into a bowl.

Sprinkle with a little salt, a drizzle of butter or whatever you like on your popcorn.