This Pear and Pistachio Crisp is such a delectable dessert that you wouldn't guess it has less sugar than most desserts we tend to dive into this time of year. The crispy crunch from the pistachios and the warm baked pears is the best combo.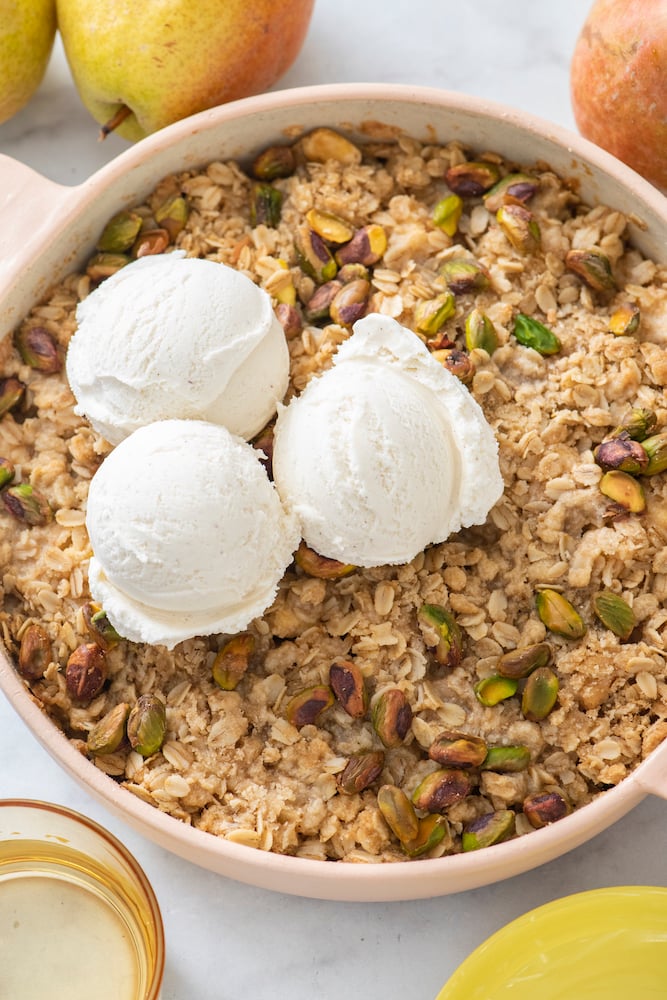 I'm okay offering kids dessert. There, I said it. I know plenty of parents who don't like giving their kids dessert unless it is a special occasion. I respect that, but I also believe in moderation in most things and, sometimes, you've got to live a little. When it comes to desserts, I've been know to whip up everything from seriously rich holiday treats like Cinnamon Streusel Coffee Cake to the less exotic Sugar Cookies, but I often try to prepare desserts made with less sugar, like this Pear and Pistachio Crisp — which my kids in fact prefer to more sugary desserts.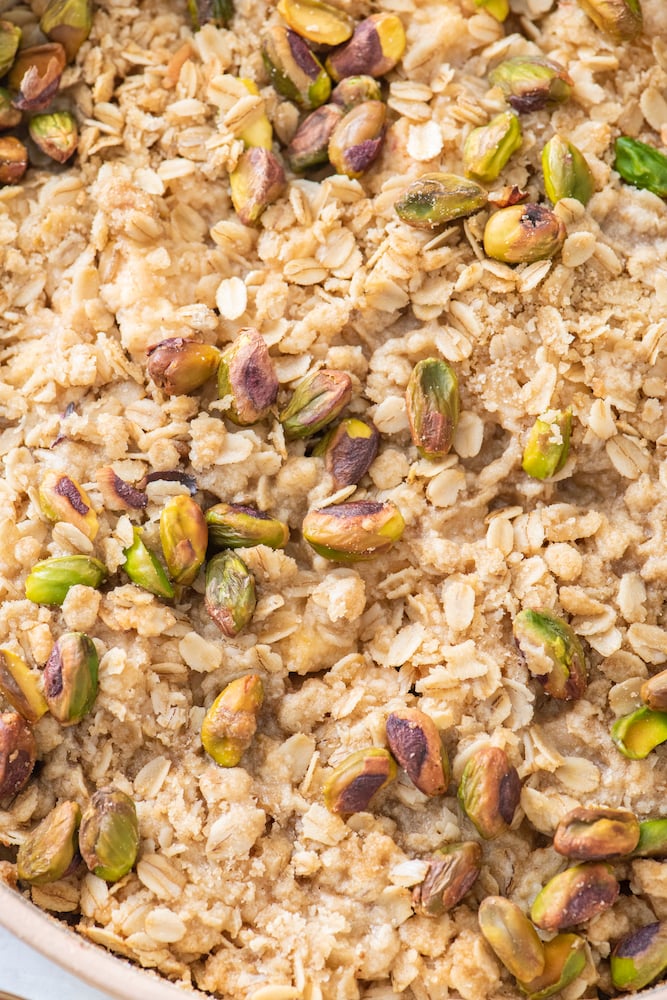 I like this dish too, especially when I want a pie but have no time to make a homemade crust (which is all of the time!). A fall crisp is more simple to make and still delivers a lot of what I love about pie. I love coming up with new ways to have pie without having to put in a ton of work. For instance: Apple Pie Turnovers, Pumpkin Pie Parfaits and Cinnamon Apple Crisps make several appearances during the holiday season.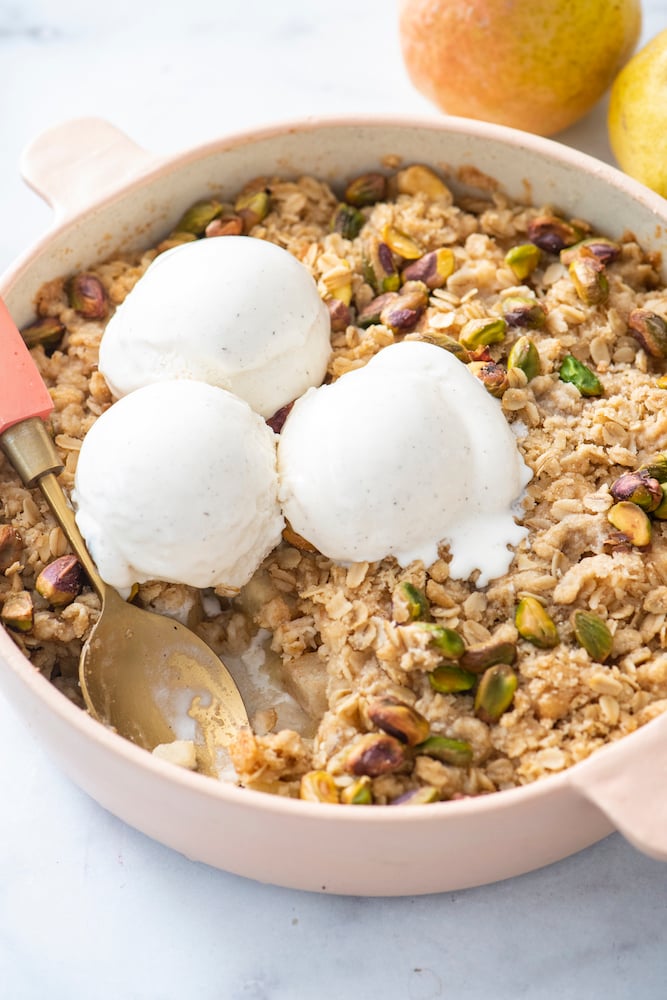 This Pear and Pistachio Crisp has a crunchy topping made from oats, pistachios, brown sugar, and aromatic cinnamon, and a naturally nummy sweetness from all of the chunks of baked pear. It's got so much less sugar than a regular dessert that I even served this to my kids one morning on top of plain Greek yogurt. They went bonkers with excitement at the thought of getting dessert for breakfast!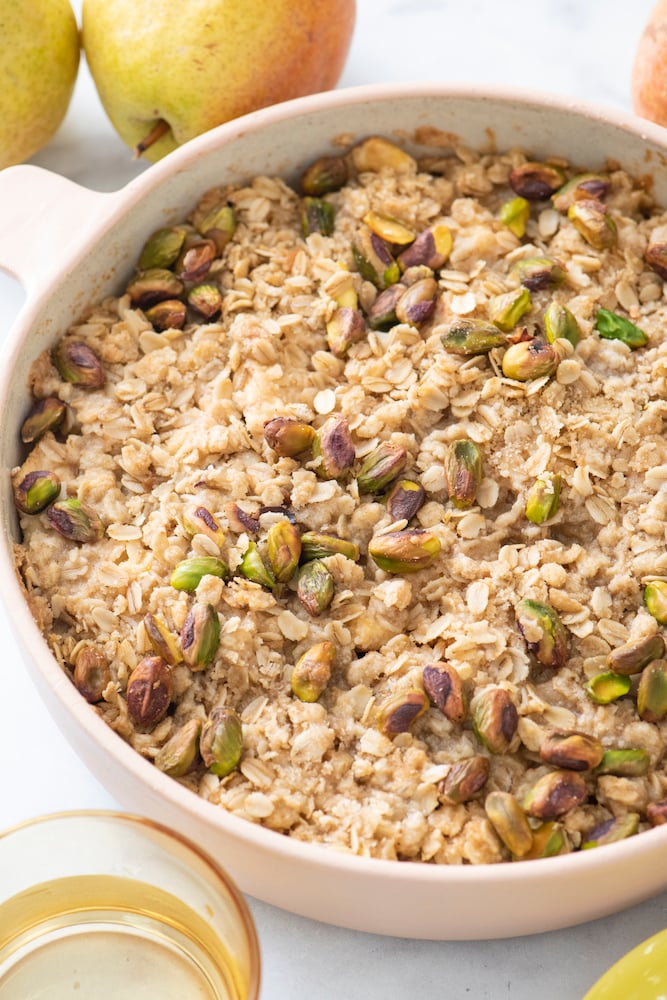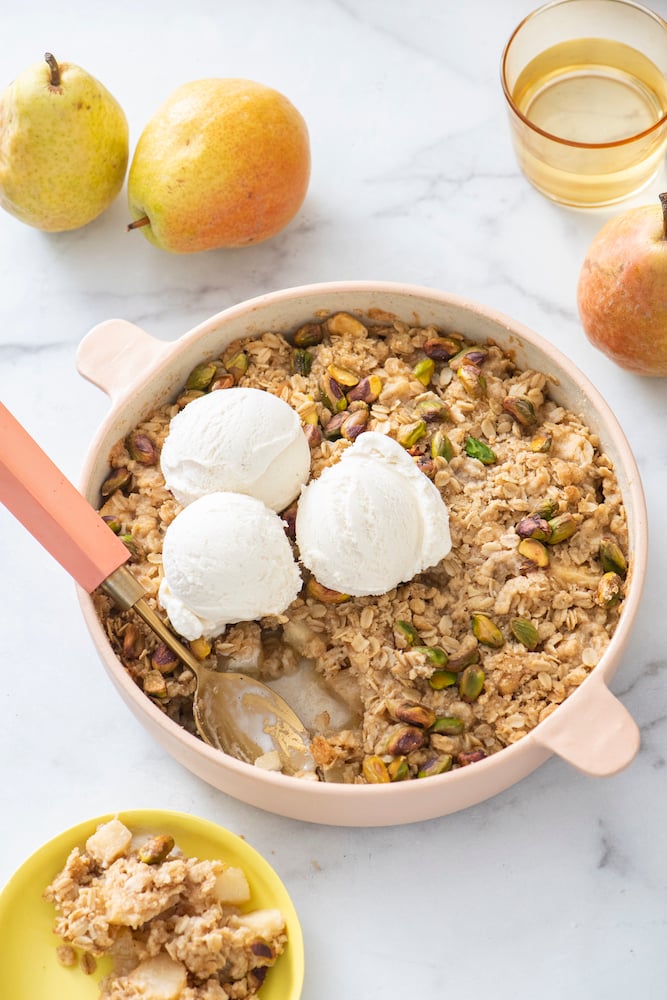 This dessert will definitely be making our Thanksgiving menu this year, and we all can't wait to dive into it with a scoop of ice cream on top! What dessert are you looking forward to the most?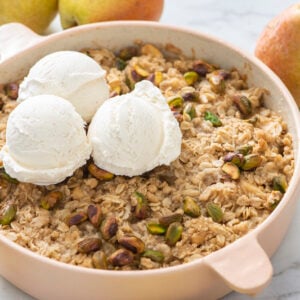 Pear and Pistachio Crisp
Instructions
In a bowl, combine the pears and cinnamon and toss to combine. Toss in the lemon juice.

In a separate medium bowl, whisk together the oats, flour, brown sugar, and salt.

Add the butter and use your fingers to work the butter into the flour until the mixture comes together and the crumbles are about the size of peas. Mix in the pistachios and set aside.

Pour the pears into a greased 8-inch baking dish and cover with the oat mixture.

Bake until the top is brown and the pears are bubbly, 40 to 45 minutes.
Video
Nutrition
Calories:
440
kcal
|
Carbohydrates:
56
g
|
Protein:
9
g
|
Fat:
22
g
|
Cholesterol:
40
mg
|
Sodium:
150
mg
|
Fiber:
9
g
|
Sugar:
26
g