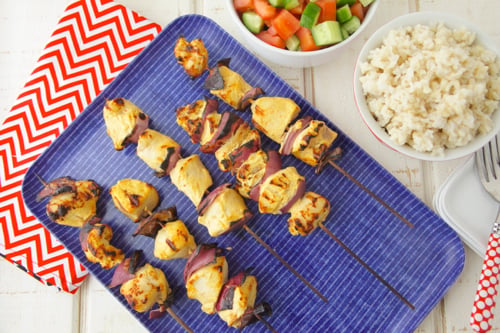 Pin
When I was pregnant with Kenya I had two major cravings (in addition to the pint of ice cream I ate every night): 1) vegetable stir fry for breakfast (yes breakfast, go figure) and 2) chicken kabobs, which I would cajole my husband to go pick up for me several nights a week from a local Middle Eastern restaurant. I ate so many of those kabobs during those months it's amazing I didn't give birth to a Lebanese baby.
A few weeks ago my hubby and I went to a party where to my sheer delight I found nothing on the buffet table but Middle Eastern delights like hummus, tabouleh, rice pilaf and yes, my beloved chicken kabobs! Reunions are so wonderful. Again I overindulged on the kabobs, but since they're pretty darn healthy I decided to live it up!
Marinated in an assortment of savory spices and rich Greek yogurt, this persian chicken kabobs recipe is simple enough to prepare in the morning and refrigerate so you can take it out to grill or broil a mere minutes before dinner time. Serve them up with pita, some sliced tomatoes, and cucumbers and you've got one insanely delicious meal whether you're pregnant or just super hungry!
Ingredients
1/2

teaspoon

saffron

1

cup

plain greek yogurt

2

tablespoons

lemon juice

1

garlic clove, minced

1/2

teaspoon

ground paprika

1

teaspoon

kosher salt

1

pound

boneless and skinless chicken breasts, thighs or a combination

1

small

red onion, stemmed, quartered and layers pulled apart

1

tomato, chopped

1

persian cucumber, chopped
Nutrition
Sodium:
770
mg
|
Sugar:
5
g
|
Cholesterol:
75
mg
|
Calories:
170
kcal
|
Fat:
3
g
|
Protein:
28
g
|
Carbohydrates:
6
g