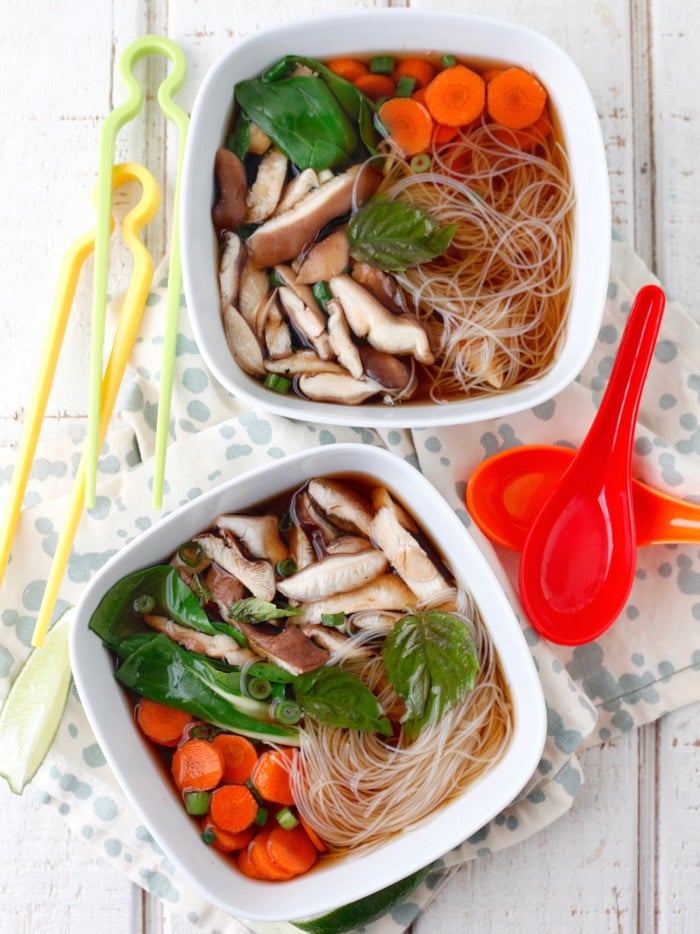 This Vegetarian Pho is going to change the way you look at soup! Do I love Chili? Absolutely! Broccoli Cheddar a hit with the kids? Any place, any time! Is there a container of Slow Cooker Bone Broth in my freezer at all times? You know it! But this soup is a game changer for any who prefers DIY cooking.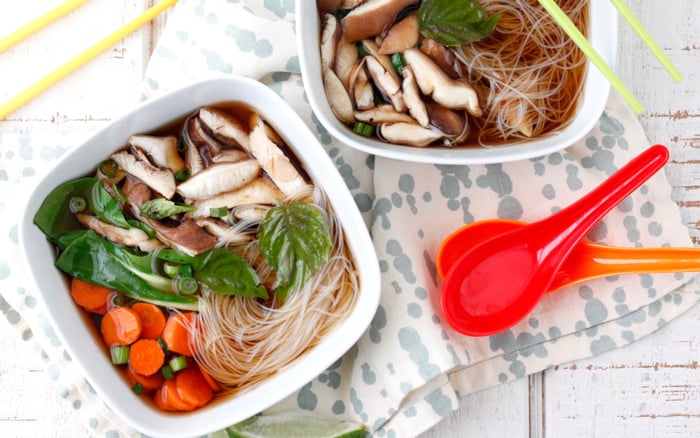 Whenever I hit a cooking wall on the weekends and need a break we order in from one of our favorite local Vietnamese restaurants. Without fail the kids love ordering their Vegetarian Pho. Whether it's cold outside or they have been outside swimming all day the idea of coming into a big bowl or warm broth to add their favorite accompaniments.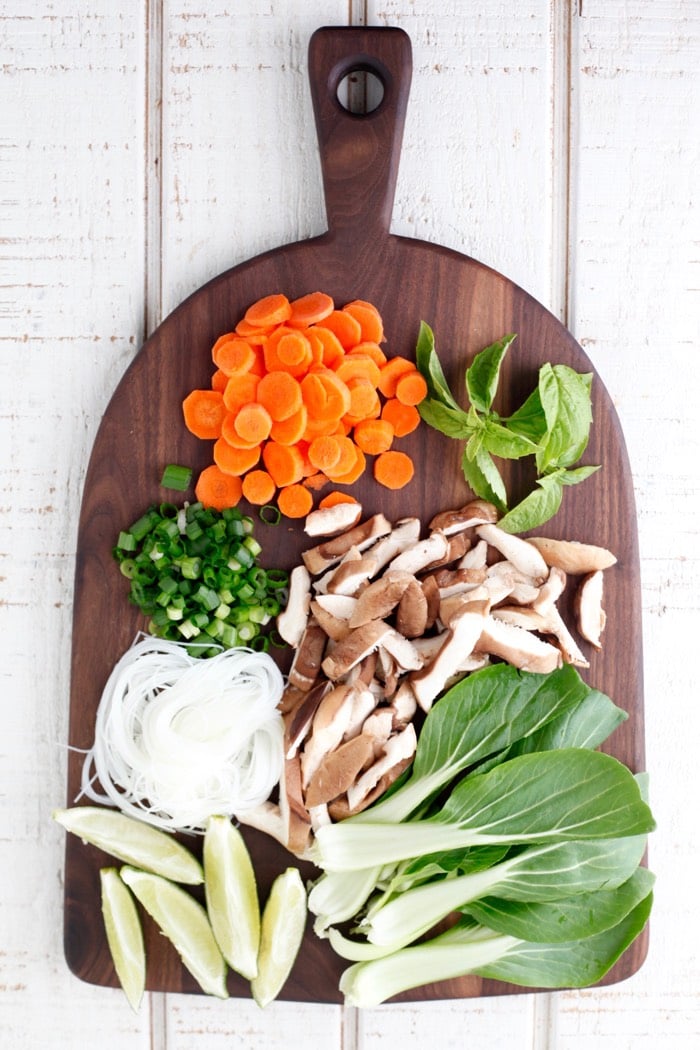 For this recipe there's no better way to serve it than placing this fragrant broth in bowls in front of everyone and letting them add mushrooms, rice noodles, scallions, bok choy, basil, carrots… Honestly, the sky's the limit. You can also switch it up and add seafood or chicken if you want to. The point is that the broth itself is just the canvas for whatever you want it to become.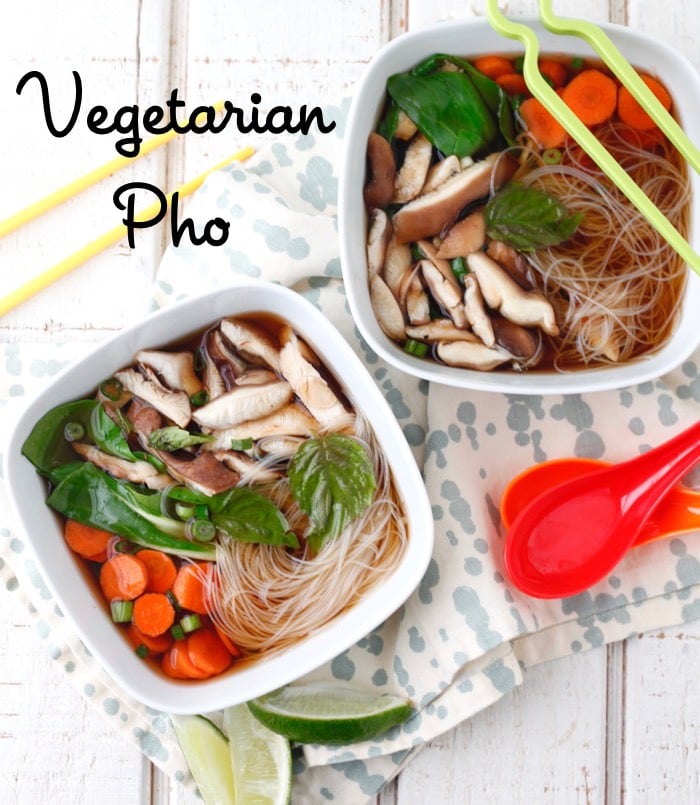 As much fun as it is to order dinner in, sometimes it's just as fun to make your takeout favorites at home!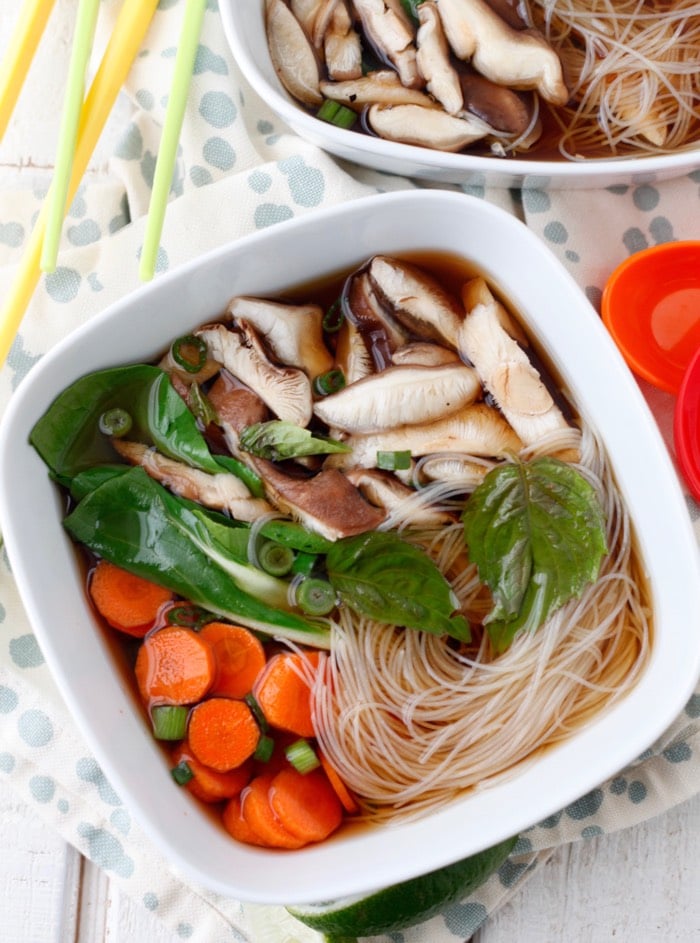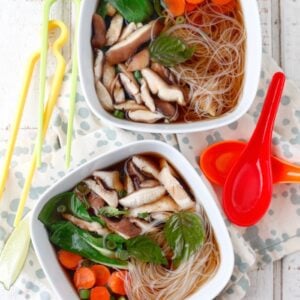 Vegetarian Pho
Ingredients
Broth Ingredients:
6

cups

water

2

shallots, roughly chopped

1/2

cup

dried shiitake mushrooms

10

garlic cloves, peeled and crushed

4

carrots, roughly chopped

1

inch piece

ginger, peeled and roughly chopped

1/2

teaspoon

black peppercorns

1/2

teaspoon

whole cloves

1

tablespoon

brown sugar

1/4

cup

low sodium soy sauce

2

tablespoons

Rice Vinegar

1

bunch

cilantro, divided

1/2

teaspoon

kosher salt
Pho Ingredients:
1

8-ounce package

rice noodles

2

scallions, chopped

16

basil leaves

8

shiitake mushrooms, sliced

2

carrots, peeled and thinly sliced

2

baby bok choy, chopped

1

lime, cut into wedges
Instructions
To make the broth: In a large pot, combine the water, shallots, shiitake mushrooms, garlic, carrots, ginger, peppercorns, cloves, brown sugar, soy sauce, rice vinegar, and 1/2 bunch cilantro. Bring to a boil, reduce to simmer, cover, and simmer for 1 hour. Strain the broth and discard the solids. Keep the broth simmering until ready to use.

Cook the rice noodles according to package directions.

Divide the noodles between 4 bowls. Top with the scallions, basil, mushrooms, carrots, and baby bok choy.

Pour the hot broth over each bowl. Serve with lime wedges, remaining cilantro, and extra soy sauce.