If you've been feeling sluggish or under the weather my prescription for you is this Slow Cooker Bone Broth. It's loaded with major nutritional value and restorative properties!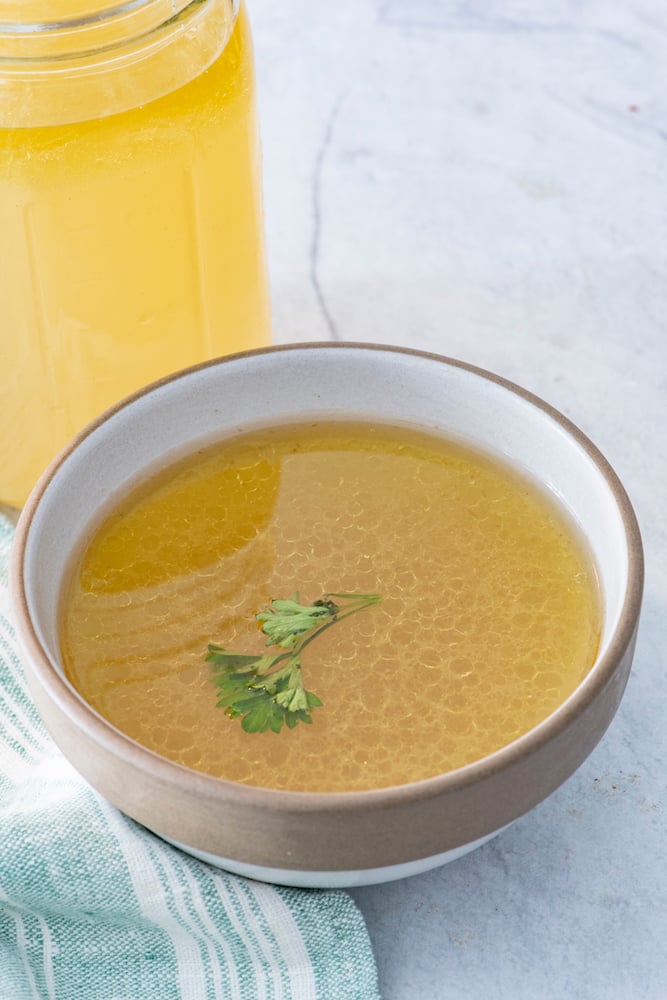 For years, I've always believed that a steaming bowl of bone broth was the key to staying healthy through the cold winter months. Every year, when the weather starts to turn, I make a couple batches of this Slow Cooker Bone Broth. I store jars of it in my refrigerator and freezer to have ready to combat all the sickness that can come with cold and flu season. It's packed with so many nutrients it'll heal even the nastiest cold! It's just what you need when you're feeling down to keep your energy up and your immune system strong through winter!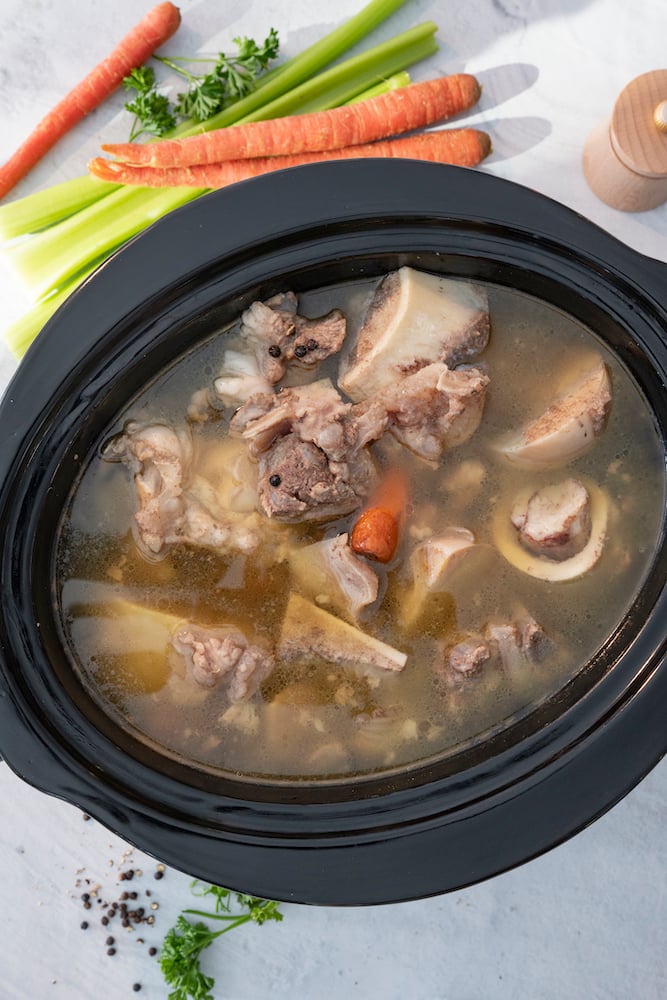 Health Benefits of Bone Broth
Bone broth is a type of broth made by simmering animal bones and connective tissue for an extended period of time. It has several health benefits, including:
Good source of several essential nutrients, including collagen, amino acids, and minerals.
The nutrients in bone broth may help to support the immune system and reduce the risk of certain infections.
High in collagen which may help to improve joint health and reduce inflammation.
The amino acids in bone broth may help to improve digestion and reduce the risk of digestive problems, such as constipation.
The amino acid glycine in bone broth may help to improve sleep quality.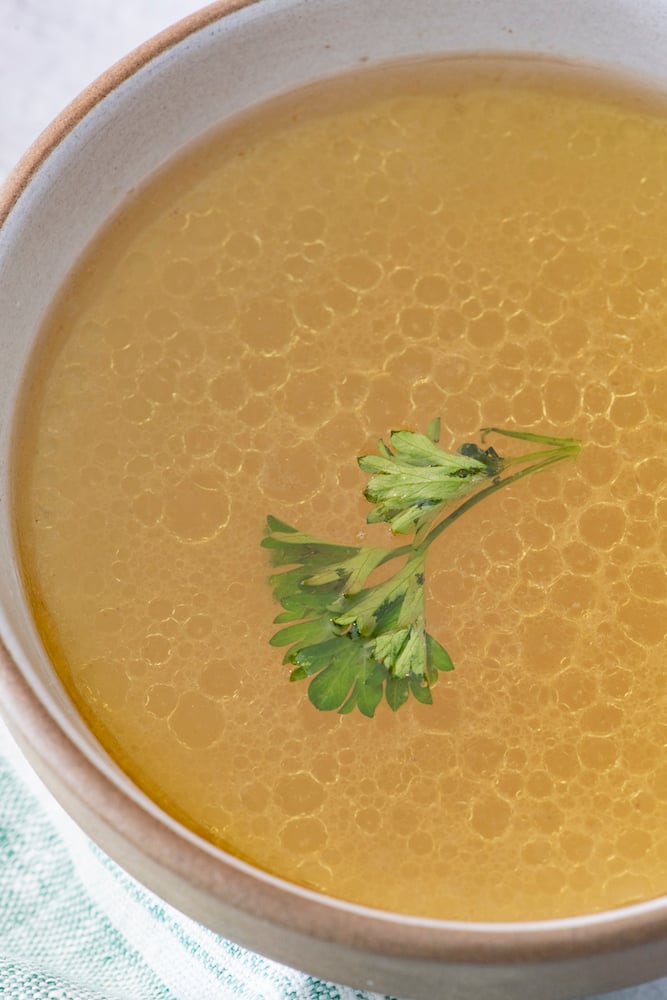 Bone Broth in the Slow Cooker
My dear friend Keri gave me this recipe years ago. When made her mineral rich infusion on the stove, it was so savory and satisfying that I wanted to make it time and time again. Of course, the best bone broths are made for 48-72 hours. Not wanting to leave the flame of my stove on for hours unattended, I made the same recipe in my slow cooker. I was so happy when it turned out beautifully! I take grass fed beef bones I get from our farmers market, local butchers or health food store, a little apple cider vinegar to aid in breaking down the cartilage and mix them in my slow cooker with tons of organic vegetables. You can't imagine how incredible the broth smells as it's bubbling away for up to 3 days. It gets better and better by the hour.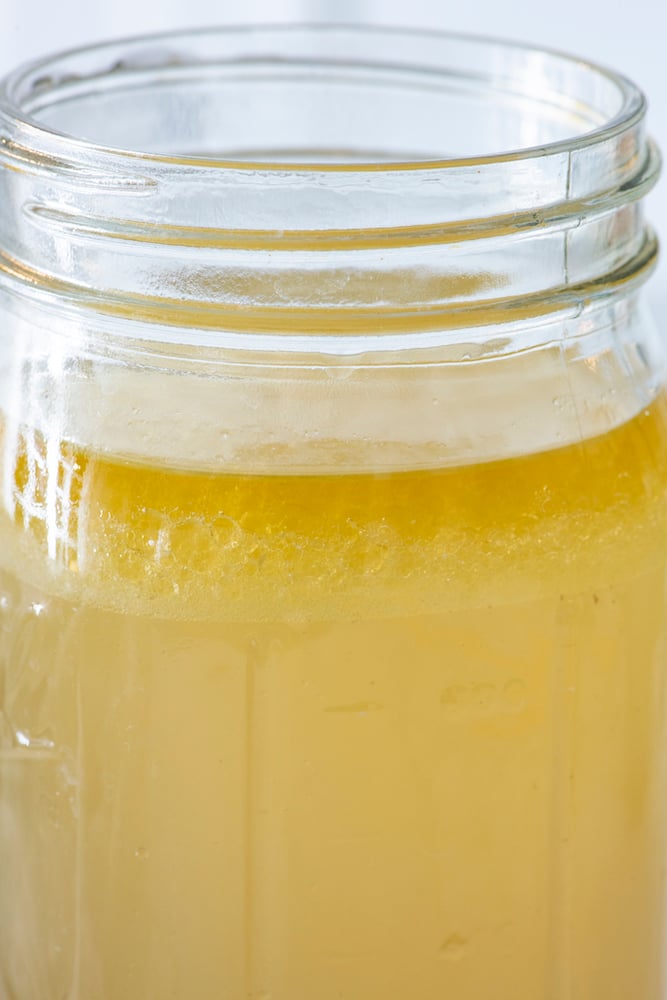 More Immune Boosting Recipes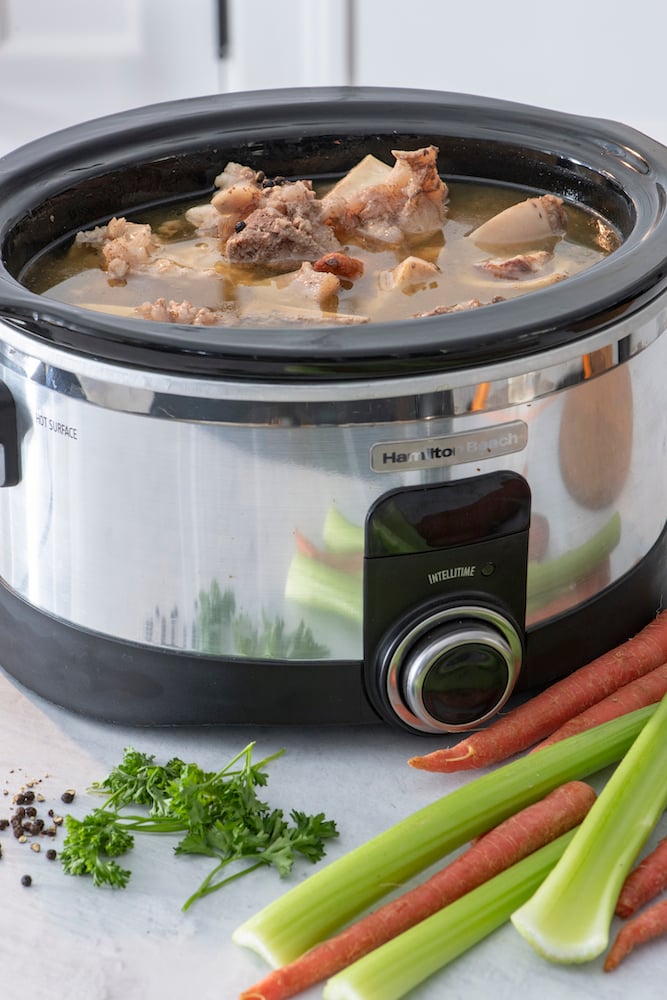 If you decide to make one recipe this weekend I hope it's this one! Leave a comment below to let me know what you think or tag me on social media!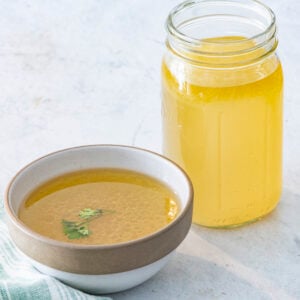 Slow Cooker Bone Broth
A steaming bowl of immune supporting bone broth is the key to staying healthy through the cold winter months.
Ingredients
6

pounds

beef bones

2

tablespoons

apple cider vinegar

2

onions, peeled and quartered

2

carrots, peeled and cut in half

2

celery stalks, cut in half

2

tablespoons

peppercorns

4

stems

parsley

1

teaspoon

kosher salt
Instructions
Place the beef bones in the slow cooker, and place the remaining ingredients on top.

Add enough water to the slow cooker to cover everything.

Cover, set the slow cooker to low, and cook for 24-72 hours.

Strain the liquid, place in the refrigerator to cool, remove the solidified fat from the top, and use as desired.
Video