I need a cleanse. A big one. Physically, emotionally, and everything in between. As excited as I get for the holidays, I am almost just as happy when they end so I can start a new year fresh. I don't like to admit that it's been months (and then some) since I've done any kind if exercise. It's not ok. At all. I keep reminding myself that I need to get moving, not only for myself, but in order to be a good role model for my kids as well. Unfortunately, 2012 was one of those years where time just seemed to get away from me.
That doesn't mean this past year was a total loss. I did eat pretty well. Even over the holidays while the kids and I were baking (and sneaking bites from) dozens of Oatmeal Chocolate Chip Sea Salt Cookies for their teachers, we managed to get in some healthy, delicious smoothies. And thank heavens for that since we really needed something to counterbalance the daily doses of sugar, white flour, and fat.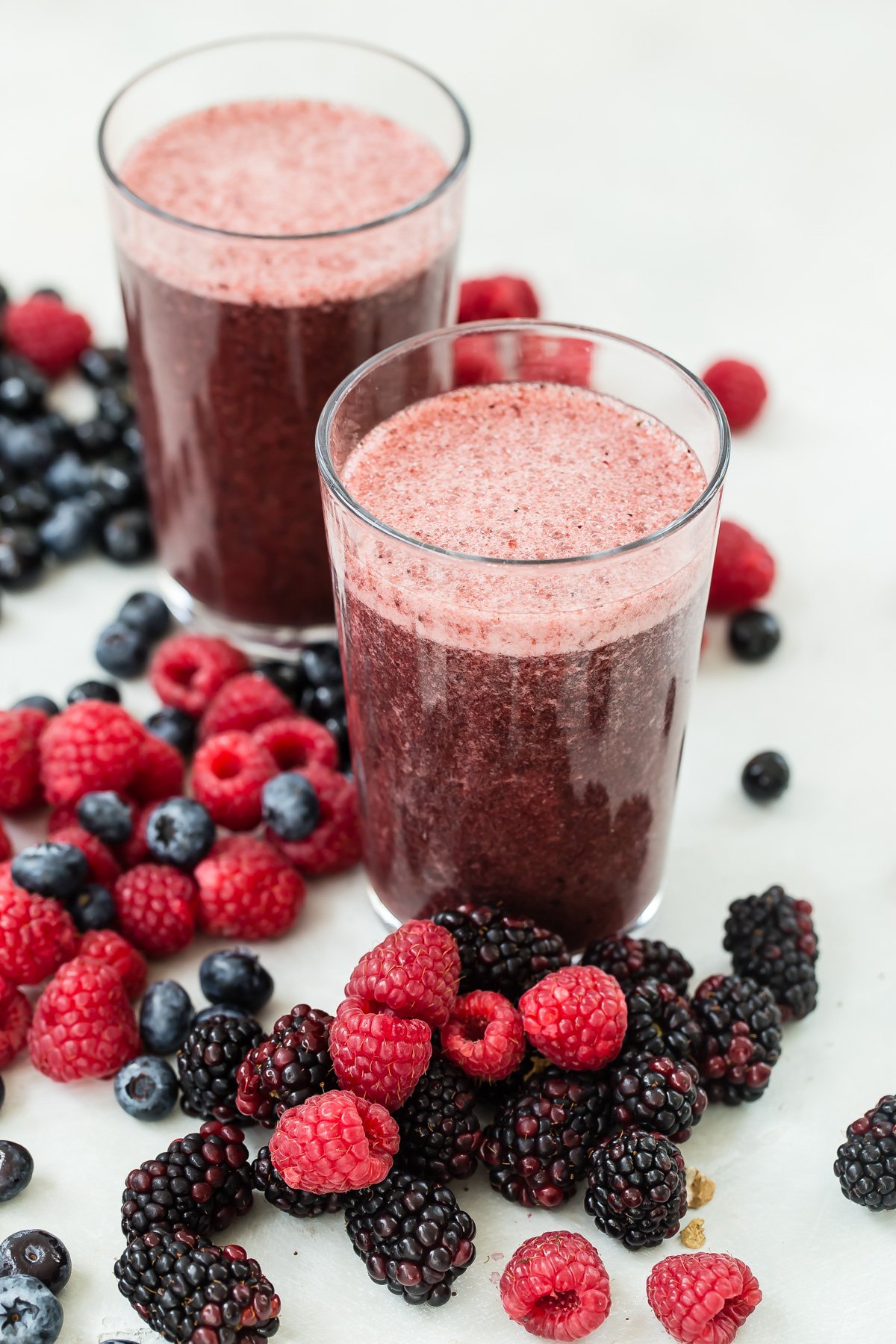 My kids have been happily binging on smoothies lately — helping me make them and tossing everything but the kitchen sink into the blender. I've been buying lots of fresh greens like spinach and kale, and tons of different frozen fruit for them to mix and match all sorts of flavors. I'm particularly psyched that they've been taking the lead in the recipe creation department because mommy has needed some new ideas.
You might think that little ones would be thrown by the idea of combining fruits and green veggies to make a smoothie, but I'm finding my kids experience to be the complete opposite. To them it seems totally natural (and when you think about it, why shouldn't it?). They get a thrill out of coming up with new combinations every day, like this Berry Green Smoothie. If anyone in your family is spinach averse, they'll never detect it in today's recipe, a thick purple shake which tastes of sweet bananas and berries.
My resolutions this year (I usually dread making them, but I need a couple this year), are to commit daily to drinking smoothies made solely from foods I know are good for my body, and getting off my tushy for at least 30 minutes a day to exercise.
Happy 2013!
Berry Green Smoothie
Ingredients
1

cup

packed spinach

2

cups

frozen mixed berries

1

1/4 cups

coconut water

1

large

banana, mashed
Instructions
Place all ingredients in a blender and pulse until smooth.
Nutrition
Calories:
250
kcal
|
Carbohydrates:
60
g
|
Protein:
5
g
|
Fat:
1
g
|
Sodium:
280
mg
|
Fiber:
8
g
|
Sugar:
15
g