Costa Rica you have won our hearts! Every year I let my kids pick a new place to visit for a one on one trip and with the endless zip lines, kayaking, beach activities, animals, jungle life and much more, Costa Rica won out! I've visited plenty of family friendly countries in my years, but this is truly the perfect spot if you're looking for a year round spot that offers a little bit of everything.
If you have a few weeks, I encourage you to do the rainforest, Caribbean and Pacific side of the country, but if you have a week or so, our itinerary might be perfect for you. I found plenty of affordable and breathtaking AirBnB's in Costa Rica, but settled on hotel life so we could just relax and enjoy each other without the stress of cooking and cleaning which is a new one for me. Here's a peak at how we did Costa Rica in 9 days:
By much prodding from a friend, we stayed at the Nayara Gardens Hotel. I've stayed at many hotels around the world in my time, and let me just say that Nayara is spectacular. It's set in the middle of the rainforest with animals and nature at every turn. We had breakfast included in our stay, and the Latin American inspired massive buffet didn't disappoint. Kenya and I both love tropical fruits, and the array was mouthwatering. We stayed for 4 nights and practically lived in the thermal hot springs. There are several incredible restaurants on the property, so there's no desire to leave for meals. At one point Kenya and I realized that we barely saw other people as the property sits on acres so it seemed as if we had the place all to ourselves. He especially loved having a golf cart to take him from place to place when desired. Along with the friendliest staff I've ever seen, this set the tone for our entire vacation.
If you're going to pick one area of Costa Rica to visit with kids it's Arenal. If there was one mistake during our trip, it was not spending more days in this magnificent area.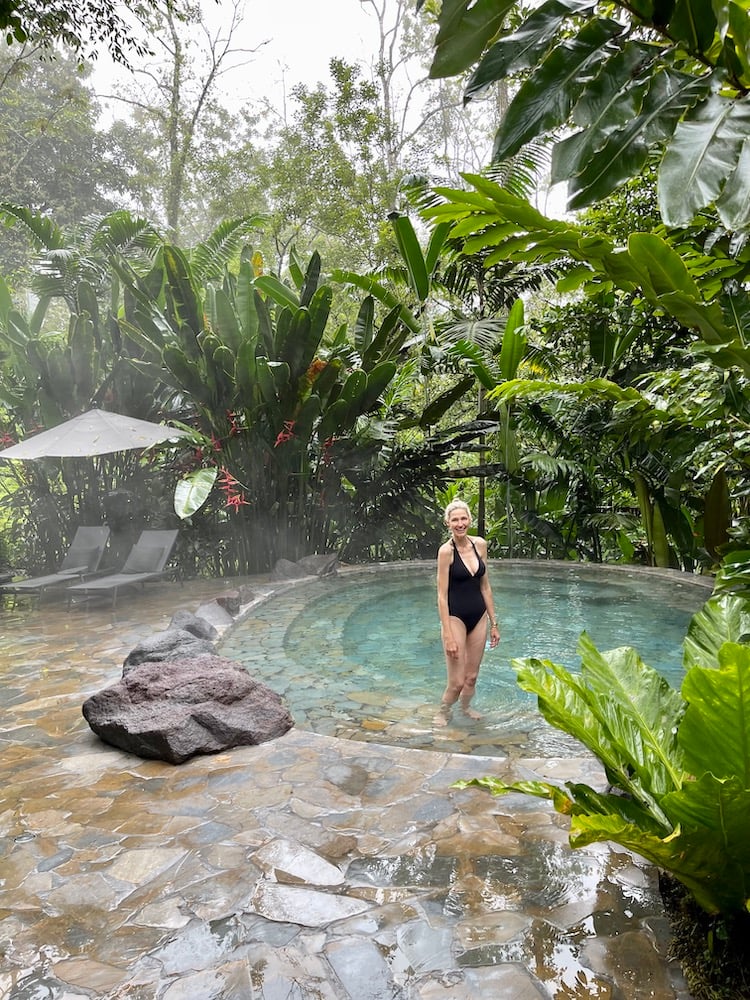 Day 1: Our first outing was Mistico Park and the 6 dynamic hanging bridges. They're truly breathtaking with a perfect view of the Arenal volcano. Kenya especially loved seeing all of the wildlife including spider monkeys, bats, strawberry poison frogs, eyelash palm vipers, glass frogs and leaf cutter ants.
Day 2: Part of any trip for me includes challenging yourself in different ways. When Kenya picked Costa Rica for us to visit and said he wanted to zip line, I'm not sure exactly what it entailed. Sky Adventures has two of the most spectacular nature parks in the country, one in Arenal and the other in Monteverde. You can do this as a private tour or a group. We lucked out being in a group of 25 exchange students through a Spanish speaking program called Commonground International. All of the teens were so kind and took Kenya who was totally nervous under their wing through ropes courses, hanging bridges, zip lines and "Superman" which was a thrill seekers paradise. If you have a child who enjoys adventure, this is for you. The guides at Sky Adventures helped us gear up, gave us a short tutorial and off we went flying way above the trees into a magical experience.
After a few hours in the hot springs where we sipped fresh fruit smoothies as the rain trickled down, we got ready for part two of our day.
One of the highlights of our trip was having a guide from Jacamar Naturlist Tours taking us to do a night animal and frog tour. Not only were they incredibly knowledgeable, but our guide took his time and went the extra mile to help us learn about the climate, animals, topography and general understanding of the area. We started at a restaurant that also serves as a cooking class and treated to just made fresh tortillas filled with Piccadillo papaya and potato followed by passionfruit lemonade which is a vegetarian kids dream come true. Next we walked all over the organic farm learning about everything grown there including coconut, hearts of palm, rambutan, Jue plums, papaya, bananas and much more. As soon as the sun set, we headed out near a river with our flashlights to discover all the nocturnal animals. We got close up and saw a bull ant, fruit bat, spider, snake/owl butterfly, eyelash palm bite viper, centipede and red eyed tree frog.
Day 3: After a scrumptious breakfast at our hotel we geared up for zip lining part 2. Kenya wasn't so sure he could handle another day of it, but this turned out to be even more kid friendly, so if you have kids under 12 years old, this is for you. Eco Glide Arenal Park is perfect for first time zipliners looking for just the right amount of adventure. It consists of 11 cables, 13 platforms and a suspension bridge and the tour is divided into two sections. Nine of the platforms are within trees, where you have greater contact with nature, while getting a natural high as you safely soar above the trees. I added the Tarzan swing onto my pass and was so proud of myself for giving it a go. A total bucket list item checked off!
That night we settled back in at the Nayara resort for a superior meal inspired by Costa Rican produce under Chef Quentin. If you're inspired by Latin American cuisine, this is the place to do it.
Day 4: After departing Nayara (sadly), we set off for a 2 1/2 hour drive for river rafting on the Tenorio River with RCR Rafting near Guanacaste. You can do anything with them from fishing to low key river rafting expeditions to level 3/4 which we chose. The guides expertly prepared us with all the right equipment as we spent hours on the rivers gliding through and over the rocks with our personal guide, Lalo, sharing his 20 years experience on the river looking at monkeys, Toucans, waterfalls and more. It was intense at times, we definitely got drenched, but totally exhilarating. At the end we took the 40 minute drive back for a prepared lunch overlooking the river.
Around 3pm we headed for our next stay at the Andaz hotel in Papagayo. Not only is the hotel beautifully set on the water, but you've got every water activity right at your fingertips. We lucked out at Nayara by meeting a staff member named Johan who had previously worked at the Andaz and told us all of his friends to visit at the hotel, so we felt right at home the second we arrived. Some of the extra amenities like the matching hats, custom flip flops (for taking back home) and super soft robes were an added bonus.
Day 5: Kenya and I decided we wanted a totally unscheduled day so we could pick our own adventure and luckily we did. After another included breakfast buffet (hello DIY omelets, vegetarian burritos, fruit smoothies, yogurt bar, pastries, caramelized plantains, beans and rice), we headed to the beach and met Yurah. He hooked us up with Jet Ski Jirah where we rented jet skis to fly around the bay. I'm not sure I've ever seen Kenya so carefree and exhilarated, but he couldn't get enough. We spent the day swimming, reading, having lunch at the Beach House (a boat ride from the hotel on what feels like a desert island), hiking and enjoying being together. One of the best parts of the day was watching the monkeys play in the trees above us at the Beach House.
Day 6: One thing Kenya really wanted to do was ATV. As any good mother would, I worried about safety, but also knew my relatively safe kid and his boundaries. We started by jet skiing out into the ocean, through the mangroves and then onto a beach across the bay to meet our ATV guide and bikes. Kenya lost his mind with excitement as we drove for over 2 hours through towns, farms and backroads on a unique experience. The rest of the day we spent in a canoe being lazy and relaxed.
Day 7: After, yes, one more morning of jet skiing (I've learned on one on one trips that part of bonding is to do what your child is most excited to do), we traveled 90 minutes to Flamingo beach to sail for hours. I didn't know what to expect for our journey, but it 100% exceeded my expectations. You can choose a private or group sail (our choice was to meet new people) on Panache Sailing. With each ticket comes an almost 5 hour sailing cruise around tiny islands, the bay and ocean, tons of fresh food and open bar and let me tell you, they make a tasty margarita. In the middle of the sail the boat drops anchor and you have a choice of activities. You can snorkel for 30 minutes in the clear waters with a guide where I saw octopus, schools of fish, a stingray and starfish, paddle board, swim with noodles, gather shells on a nearby island or stay on the boat and relax. After getting back on board the crew offered us more drinks and set out a huge buffet plus sashimi with a fish caught by the crew. As we headed back to shore, everyone was taking pictures of the breathtaking sunset and full rainbow that illuminated the sky.
Day 8: Our last day I wanted to feel like a local, so we rented a car which most hotels keep on property. We started by driving to Coco beach, walking around for souvenirs to take home, and watching the boats in the ocean. Around 1:30pm we got hungry and decided to have lunch at Papagayo Seafood, recommended by a friend, for ceviche, guacamole and chips. There are tons of inexpensive local food vendors making tacos, grilled chicken, ice cones with condensed milk and more. We couldn't resist the street corn with hot sauce from a local vendor who was also incredibly kind. Our next stop was a farm stand on the road (leading back to Liberia) with Kenya's favorite rambutan, mangosteen, mangos, dragonfruit and other local, seasonal produce. There are incredible waterfalls all over the island including the Llanos de cortes where we found people swimming underneath the falls and hiking above and in the area. It's about $4 a person for park entry where you can picnic, swim in the falls and even find some local artists selling their crafts.
Many nights we ate at our hotel or a few restaurant hotels in the area as the closest town is 35-40 minutes away. The hotel dining and incredible servers were out of this world and after running around exploring all day, it felt incredible to fall into bed at night with a good book (I highly recommend The Seven Husbands of Evelyn Hugo) and be on a real vacation.
We will miss you Costa Rica. Until the next time… and there will be one. Pura Vida!
Things to remember:
The roads can be unpaved, bumpy and slow depending on where you're driving. A map may say that your drive is only 40 miles, but this often take up to 3 hours depending on where you're going. We had a driver transfer us from the airport to our hotels which felt like a luxury.
Weather: Costa Rica is an all year long country to visit, but remember that May/June-October is their rainy season, but this can also be the best time to visit when the ocean is warm. It only rained a few hours total during our entire visit, but be prepared with a poncho and good hiking or athletic shoes. It was very humid when we were there which actually felt amazing coming from Los Angeles's dry weather.
Book ahead: Highly recommended to have an itinerary and book ahead as many attractions can fill up fast.
Electricity and Water: Costa Rica has the same electric system as the United States. Electric outlets provide 120 volts / 60 Hz. You can plug in any electronic gadgets (computers, hair dryers, razors) that you might bring. The water from the tap is safe to drink at all resorts unless otherwise specified by the hotel. Bottled water is readily available throughout the country in all restaurants, hotels, gas stations and convenience stores.
Currency: There is no need to convert US dollars to Costa Rican Colones. Most places will gladly accept US$, and major credit cards. For your information, the current exchange rate is approximately ₡700 for every US dollar. ATMs are abundant in San Jose and in most towns around the country. Nevertheless, bring U.S. Dollars in small denominations. Visa, Master Card, and American Express are accepted throughout most of the country.
What to wear: Costa Rica is an informal country. There is no need to bring any type of formal attire.
This is our suggested packing list:
PASSPORT (please make sure that it is valid for at least 6 months after arrival)
Plenty of underwear and socks
Shorts
Comfortable pants or trousers
Shirts (cotton tees or light synthetic)
Several swimsuits
Sunscreen
Insect repellent (high % of deet)
Rain gear—poncho or raincoat
Sneakers (hiking shoes if you own them, no need to specially purchase)
Rubber Sandals with a backing/Tevas or old sneakers for water-based activities
Casual Shoes or flip flops
Toiletries
Sweatshirt / sweater / light jacket
Hat
Camera or smart phone for pictures
Binoculars
Day or fanny pack
Dramamine (if you tend to get carsick)
Hope this is all helpful if you're planning or looking to plan a trip with your kids!