We eat our share of cereal in my house. I'm not saying that we have it for every meal, but we certainly enjoy a bowlful or two of it for breakfast several times a week. When you're rushing to get everyone out the door but one kid is still in bed while the other endlessly debates what to wear to school, cereal is an early morning savior.
We have a bunch of different cereals in our pantry, but the one kind our entire family agrees on are Heritage Flakes. They're crispy, crunchy, and — who knew — they also make the most incredible coating for the Crispy Chicken Bites recipe in my new book Weelicious Lunches.* Given our love for cereal, I've always got a few boxes of Heritage Flakes tucked away, so this dish is a total snap for lunch or dinner. The best part about these chicken bites is that you can freeze them, so all you have to do for a healthful last minute meal is pop them in the broiler. In my experience, kids grab for them by the fist full, especially when you serve them with dip like honey mustard, ketchup, ranch dressing or my favorite, BBQ sauce!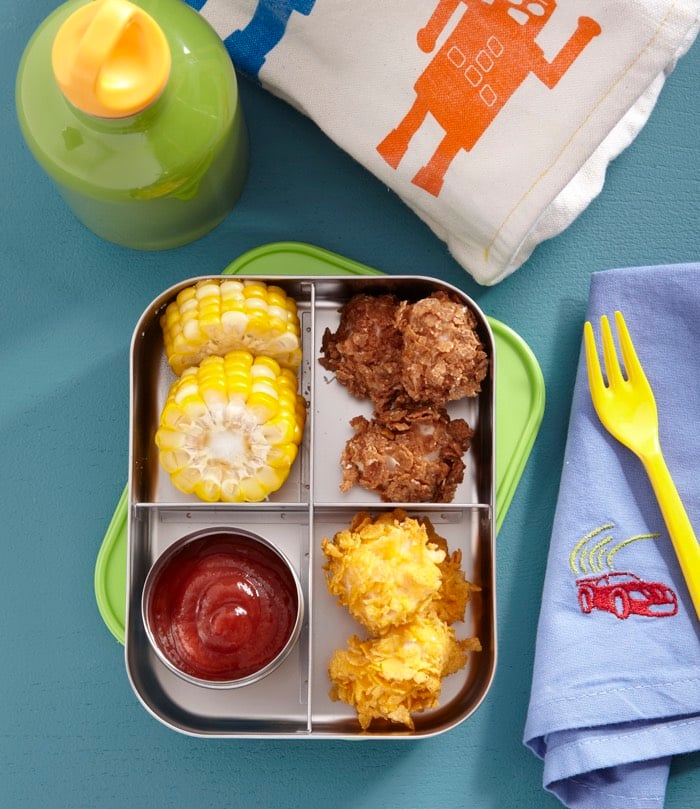 Pin
So watch here and see why that box of cereal sitting in your closet is good for more than just a quick breakfast.
* I love Heritage Flakes but corn or other low sugar flakey cereals work great too.
Photo by Maren Caruso