Our of pizza dough and in the mood for a crispy slice of pizza? Grab a box of matzah to make these irresistible and unique Matzah Pizzas!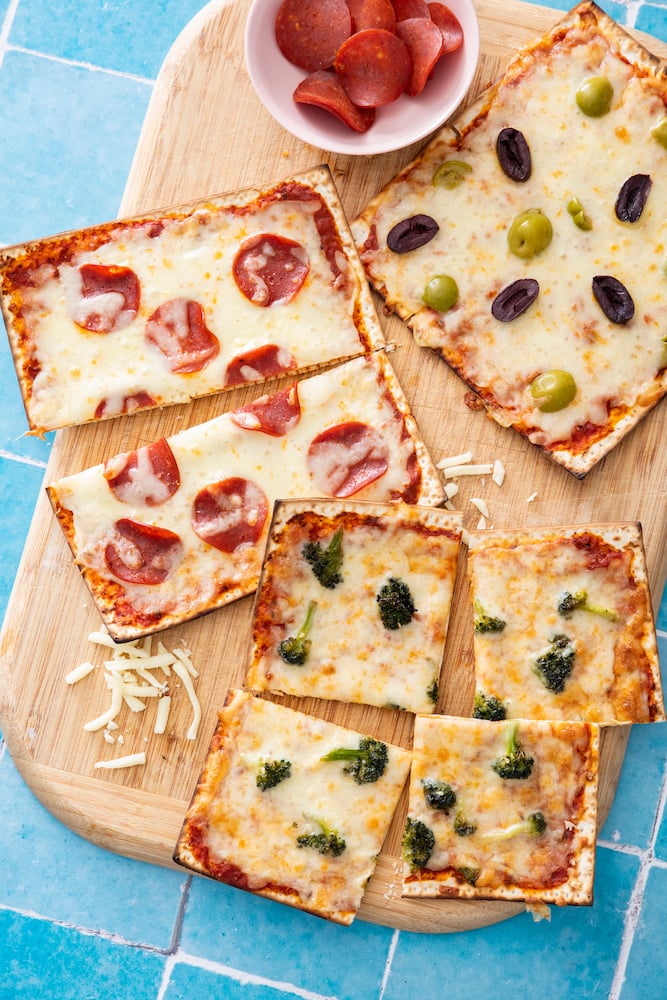 With Passover happening soon you're going to see a lot more matzah on grocery store shelves. Matzah isn't just for eating during a seder. It's also an amazing canvas for homemade nut-free Nutella, combined to make Matzah Ball Soup, mixed into eggs for Cinnamon Apple Matzah Brei or to coat Chicken Tenders. Every, and I mean every, time I offer the kids matzah they get incredibly excited. It's crispy, crunchy and since it's made without salt you can add any kind of spread or topping on to it.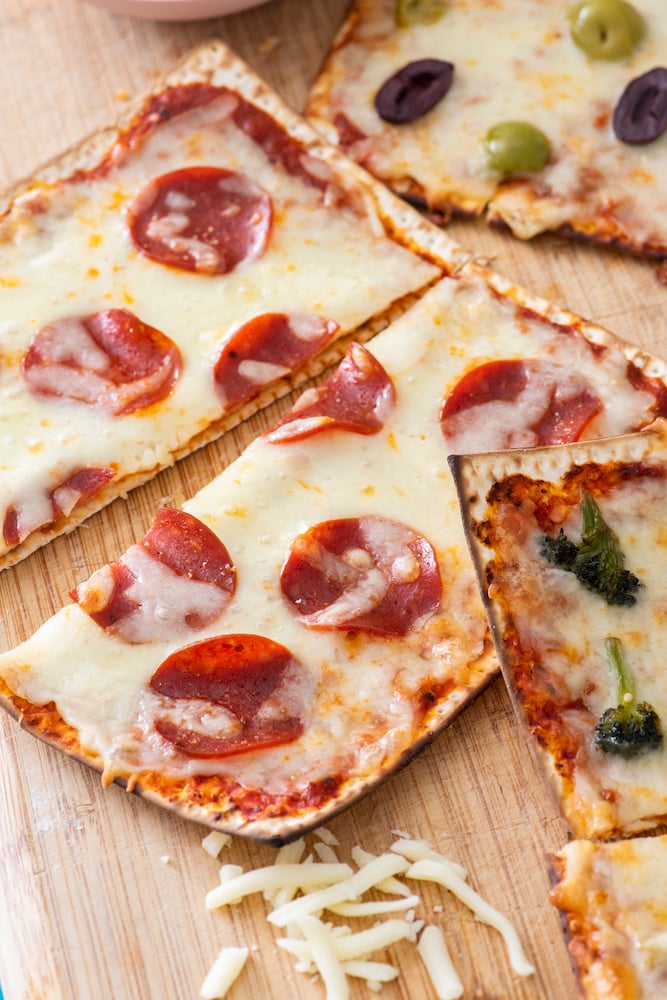 Kenya and Chloe love these Matzah Pizzas on Friday nights (our usual pizza movie nights) simply topped with red sauce and tons of mozzarella cheese, but you can also mix it up and top them with a spread of pesto, toppings like pepperoni, mushrooms, bell peppers or any kind of cheese you've got on hand. Chloe put sliced olives on her Matzah Pizza while Kenya went with some vegetarian pepperoni. Gemma chose lots and lots of dairy free cheese!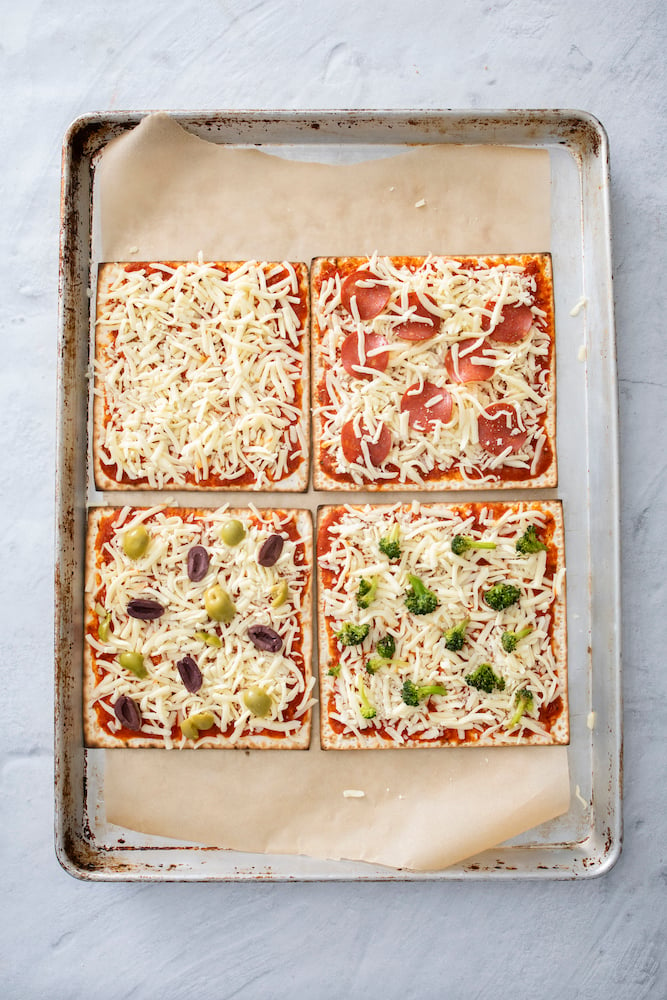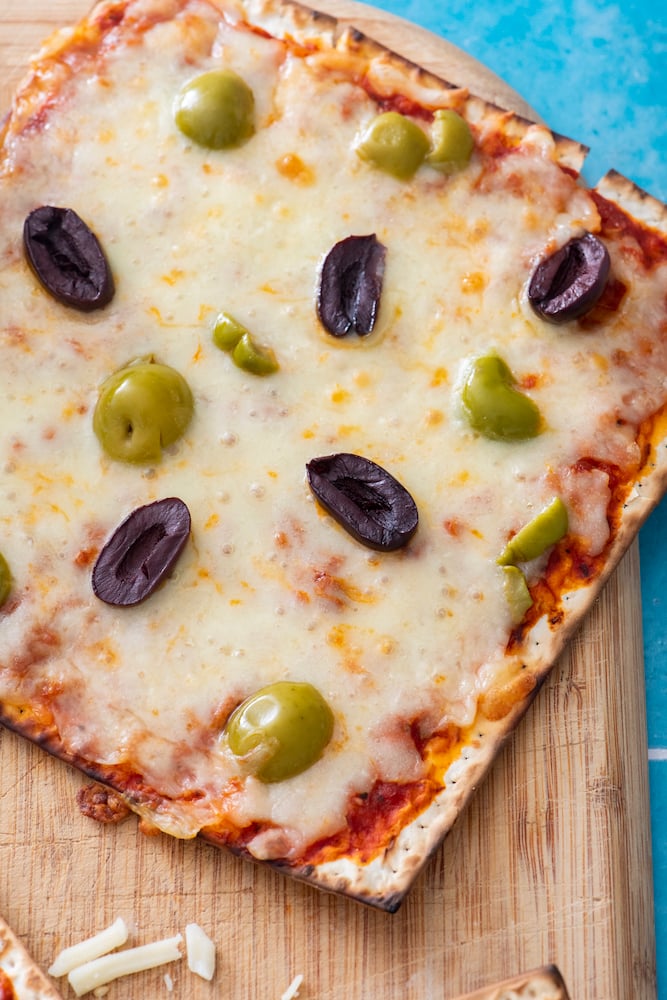 Pizza is one of our favorites because it's so versatile! There's really no wrong way to make pizza. Of course, we love a classic pizza with Pizzeria Pizza Dough, but we also mix it up by making Pizza Pinwheels, Pizza Muffins, Pizza Balls or even English Muffin Pizza and Whole Wheat Pizza Bagels. It's so much fun to see the kids' eyes light up when we're having pizza night!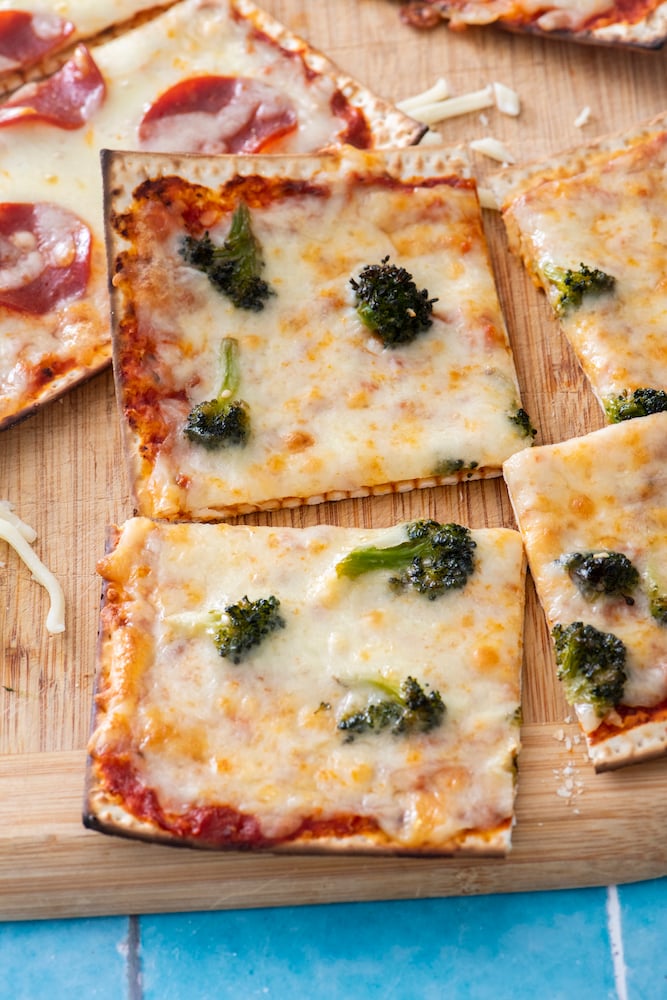 Next time you're in the mood for a delicious piece on thin crispy pizza, try out Matzah Pizzas and let me know what you think! Whether you use whole wheat, white or even gluten free matzah as the base for these pizzas I guarantee they'll be a family friendly success!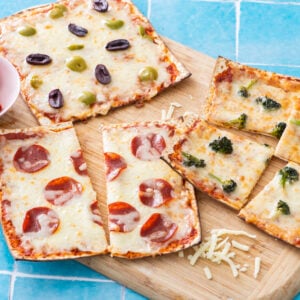 Matzah Pizzas
Ingredients
4

sheets

matzah

4

tablespoons

pizza sauce

1/2

cup

shredded mozzarella cheese

desired toppings (olives, broccoli, pepperoni, diced bell peppers, sliced onions, mushrooms or anything you enjoy.)
Instructions
Preheat the oven to 425F.

Place the matzah sheets on a baking tray and top each with 1 tablespoon of sauce, 2 tablespoons of shredded cheese and desired toppings.

Bake about 8-10 minutes, until the cheese is melted and golden.
Video